Discussion Starter
·
#1
·
Hello everyone how yall doing hope its great
ive got a 06 Passat b6 2.0T.. i have 3 issues to deal with and im here asking for assistance!
FIRST:
Circled is a warning light i have been getting, its been there for some time now idk what is it and how to reset it? any ideas?
SECOND: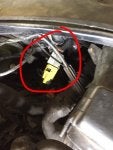 do you guys know what is this? is it something for the airbag? because this thing broke while changing my rad support, part number?name?
THIRD:
this part right here makes some noticeable noise when the engine is on, it shakes and makes the noise
what part is this? should i change it or something? i also noticed my whole engine shakes up noticeably when its on, bad spark plugs/ignition coils?
any help or suggestions is greatly appreciated.
thank you