Recently I picked up a couple of new 3-button switchblade key cases because I had worn both of mine through the red panic buttons. They were über cheap on
amazon
, I think $11.99 each. So I rolled the dice and so did a number of other PWers.
They arrived today and I am pleased to report that after some fiddling, I got the guts of my old switchblade into the new case and it works perfectly and feels great. There were some difficulties, it wasn't as easy as I thought it would be, but overall not terribly hard. Since I have two, when I get my other key back from the mechanic Wednesday (with the new Raxles) I am confident I will be able to swap out the parts on the second one in 10 minutes or less.
Tools needed:
Small phillips/crosspoint screwdriver (provided with new key case)
Very small gauge nail or metal thumbtack (to push spring pins out)
Small hammer
Channel locks (to push spring pin back in)
X-acto hobby knife or other thin tip sharp tool (to remove VW emblem from original key, if needed)
Gasket seal or RTV (to secure RFID transponder in new key case)
Fine tooth mill file or jewelers file
Here are the product photos and a few detail pics of the transfer process:
Jack, you were right. The shipper probably could have walked them to your door.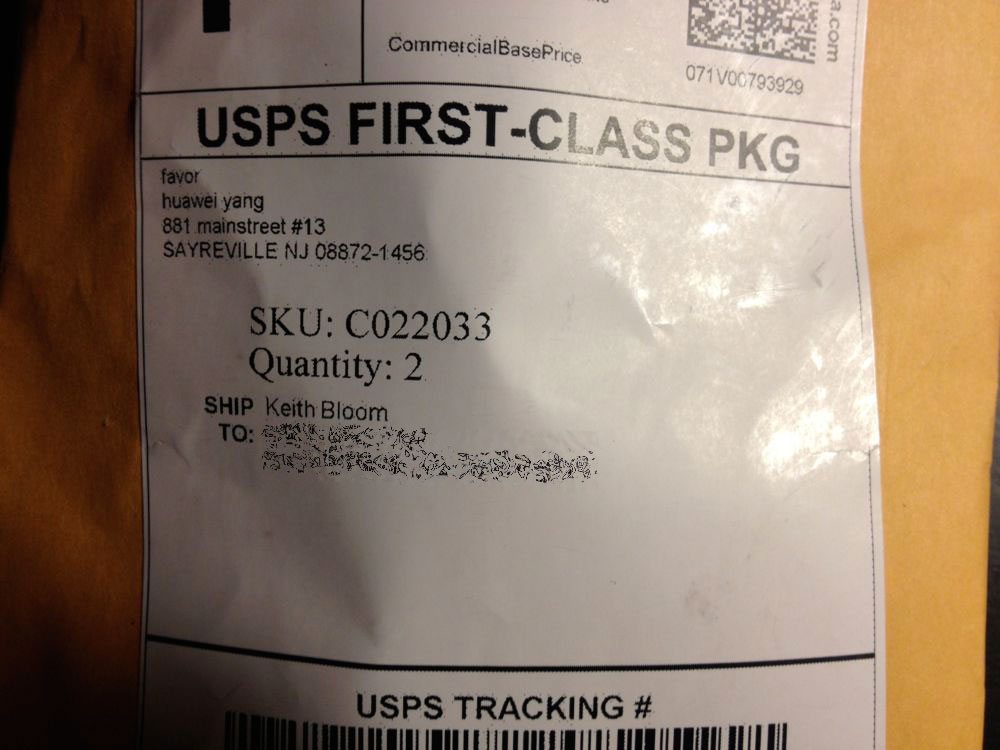 Because of the RFID (that isn't actually in there) the keys came packaged in anti-static bags. They each also came with a little cross-point screwdriver to open the case: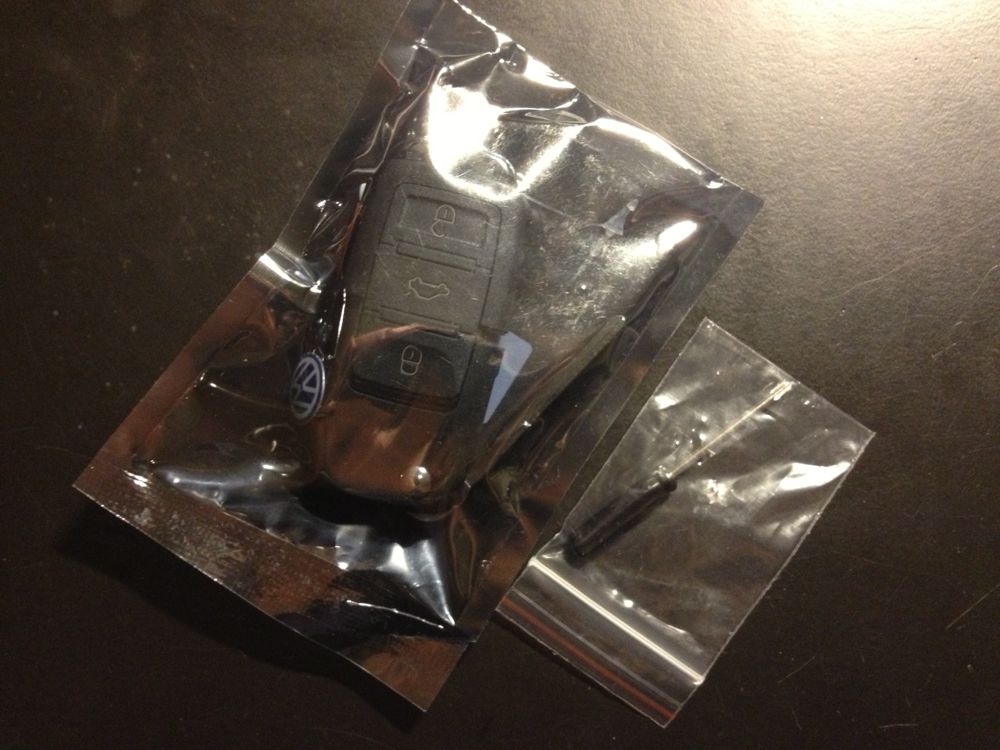 The new case pulled apart: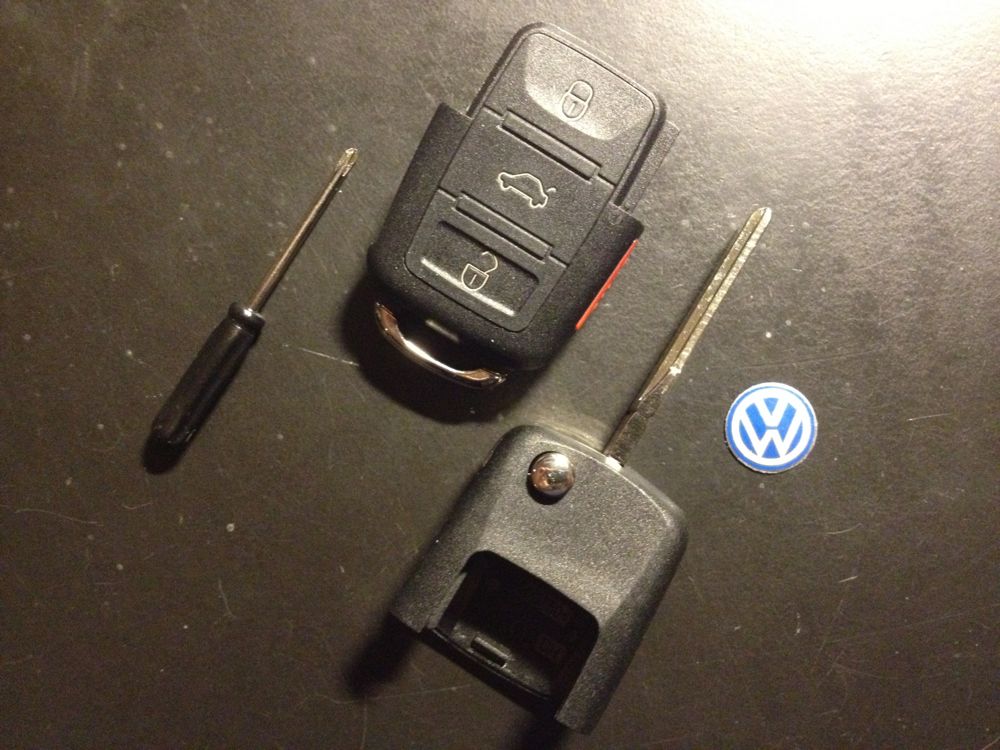 Manufacture date in 26th week of 2010. My original key was 41st week of 2003: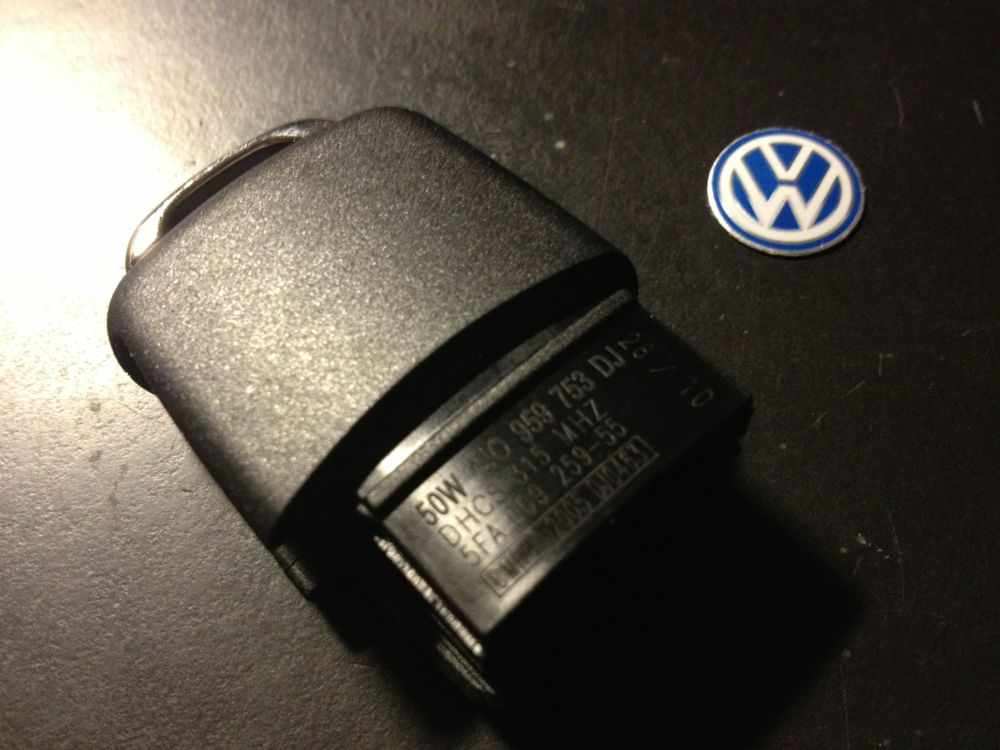 The two new halves of the case further split apart into subcomponents: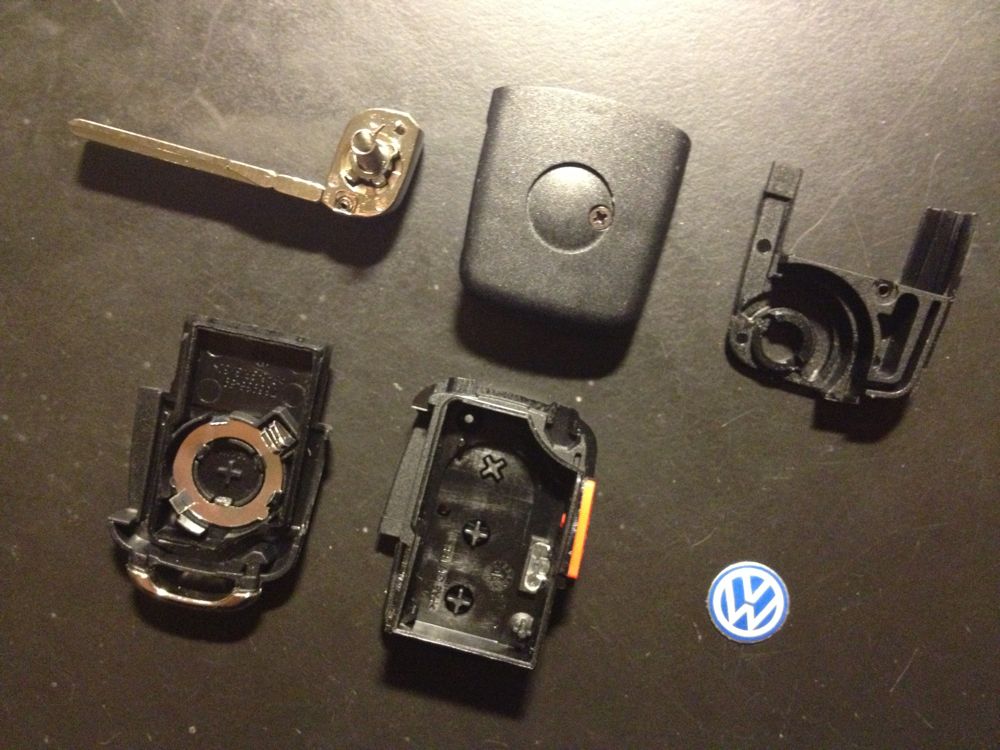 The new switchblade key case and blank (left) next to my original switchblade key (right):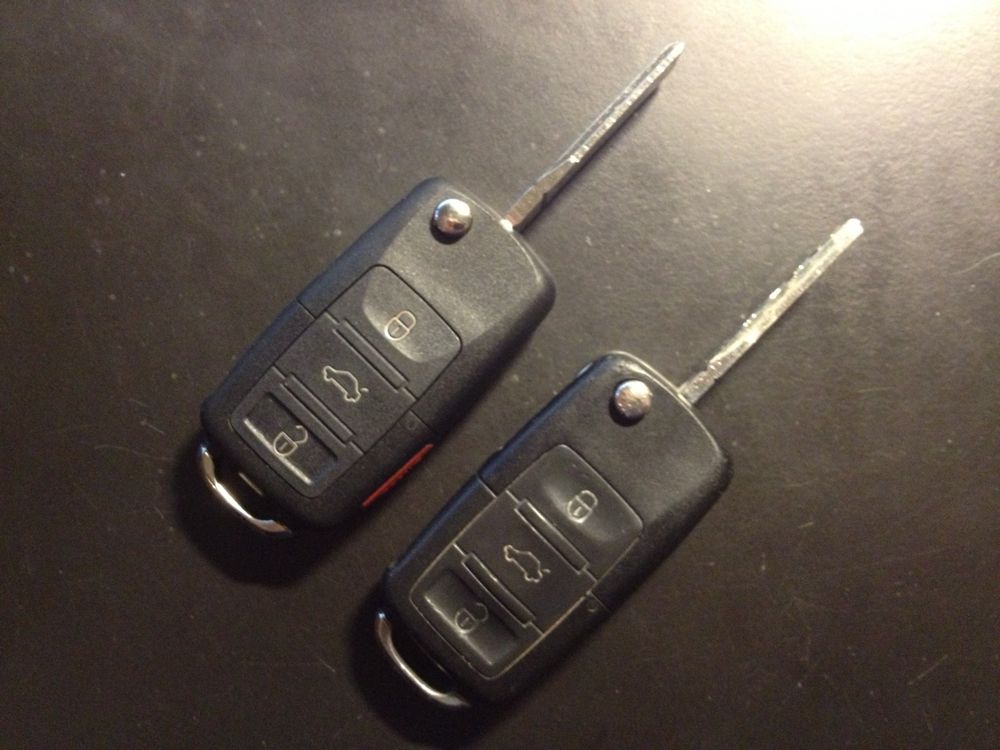 New switchkey (top left), original switchkey (bottom right)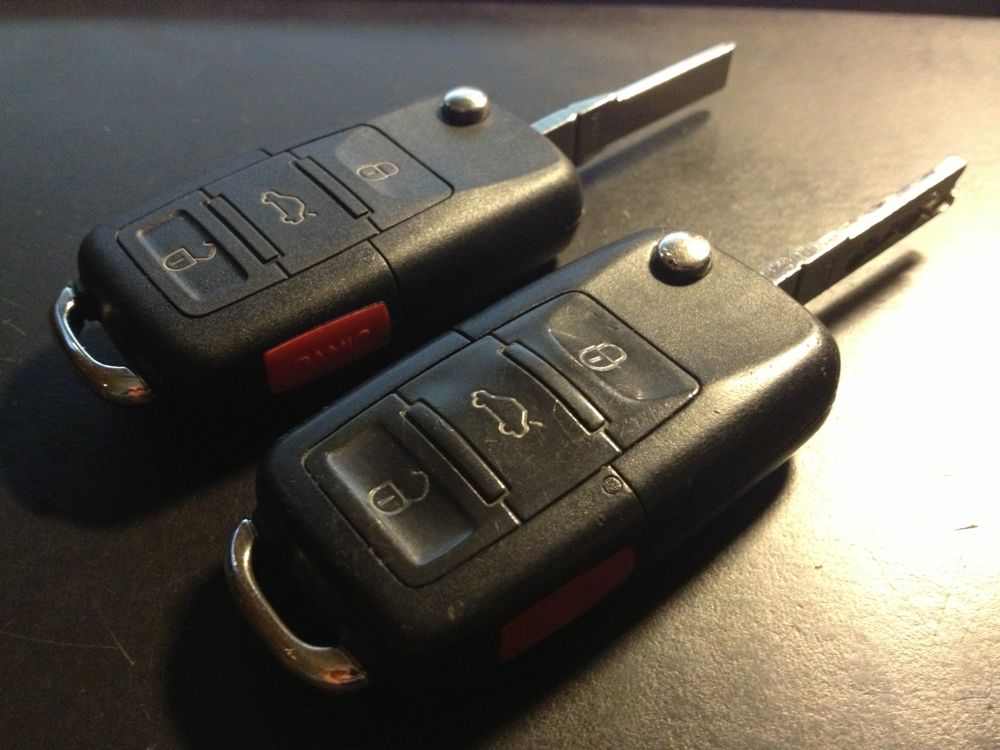 The new (bottom right), original (top left):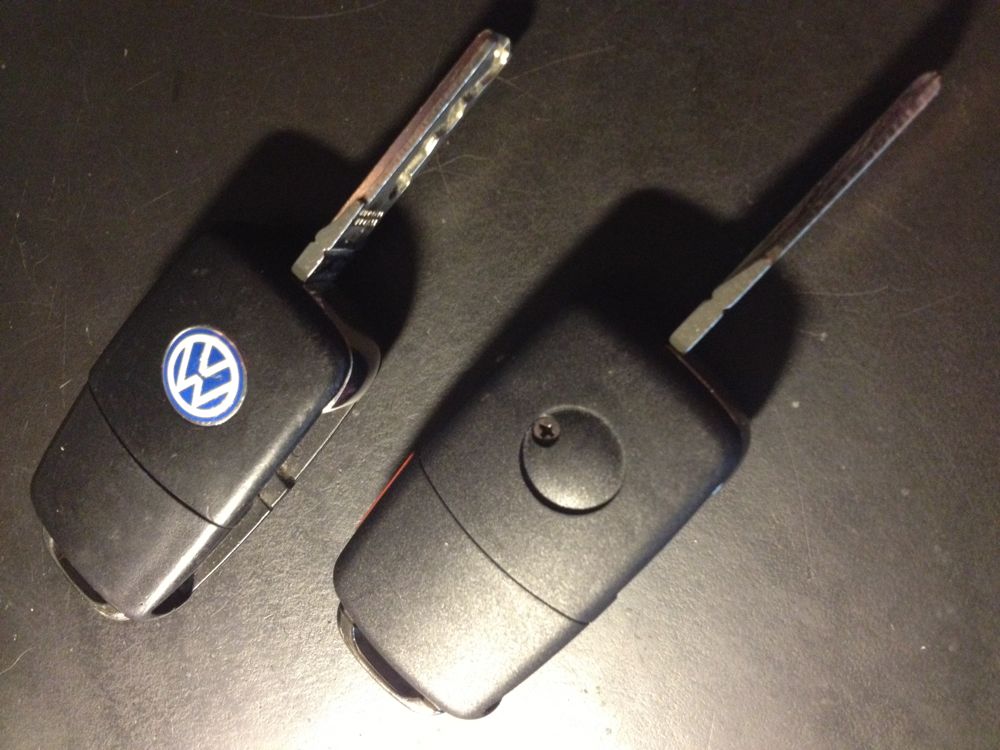 New (left), old (right):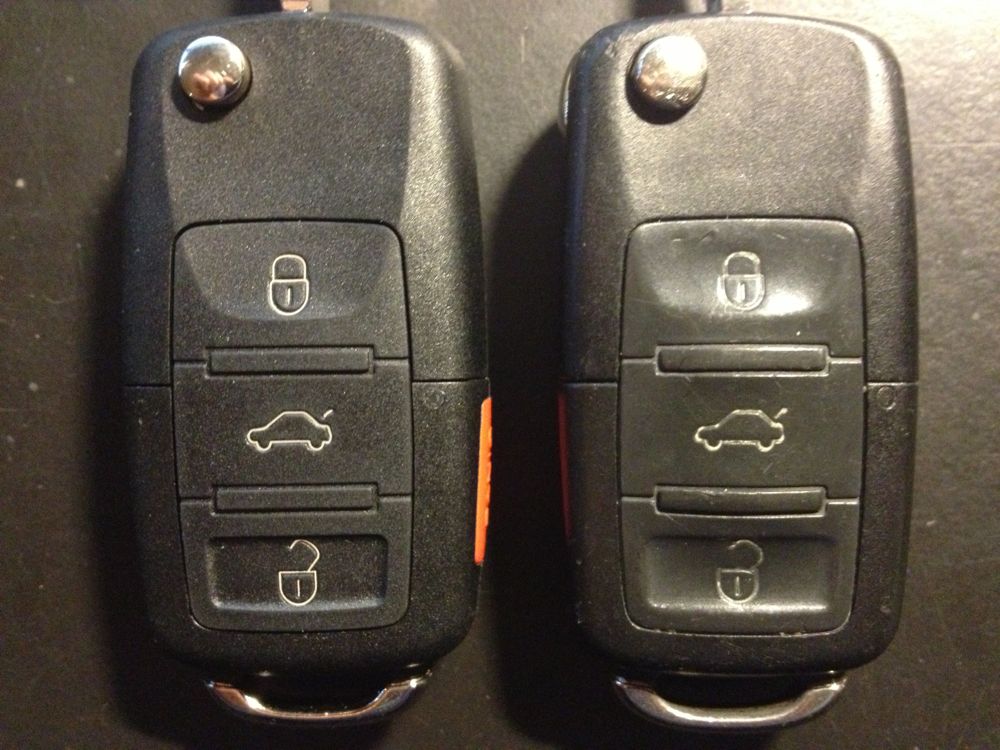 Inside of old case where PCB is located. The only significant difference between the two keys became evident at this point. The perimeter of the old case is actually rubberized or fused to a rubber gasket, the new case perimeter is hard plastic. While the new case fits tightly with its other half, it would not IMO be very water resistant: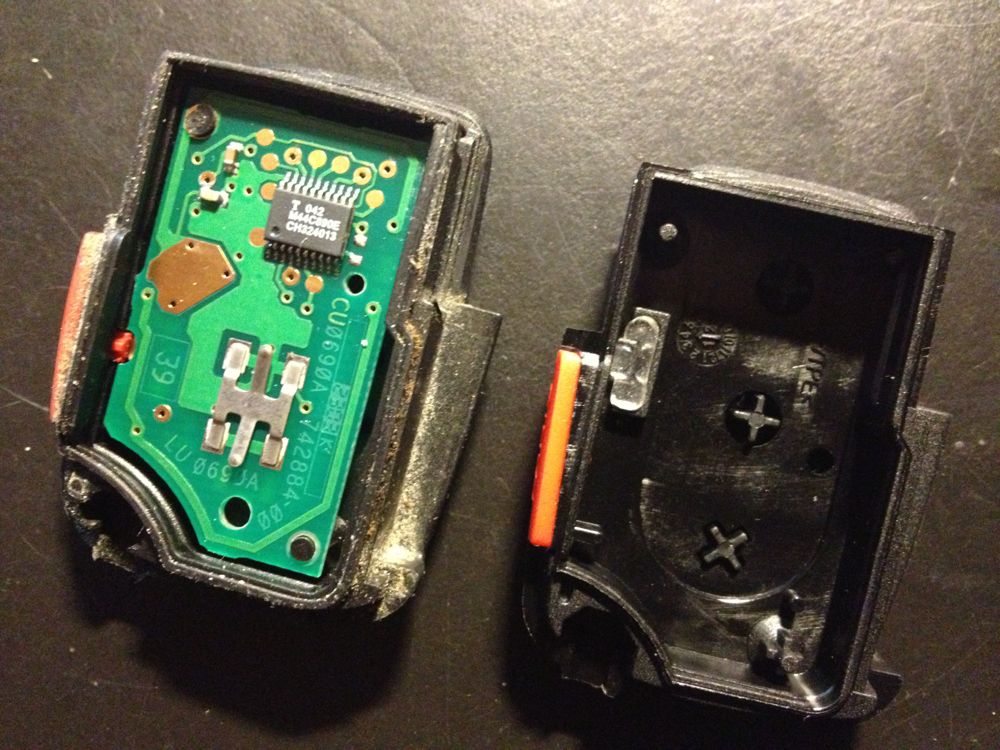 The linty, dusty edge of the old case where the softer rubber seal is around the seam perimeter: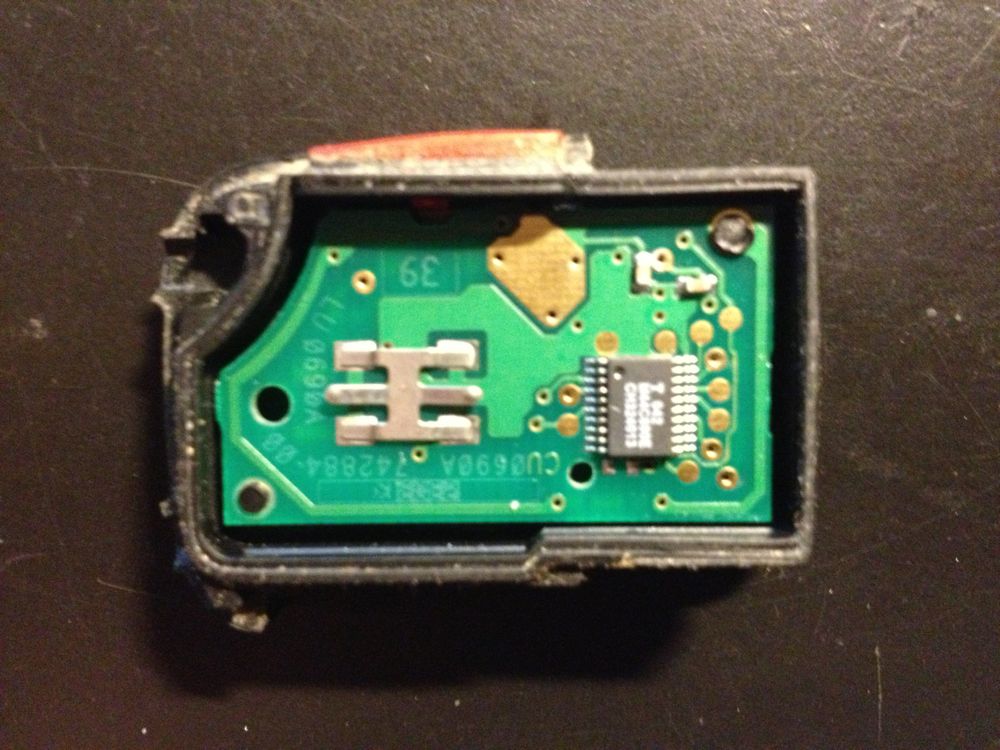 The remote PCB removed. Seems like a I have been looking at a lot of Passat electronic bits recently. :nerd: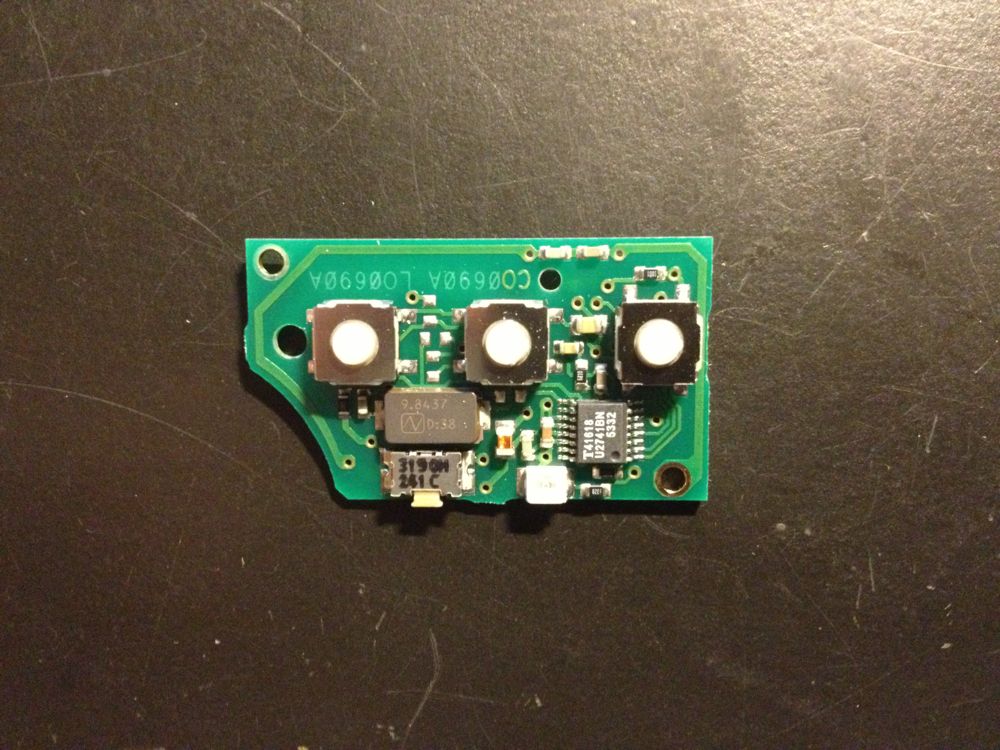 The PCB placed over the positioning pins in the new button case: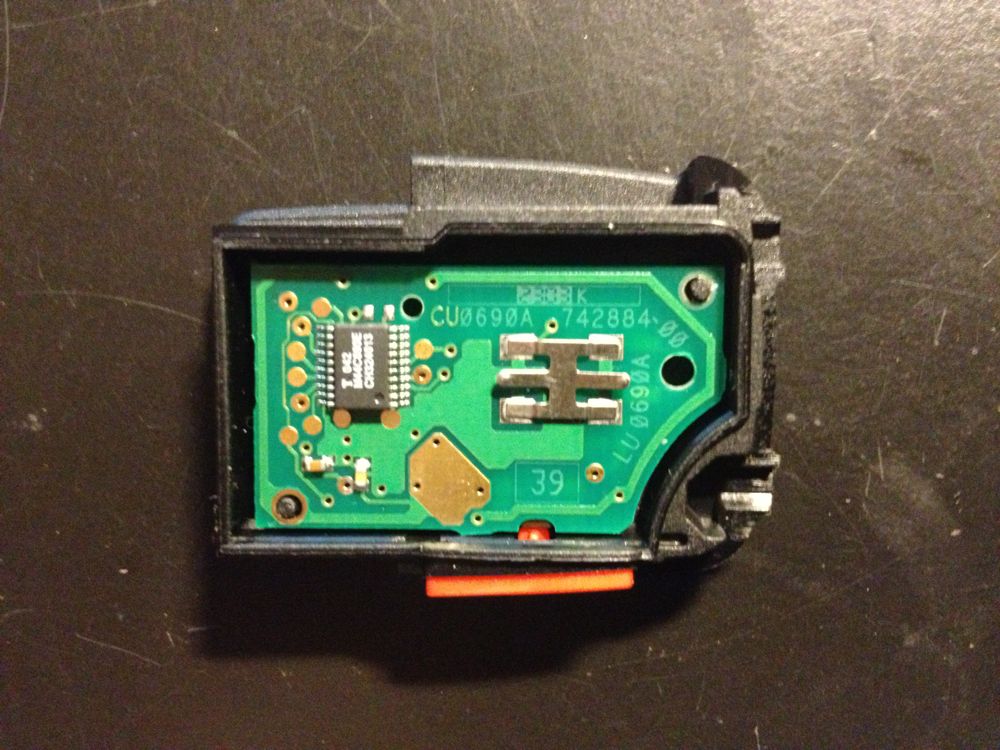 The battery from the old remote now in place in the new case: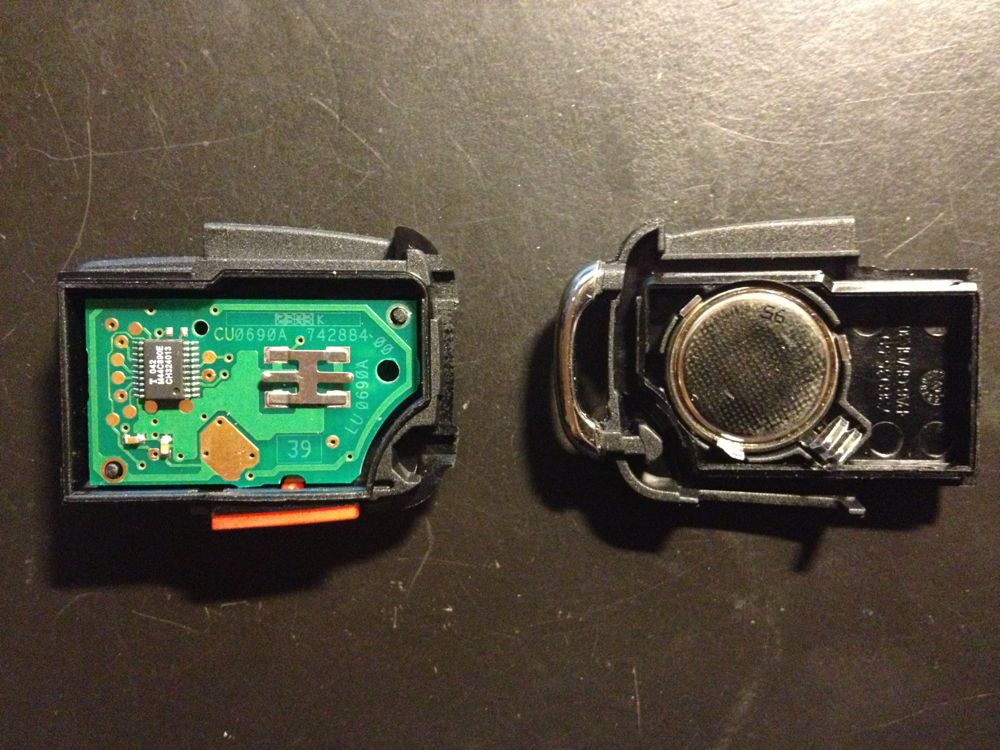 The old key switchblade mechanism: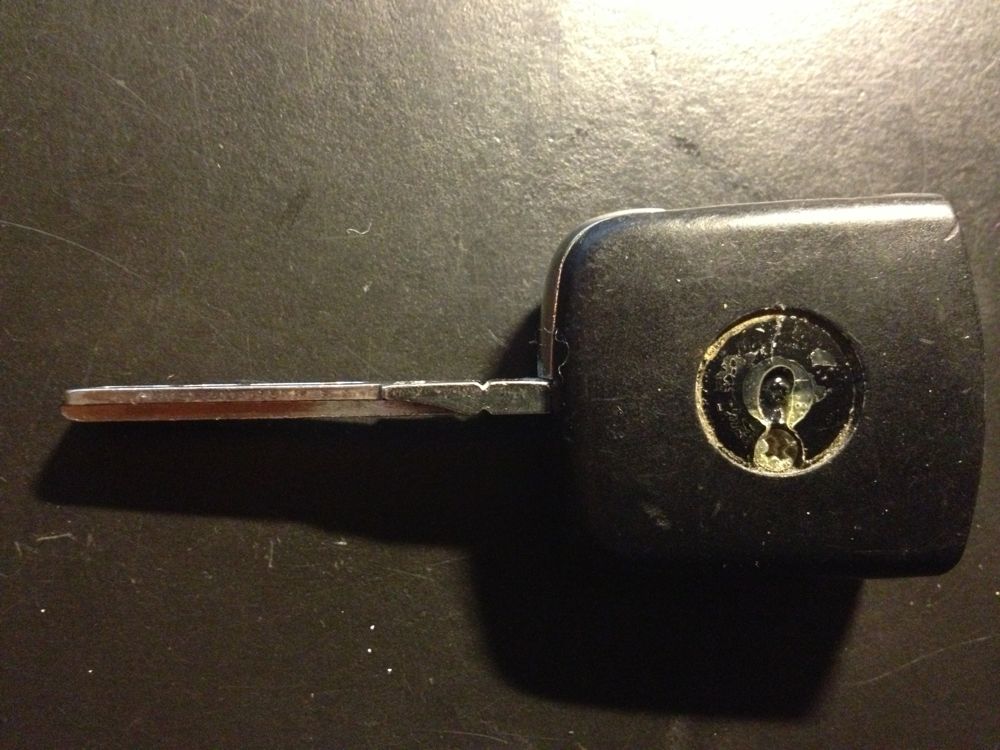 With the screw removed, the blade comes out easily. I had to tease the RFID capsule from a little glue in the slot on the lower half of the switchkey housing: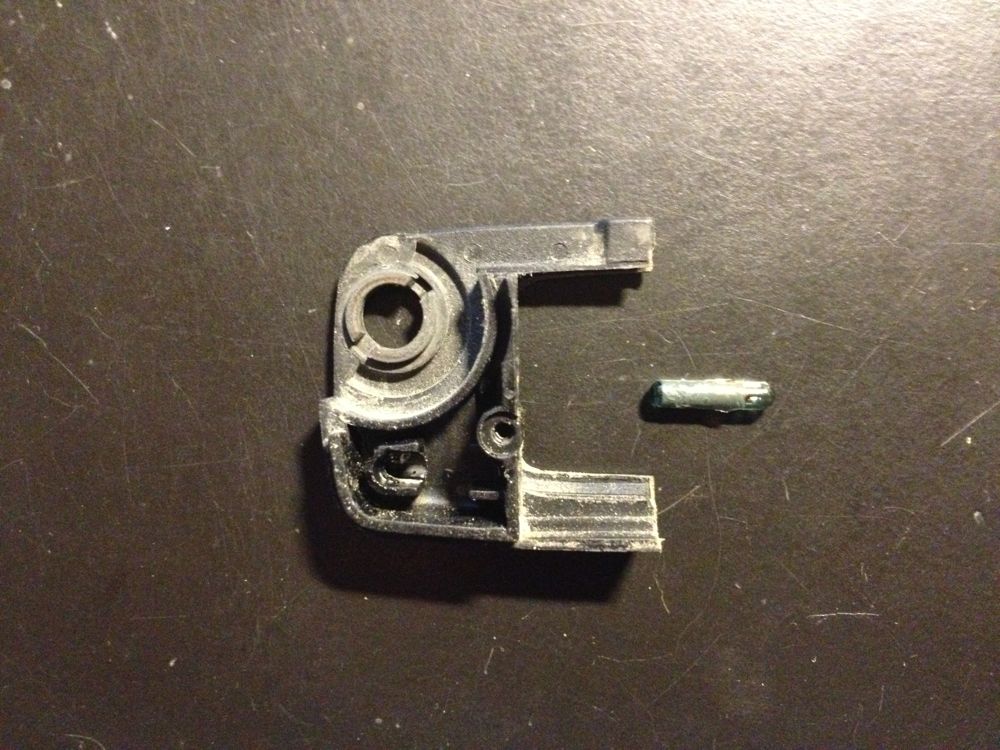 So here's where the work I didn't expect to have to came in. I reassembled the key several times with my old switchkey blade in the new housing—using the new button and spring, the old button and old spring, the new spring and the old button, the old spring and the new button—none of which produced the desirable and familiar flick open. I started to look at the new blank blade vs. the old blade and I found the hubs were a little different. I though the nubs on the old key hub may have been too high and were rubbing the new housing, slowing the "flick" action. So I filed them down a bit with no improvement. Then I examined the hub closely and found the blade and hub were actually separate parts. They were locked together with a spring steel pin. I used a very small gauge wire brad that I filed the end flat on to tap it out with a tack hammer. The following picture shows the three parts that resulted: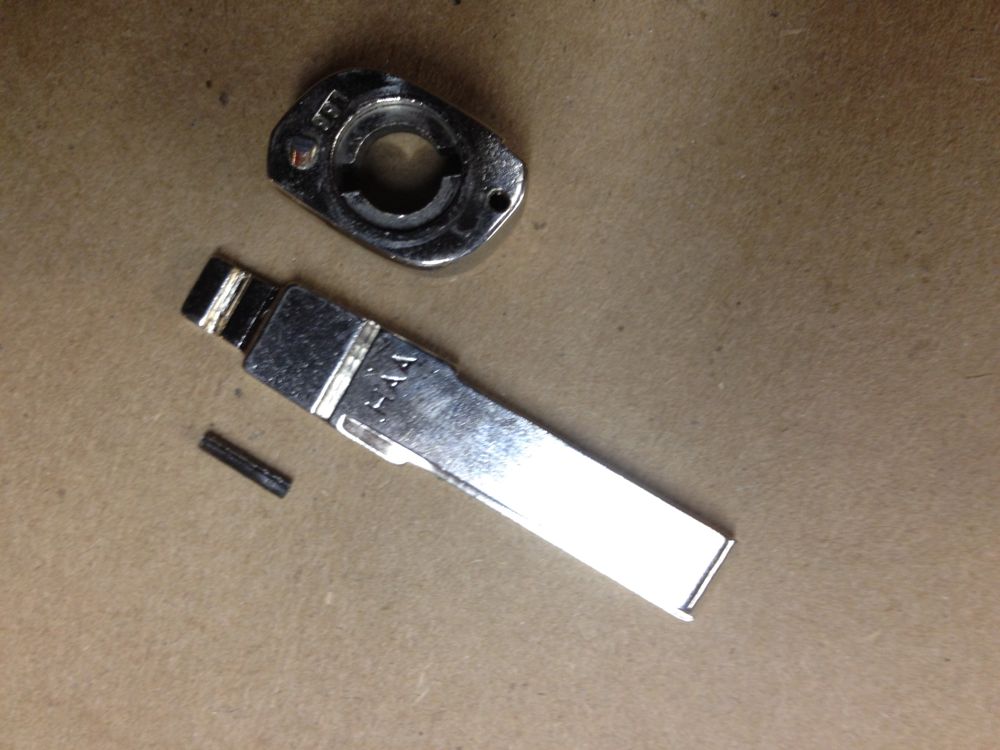 I disassembled the old blade and hub similarly and then used the old blade in the new hub. It was a hair thicker than the new blade, so I filed the back of the insertion tab on the old blade until it fit into the new hub socket. I aligned the locking slot with a sharp pick, and then using a pair of channel locks, slowly pressed the spring pin back into the bore to lock the blade in place. When I reassembled the new key case with the new key hub and the old key blade, it worked perfectly. Just the exact same "flick" I have been used to for almost 8 years. IMPORTANT NOTE: The RFID capsule fits very loosely in the new case, so I added a dab of RTV (the goo with a thousand uses) to the cradle to keep it from rattling around in there. New reassembled new case with my old switchkey vitals in it (left), the old key case, now empty (right):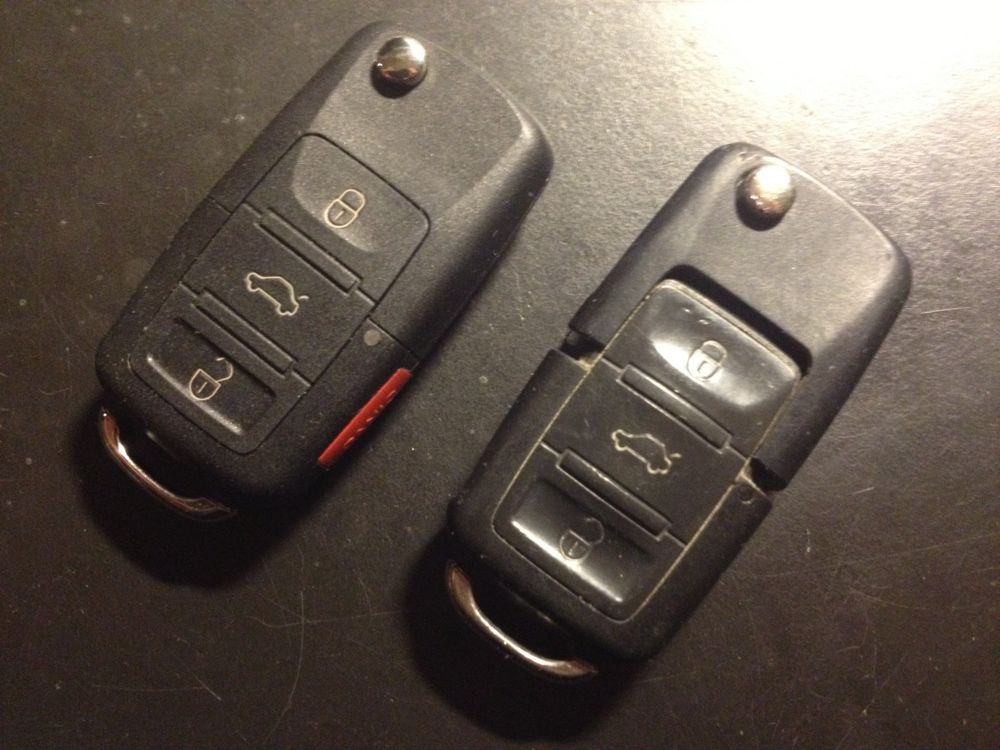 So for $27 including shipping for both keys, I went from this: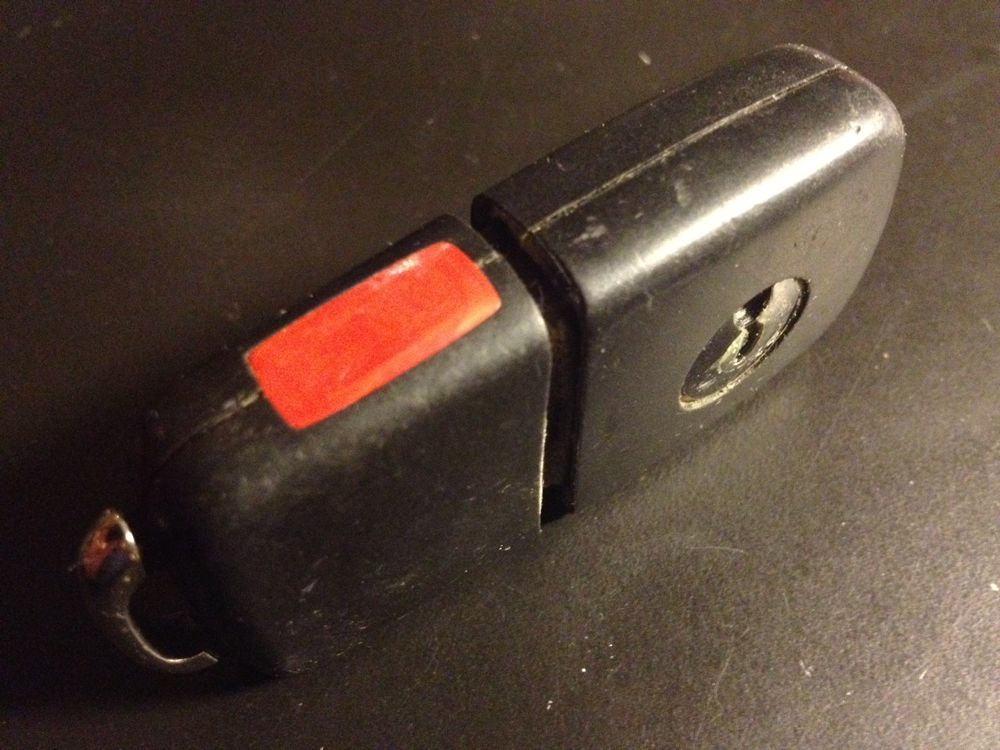 To this (x2):