Biden: Stimulus doing more `than we had hoped'
Vice President Joe Biden says the $787 billion economy stimulus "is in fact working" despite public skepticism and continuing criticism.
Biden defends stimulus plan
"The recovery act has played a significant role in changing the trajectory of our economy, and changing the conversation in this country," Biden said. "Instead of talking about the beginning of a depression, we are talking about the end of a recession."
Really?
Now, keep in mind despite all this, only a fraction of the stimulus that was reportedly marked for spending has actually been spent. Should the remaining money go unspent/be "returned"? Afterall, even if you buy Biden's remarks that the stimulus package is turning things around, how could that really be if only much of it hasn't been spent yet?
Either way, how does Biden also reconcile his remarks with this fact:
Unemployment rate jumps to 9.7 percent...highest rate since 1983
or how about this?
Prime-Loan Defaults Surpass Subprime for 1st Time
How delusional are these people?
Of course, a few billion of that was spent on the silly C.A.R.S. (aka Cash for Clunkers) program - a program which was orignially supposed to "only" cost 1 billion dollars and fund the program through Nov 1.
And now the President and Democrats apparently want to go it alone on healthcare?
These people are complete morons. Fortunately, more and more people are no longer buying into their b.s.:
Daily Tracking Poll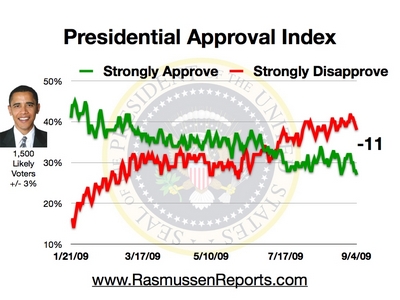 I thought Bush had poor fiscal policy (and he did) but these guys have NO fiscal policy.
I'm curious to know how Sharky and the other diehard supporters of these people can honestly continue to defend this Congress and the administration? Just a few years ago this gang was crying about the importance of solid fiscal policy. Now, they're mute on the issue.