Discussion Starter
·
#1
·
http://money.cnn.com/2007/01/01/autos/rolls_convertible/index.htm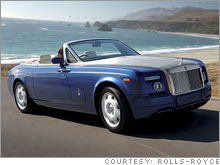 Rolls-Royce Motor Cars will unveil its first convertible in five years at the auto show in Detroit later this month.
The Phantom Drophead Coupé is due to start production in summer of 2007 at the luxury automaker's Goodwood plant in England. It will retail for $407,000, or about £208,000. It is the first Rolls convertible since it stopped production of the Corniche in 2002...
The two-door, four-seat car will have a 6.75-liter, V-12 engine. The roof will have five layers of material, lined with cashmere, to ensure quiet when the roof is up.
U.S. demand for Rolls-Royces has been relatively strong. Auto sales tracker Autodata estimates that the brand sold 330 cars through the first 11 months of 2006, up 50 percent from the same period of 2005 total, although still off from the 420 sold in 2004, BMW's first year with the brand.
Volkswagen has seen solid gains in its U.S. sales for its Bentley high-end luxury brand, selling 4,017 here for all of 2006, up 10 percent. But German automaker DaimlerChrysler saw U.S. sales in its high-end Maybach brand fall 25 percent through November to 165 from 220 in the same period of 2005, according to Autodata, and Ford Motor has announced it is looking to sell its luxury sports car Aston-Martin brand as it tries to stem companywide losses and free up capital for its turnaround plans.
The world's two largest automakers, General Motors and Toyota Motor, do not have the top-end luxury brands, competing instead on the next tier down with their Cadillac and Lexus nameplates.