Question re: Replacing Cam Cover Gaskets, Oil Seals & Caps on 2003 Passat ATQ 2.8L V6
Hello, everyone:
I started to replace the thermostat, TB and water pump in my 2003 Passat wagon [picture below], but as I went along -and since so much of the engine has to be removed anyways- decided to replace the cam cover gaskets as well, so I purchased the ECS cam cover gasket kit and am in the process of replacing the old gaskets, which were causing oil leaks on both sides of the engine, following the instructions here:
forums.audiworld.com/showthread.php?t=1708648
https://www.youtube.com/watch?v=jBsYGVwaMR0
www.blauparts.com/vw/vw_valve_cover_gasket/vw_valve_cover_gasket_kit.shtml#valvecovergasketleaking
http://www.blauparts.com/vw/vw_valv...over_gasket_kit.shtml#valvecovergasketleaking
[Blauparts series of videos, which are not detailed but give you the general idea]
For the t-stat, water pump and TB job I have followed the fine instructions here:
https://www.youtube.com/watch?v=3pFKMJu8vQo
[/video] [which is a three-part video, very well explained] and:
phatcat_ed.tripod.com/V6.htm
http://phatcat_ed.tripod.com/V6.htm
commented and adjusted somewhat by:
www.passatworld.com/forums/68-b5-garage/233495-diy-v6-timing-belt-replacement-my-experience.html
http://www.passatworld.com/forums/6...v6-timing-belt-replacement-my-experience.html
My thanks to Ratchets and Wrenches, Phat Cat and y2000passat. Awesome, detailed and patient people, all of you.
I have also used the Bentley's Service Manual [ISBN 9780837614830] as reference.
I must say that I did not use the cam clamp 3391 but, instead, built my own, pictured below, which worked well enough.
I am using the crank lock, tool 3242, which I installed once I had TDC prior to taking the TB off [Bentley's pp.D13-3 and D13-4].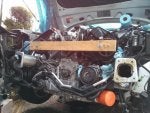 So, here is where I am:
crank is locked with tool 3242
TB, t-sat housing and water pump housing are off
cam covers are off
cam sprockets are on
cam clamp is not on
double bearing cap is off in right-side cam
camshaft position sensor is off in right-side cam
[picture of left cam and sprocket as they are now, and picture of right sprocket as it still is and with which the left one matched, below]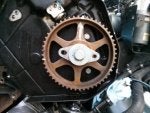 [and picture of the crankshaft still aligned with marks made prior to TB removal and after crank lock pin placed, below]
While everything has gone splendidly trouble-free, I have come across what I suspect and fear to be a major mistake:
After removing the cover for the camshaft position sensor of the left side [pistons 1, 2, and 3] a 13mm bolt holds the washer, hood and oil seal. Upon turning it counterclockwise the exhaust camshaft snapped to the left, and the sprocket moved 3/4 of a turn to the left or, more accurately 49 teeth of the sprocket.
As I understand it, I have to remove and then hand-tighten the sprockets for easier reinstallation of the TB. This being the case, I have assumed that, in order to get better clearance to the cam chain tensioner gaskets in the left cam and the oil seal and cap in the right one, I would get the sprockets off or, at least, loosened.
My questions, then:
Have I damaged the timing or the valves because of that movement in the left-side sprocket?
Or would that movement have happened anyway when loosening the sprockets, as seems to be the implication in the Bentley's instruction on p.D13-4 ?
And, although I was close but hadn't gotten yet to that step, How are the sprockets removed? Ratchets and Wrenches uses a gear puller [
https://www.youtube.com/watch?v=fhhVcxZE7uE
at minute 5:44] and the sprocket and plate jump off, but I do not quite understand how he makes the bolt turn counterclockwise [assuming on my part that this bolt tightens and loosens normally, i.e.: righty-tighty and leftie-loosie] to loosen the sprocket without it and its securing plate also turning?
I hope I haven't bored you all experts with such mundane questions. While I await your responses I'll go back to install the aux water pump and its hoses, the CTS, the t-stat, and the water pump, and degrease as much of the block as I can. Yes, I am a nerd. I should be German.
Cheers,Miguel
p.s.:
BTW, that in the car is Lola, who owns the street block and apparently also thinks the car belongs to her, mostly for napping purposes.