·
Grinding Gears...gone fishing!
without further delay...
To the person(s) who nominated and selected me, I have a special thanks for you. It's not often (has it ever happened?) that a standing moderator who is in charge of selecting the POTMs gets a PM from another moderator that he's been selected as POTM! Imagine my surprise when AA sent me a PM telling me in the subject line that I had a job to do; when I opened it, she told me it was my turn to put together a POTM writeup!
In January of 2003, I was looking for a new car, at least new to me. I was driving a 1990 Nissan Maxima SE with roughly 245k miles on it, and it had been a pretty decent ride for a roughly 8 years. I had a few requirements for the new car: it had to be fun to drive, have decent horsepower, HAD to be a stick, and get decent gas mileage - I drive 120 miles a day to and from work - and lastly, had to be comfortable for a daily driver. Since I drive roughly 30k miles a year, it didn't make sense to buy a new car since the level of depreciation would plummet the value like a rock.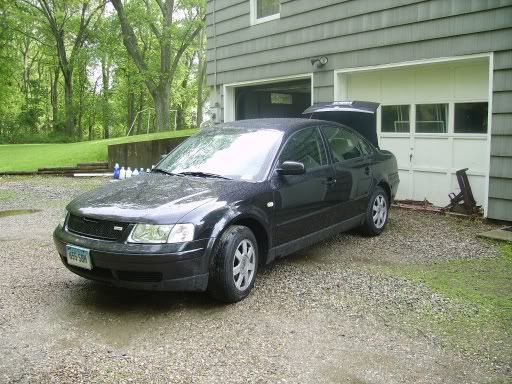 I went down to a local used car dealership (my wife went to high school with the owner), and he started handing me keys - there was no baby-sitting me on the test drives. I drove an Acura TL, a couple of Saab 9-3s, two Audi A4s, and even a Mercedes C class. None of them felt right. Then I saw this 99 Passat...Black Magic, GLS, leather, winter package with heated seats, V6, and a stick. I took the keys, and went for a ride, and that was absolutely it - I knew it immediately. It met all my requirements, and the price was right; hell, the interest rate for a used car loan was less than 4%, so I signed the papers and brought it home a couple of days later.
Then I got curious - I saw a few modified VWs on the road, and starting digging around online. I found enthusiast forums - clubb5.com (now Passatworld.com) was the first one I found - and you guys got me hooked. The first mod I made was Hella projector headlights and clear side markers; then, a Kamei grille; then an audio system; then more audio mods; tinted tails; a new shift knob and a Diesel Geek short shifter. I considered chipping and lowering it, but it didn't make sense for a 30k mile a year daily driver; however, I lowered it anyway.
I have replaced the axles, suspension and control arms, wheel bearings and more, and have spent a load of time digging through the online forums to learn about this fine automobile. Moreover, I've learned loads from all of you guys who frequent the forums, and I thank you all for all the help you've provided me over the years and try to pay it forward at every opportunity.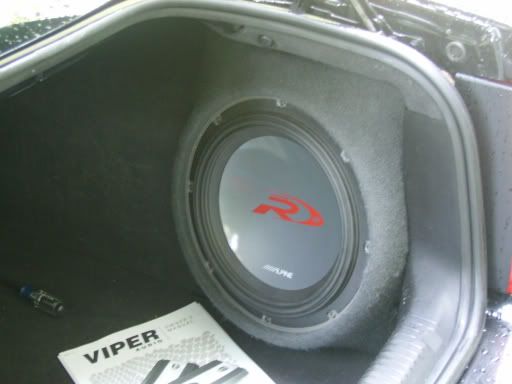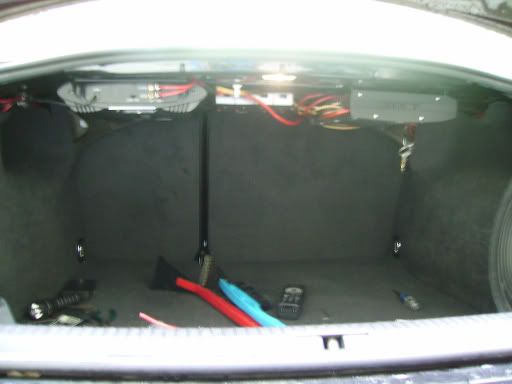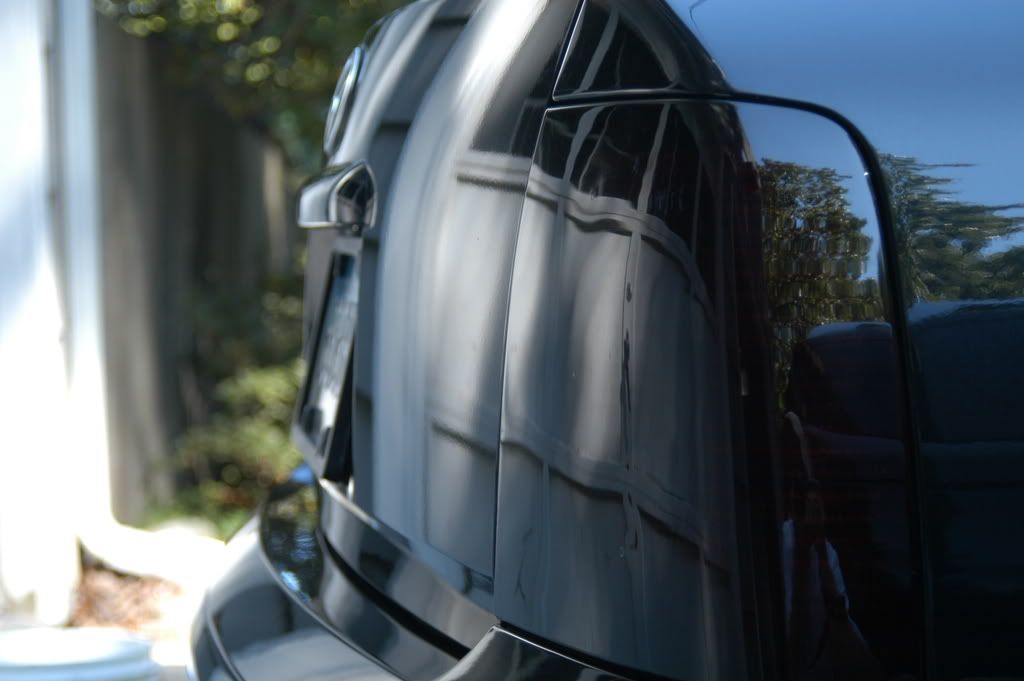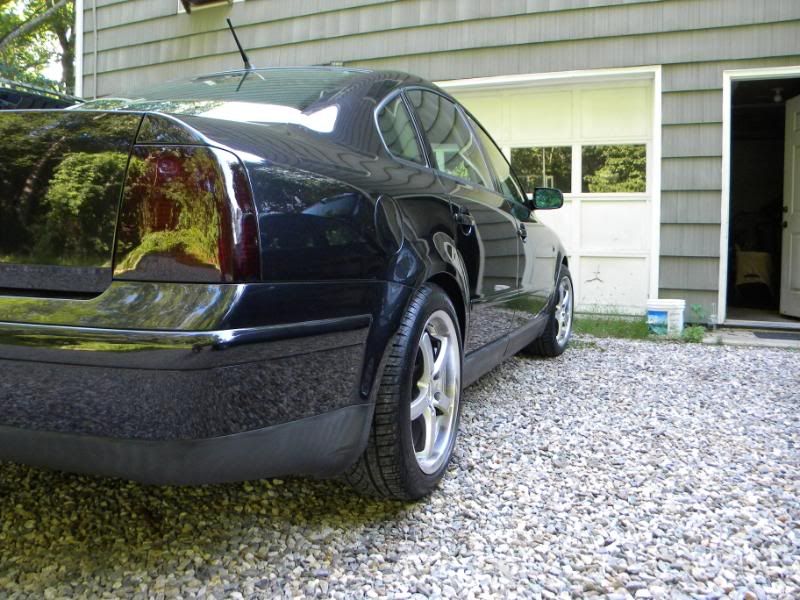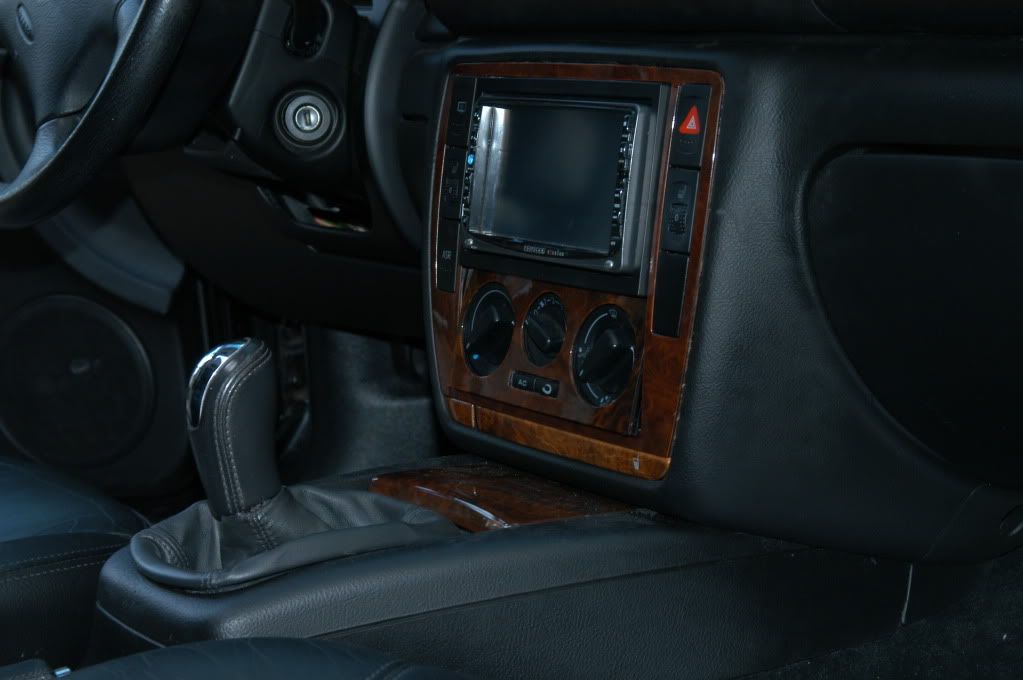 As most of you know, my home is the place where Snorkfest is held each mid-August. This started out of a desire to get the regular crew together for a day that didn't involve wrenching, just good food and jawing, putting faces with screen names, developing new friendships as well as renewing old ones. The first year was about 12 cars, the second was 18, last year was 25, and I'm guessing this year will be 35 - yes, I've decided that I have to hold it this year, regardless of what I might have said in the Snorkfest thread in the Events and Gatherings forum. Viva la Snorkfest!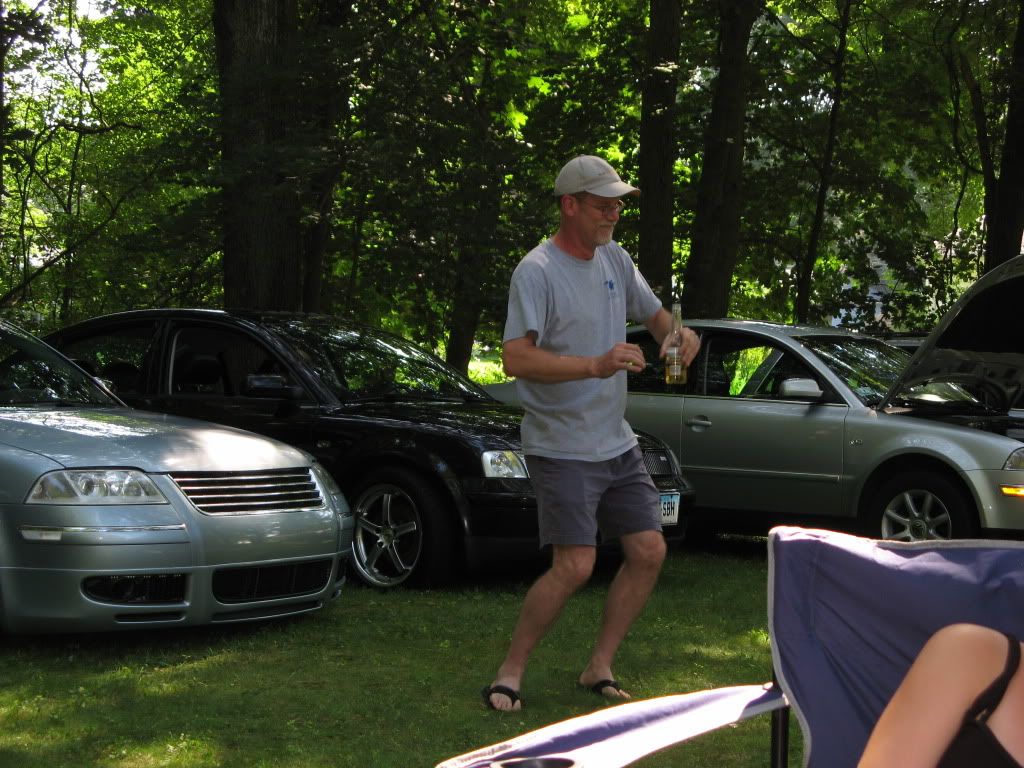 This wouldn't be the obligatory write-up if I didn't take the time to thank people who've provided me their time, energy, advice and camaraderie. I'd especially like to thank Bill (scirrocco78), Matt (vwb5t), Keith (Pokey) for all their time, energy, and help - no matter what, I know all I have to do is call and they live close enough to make arrangements to help out. Just as a datapoint, I called Keith one evening close to the date when my FIL was moving in, needing some help with the bathroom I was re-fabbing – he showed up with ½ hr notice, and stayed until well past midnight helping out! Matt comes by with his VAG-COM and tools whenever I need a little help wrenching. Here's to Jon (vwshloman) for the use of his garage from time to time in the winter! Paul (qualitysound) gave me lots of good audio advice.
James (R36Dreams) is also a great buddy - who'd have thought this friendship would start over swapping a $100 amp back and forth over beers in Alexandria??? Yo, Stevie-Steve – Scott - you rock, man. I also want to take the time to thank Rusty for asking me to moderate here at the best damned Passat enthusiast website ever. Many thanks for the support of my fellow moderators – without you, this website wouldn't be what it is – there's a considerable amount of time that we all put into this place, and it wouldn't be what it is without all of you.
At the time of this writing and thanks in part to all of the denizens of PW, there's more than 220K miles on the car, and I'm still on the factory clutch and exhaust, as well. I'm shooting for 300K miles (about 2 ½ years from now) – and I know the car will make it.
I also have to thank my youngest daughter Daria for her help with some of the smaller jobs – she's gonna be a wrencher! :wrench: I also need to thank my wife Julie, since she puts up with my VAG addiction. I've hooked both daughters Deena and Daria, and they both now have '98 Audi A4s. As for the rest of you, thanks for helping me lighten my wallet! :lol:
Mods:
1. Audio system (ICE)
- Kenwood Excelon DDX7815 (looking for something with time adjustment now, tho)
- Boston Acoustics Z6 component speakers up front, none in the rear (screw the passengers, the audio system is all about the driver!) driven by a
JL Audio 300/4 bridged to two channels (about 150W/ch)
- 12" Alpine R sub in a StLB5 stealthbox driven by a
JL Audio 250/1
2. Body/lighting
- Jonboy's tinted tails – medium dark
- debadged
- Honda S2000 antenna
- Kamei honeycomb grill
- Hella projector headlights and clear corners
- smoked side markers
- aspherical rearview side mirrors
3. Other mods/upgrades/fixes
- New Beetle Sunglasses holder
- Big 3 electrical ground upgrade
- Skoda shift knob with a leather boot
- Diesel Geek short shifter
- all 4 wheel bearings
- all control arms
- tie rods x2
- jack pads
- urethane snub mount
- new motor mounts (due for transmission mounts, tho)
- Castrol Syntec 5W-30 every 10 k miles - that's right, 10k mile OCIs!
- A couple of timing belt changes
- Double DIN mod
- Cargo web in the trunk
- probably other things, but for now, CRS disease has set in...I'm allowed to have it, I'm OLD!
4. Suspension/Shoes
- Koni Sport Shocks
- Eibach Sport Springs
- 17" TSW Nogaros shod with Conti DWS
5. Mods and Parts waiting to be installed
B5.5 black leather center console and e-brake handle
Stock headlights (thanks, Kathy!)
Driver's side engine cover
Battery tray cover
Once again, thanks to all of you for making this the best damned Passat enthusiast destination on the web.