I recently acquired an '02 Passat 1.8T Wagon (auto) w/ 175k miles in really nice shape (runs and shifts flawlessly, not even a door ding) except that the oil pressure light flickers above about 2500rpm. It needs an ABS module, but other than that, it's great.
I assumed (dumb, I know), it was sludge from a PO not using synthetic oil clogging the screen and causing oil starvation at higher rpms.
I purchased a new German-made oil pump and screen, and dropped the subframe to replace the pump and found that the screen had no sludge, but was packed full of small white hard plastic bits, all about 3mm-5mm in size that resembled pieces of a chain rail guide liner as I've seen used in some engines. There was a few of these in the pan, but the oil pump had done a great job of collecting 99% of them. The pan was pretty clean otherwise, and the bottom end of the engine looked normal for the miles on it.
I snapped a photo of some of what I picked out on my workbench (attached).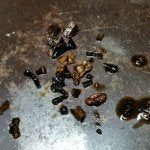 Engine bottom end (old oil pump still in place)- No excessive deposits I could see.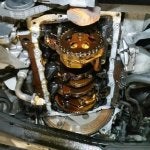 Removing the valve cover I saw no chain guide on the cam chain end that looked like white plastic on the hydraulic cam chain foot, and the tensioner for the oil pump chain, both of which were black material and intact with no broken corners.
So I am at a loss to know where the plastic could have come from, so am asking here (after doing searches that mentioned junk in the pan, but nothing that looked like my recovered pieces).
The engine was quiet and ran perfectly before, as it does now with the new pump and screen (and no oil pressure light now, of course), but I am a bit nervous wondering if there is something disintegrating that will cause FUTURE problems.
Ideas?
Thanks,
Bob