Discussion Starter
·
#1
·
I finally finished the brake job on my '99 this weekend: ECS A8 kit up front, drilled and slotted rotors all around, PBR Deluxe pads.
This is a picture of the inner front pad:
This is an original OEM pad; I have 62K on the car. I do not think you can get any more mileage out of that pad. The lesson learned from this picture is that you must take the time to measure the inner pad when determining replacement criteria. The thickness on all of the outer pads would have led me to believe that I could have put off the work a few more months…
This is a comparison of the front A8 rotor with the stock OEM rotor:
I painted the hat with 500-degree high temperature satin black engine paint, obtained from my local parts store. My B5 inbox was wiped, so I cannot give credit to the ClubB5'er that guided me through the prep and painting process (but thanks for your help).
This is the final product up front: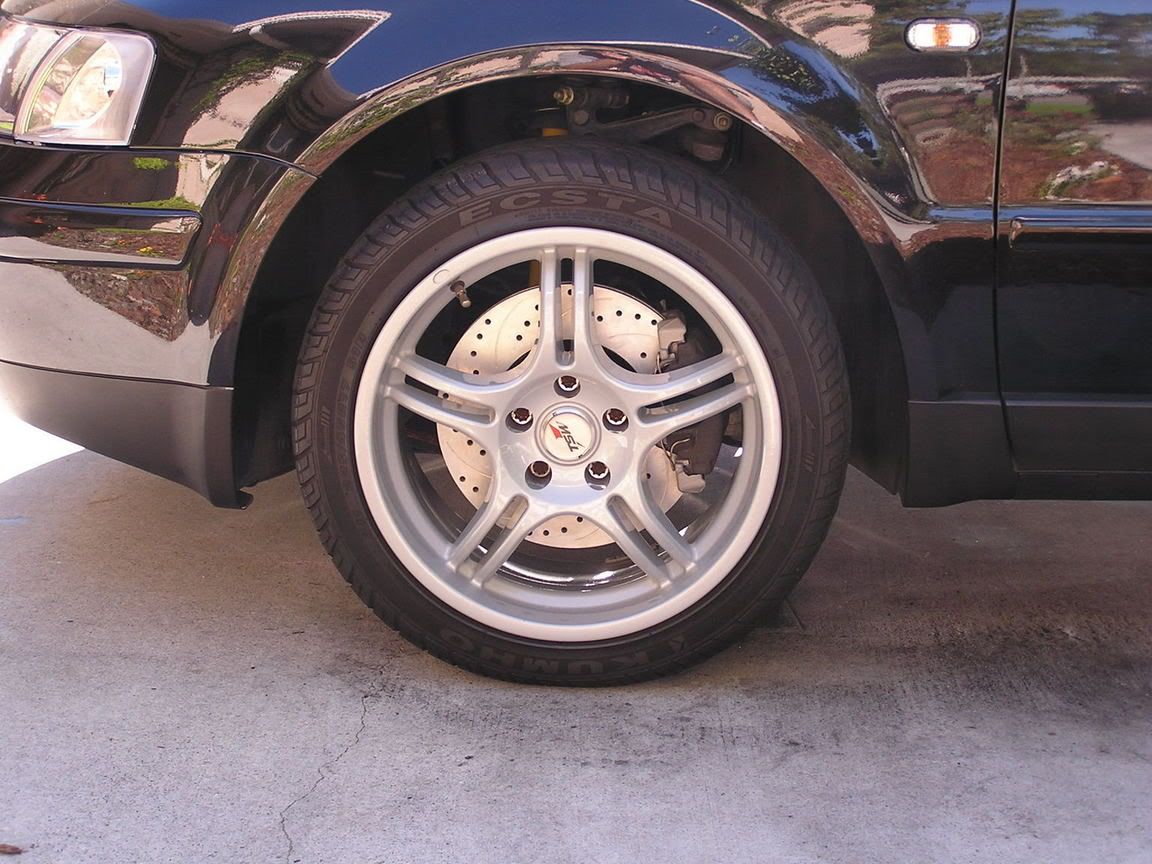 I know I need to close the wheel well gap, my Bilsteins look naked: S_Klass when is the GB opening up again!?!?!?
Here is a picture of the rear, just before wheel assembly:
Due to my schedule, I did not have the time to paint the calipers. NUSIANCE, thanks for your generous offer. How did your powder-coat job go?
Here is a data-point for the bleed OUT vs. bleed BACK argument. I bought a foot of tubing and connected it to the nipple of an old baby-bottle. I used this rig to collect the brake fluid from the caliper bleed port as I compressed the caliper. To provide some perspective, this fluid was new last year (the dealer performed a complete pressure flush):
From what I hear, our anti-lock brake systems are finicky. I did not want to push this fluid back into the system.
The people at ECS Tuning (rotors and caliper compression tool) and Import Replacement Parts (PBR pads) were top notch. If anyone in the area needs to use my brake compression tool, let me know. I am sure you can use the plier's method; however, this tool makes the process go very smoothly.
I have begun the rotor seasoning procedure. The only complaint/concern I have so far is the sound of pad dragging against the rotors. I am confident that I compressed the calipers far enough. I also used pad shims and applied disc brake quite goo to the backs of the pads. Time will tell if I have to pull the pads and use a different adhesive…