Discussion Starter
•
#1
•
I read today that the Euro W8 has a 334mm rotor, and it's exactly the same setup that comes on the Audi TT 3.2. So I got looking at the rotors, to see if they would work for my 17z brake upgrade, but they are VERY different rotors. And now I'm mostly curious why, and hoping someone could explain it. I can't really find a breakdown of what all is different between the two, so I thought I'd come here to see if any of you knew. I'm only basic-mechanically inclined, so a lot of this stuff is over my head.
This is the US vs. Euro rotor (Euro uses same part # as Audi TT 3.2). Why the massive height difference? Are the hubs different too, and that's why they're so different? Or is the caliper carrier different, so it puts the caliper in a different position? Obviously these two parts are completely different, and the location of the rotor itself would change by more than 1cm, right? Can someone explain that to me? How are they so different?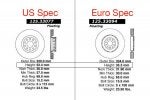 I thought I could just swap these rotors onto my W8, and they would work with my 17z Porsche calipers, but these are definitely not going to fit. So what else would I need to swap, or can they even be swapped?