Discussion Starter
•
#1
•
Jason Crowley (Jayson13f)
Knoxville TN/ Manhattan KS
2002 1.8T Black Passat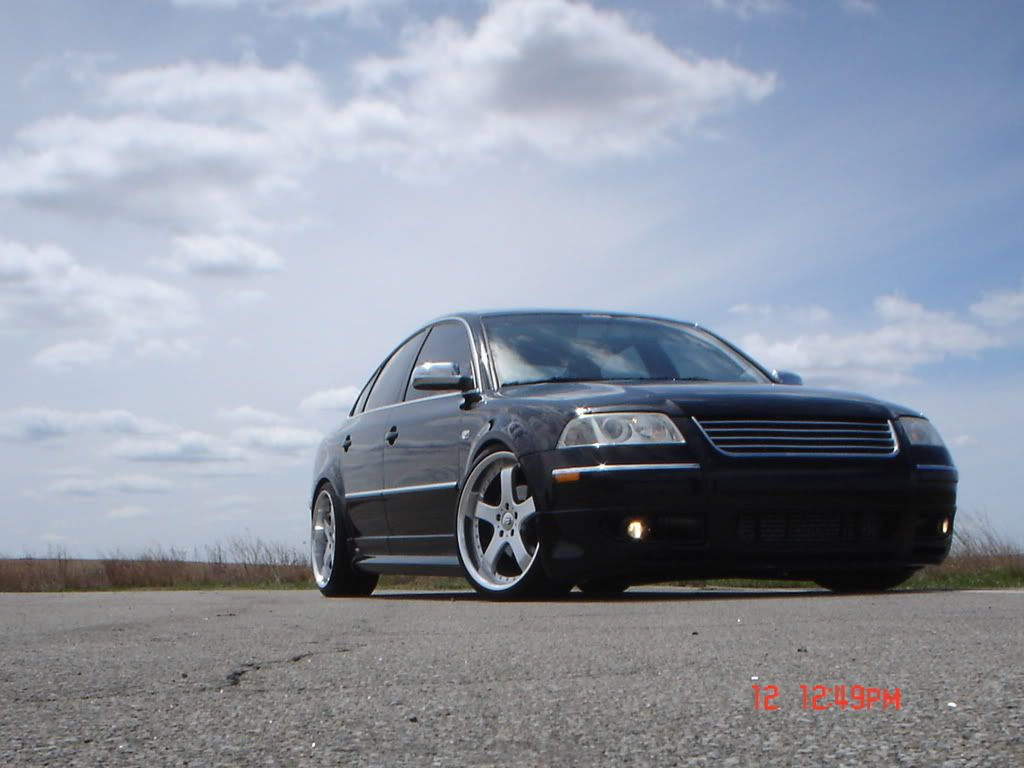 This was the first and only VW that I have ever owned. It was 2005 and I had just got stationed at Ft. Riley KS and I needed a car. I went shopping and came accross a 2002 Black Magic Passat. The color and style of the Passat is what caught my eye. Then to find out that it was turbocharged just made it that much sweeter. Knowing that it had potential and alot could be done to it. Then 2 months later I get orders to go to Iraq. So I had to put the car on hold for awhile.
I've never owned a turbocharged car before, so I started doing research. My first few months I could not find anything, anywhere on how to mod a VW Passat. The market is cut out for Jetta's and GTI's. Then one day I came across PassatWorld. The next thing you knew, I couldn't wait to get off missions to get back online and learn about my car. Man, was that a mistake. I've invested alot of money and time into this passion, and now it is starting to pay off. Everyone here on PW was patient and helpful of me being a newbie.
My first major mod was a Votex ground effects kit. Man, that set me back! I waited a month then started modding again. Next came the 19" staggered Monets, KW V2 coilovers. But none of these things where on the car. I eventually came home from Iraq in Oct of 07, I had a garage full of parts waiting to be put on. After a long flight from Iraq to KS then from KS to TN I was exhausted, but I couldn't wait to start working on my car. And so it began.
My father and I spent my first few days home ripping things apart and installing the new mods. When we where done with all the work, I was so amazed on how the car turned out, that I was scared to drive it. I was affraid something would happen to it. lol. But at the same time I wanted to get out there and show off all the work we had put into it. Hard work it was, but also worth every penny and sweat that was put into it.
I have done many modifactions since then, and I of course could not have done them without all the write ups and info that PassatWorld and its members have provided. I cant thank this site enough. I do however wanna thank Paul-(quality_sound) for all his help while in Iraq and the info he shared with me, Kenny-(V-dubin), my pops for the help, and everyone here at PassatWorld.
MODS:
Exterior:
Full Votex ground effects kit
19" staggered Monets (8.5 front & 9.5 rear)
General Exclaim UHP's 225/35 front & 245/35 in rear
Kw V2 coilovers
FK badgeless grill
Shorty att. ( shoron style)
Chrome mirror caps
ECS slotted rotors in the rear
22% tint
Interior:
Net optic trim
A-pillar Autometer boost gauge
DG shortshifer
TT foot pedals
7" in dash monitor
US 2400 amp
2 12" Eclipse sups
Engine:
Revo stage 1 flash
ABD intake w/ heatshield
EvolutionRacewerks test pipe
custom FMIC
Custom painted engine and A4 resovior covers