·
RETIRED Super Stealth Moderator
Discussion Starter
•
#1
•
Ladies and Gentlemen, I give you the Passat of the Month for March, 2009!!!
//hockey_announcer_voice_on
Congratulations, jjjoooohnnneeeeeeeee caaaah-NUCK!
//hockey_announcer_voice_off :lol:
take it away, John!
I've been a life-long dubber. I grew up in a variety of my parents (and uncle's) microbuses, Beetles, Ghias, and fast backs, so it was only natural for me to start buying dubs. My first dub was a 1990 Jetta GLX, then a '95 GTI and when it came time to get a 'family car', the Passat came out on top of my short list, hands down.
I picked up my 2000 GLX V6 wagon in 2003 with 45,000 km on the clock. The previous owner was a VW of Canada exec, so it has some oddities, particularly no climatronic and cloth interior. I joined PW in 2004 as a way to get info on quick fixes and various other things but modding was out of the question (according to the warden).
Bone stock:
The car remained stock until 2007 when I split with my wife. Knowing I was going to be driving a wagon while being a single guy, I figured now it was time to have some serious fun with it. I joined a local VW club, met some Passat owners and started slowly with debadging the hatch and adding a euro V6 sign. Then I swapped the plastic steering wheel for a leather wrapped, three spoke GTI wheel. Next up was a badgeless grill, suspension, wheels, FK projectors and IN PRO tinted tails... and on and on...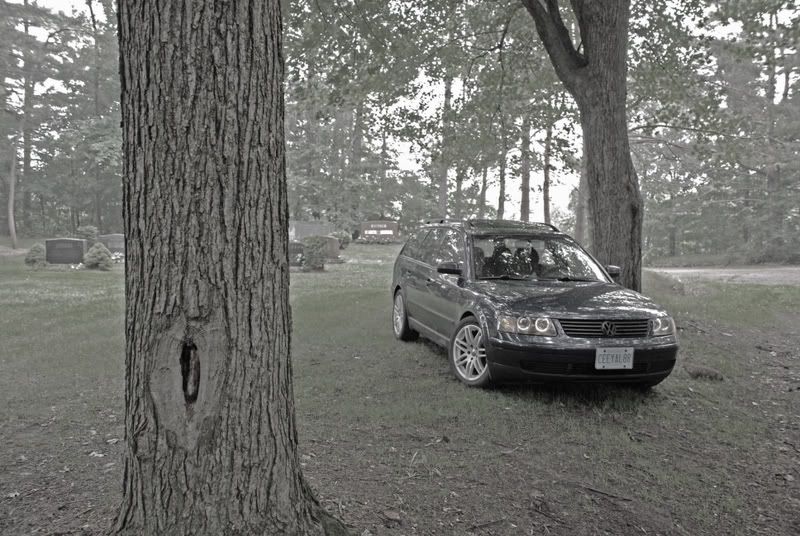 In the time since I started in the spring of 07, I've since reverted back to an OEM grill, but blacked out, also blacked out the rear emblem, and in the summer of 2008 I installed a Pioneer AVIC-F700BT navi unit and also did a two tone interior swap, keeping my door cards/dash/carpets black, but installing a tan leather interior from a 2002 GLX. Had the interior shipped from Georgia to Ottawa since variant interiors are had as hens teeth to find.
My Passat is my daily driver 365 days a year for me and my five year old daughter. It's roomy, comfortable, reliable and with the Eibach/Koni set up on 8 X 17" rims, it handles like it's on rails. I really do love my B5 and can see myself holding on to it for about another five years, if all goes well.
This is bar none, the best car I've ever owned and the most fun car I've ever owned. It's also allowed me to meet a load of great guys and girls in the dub world.
Mods:
Inside:
GTI leather 3-spoke steering wheel with blue Euro badge
Tan B5.5 power leather seats and door card inserts upgrade
Tipmod adaptor w/ shortened shaft
Momo Race Air Leather shift knob
W8 chrome beltline
W8 sunroof console
TT/Phaeton SS pedal set
Black rear-view mirror
Pioneer AVID F700BT Nav system
OEM sunglasses holder
Wired for USB and iPod up front
Added a 12v outlet and Video out cable hiding in console
B5.5 center console upgrade
Custom black suede headliner complete with OEM black grab handles, lights and sun roof console/switch
Outside/mechanical:
GIAC chip
K & N drop-in
FK black projector angel eye headlights with Bosch HID conversion
In-Pro factory tinted tails
Thor aluminum skid plate
Clear corner lights
Koni Yellow shocks with Eibach springs
RS4 rims
Yokohama AVID W4S 225-45-17 (Pirelli Snows on 15" steelies for winter)
OEM valve caps
Black VW logo on hatch
Black VW logo on front grill
De-badged hatch
tinted DEPO fender side-markers
Glass retinted summer 07
OEM Sharan antenna
W8 aero wiper arms/blades
Painted engine cowlings
B5.5 painted battery coverplate