·
RETIRED Super Stealth Moderator
Discussion Starter
•
#1
•
Ladies and Gentlemen-
Announcing the POTM for July, 2009...
mrgreek2002!
I'd like to begin by thanking PassatWorld, all of its staff and moderators, as well as the President himself, The GREEK for creating and running Passatworld throughout the years. I'd also like to thank everyone who nominated me to be July's Passat of The Month. I've appreciated all the kind words and compliments from fellow members of the PassatWorld community and would like to thank all of the members for that. For my Passat to be chosen for Passat of The Month, to me, is sincerely an honor and I'm delighted to be part of it.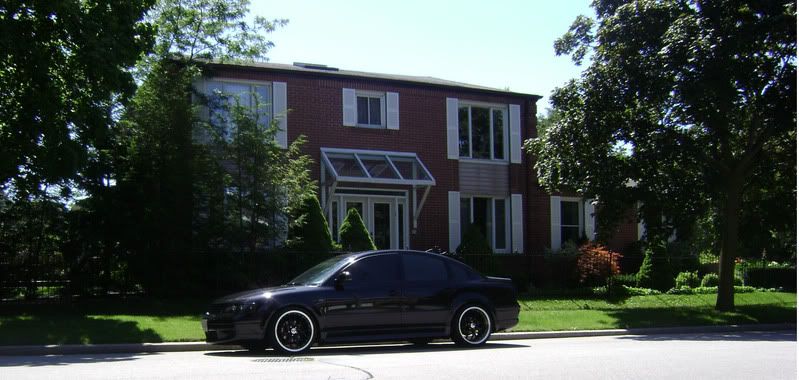 It all began when I turned 17 years old. I had my full drivers license and I wanted to get myself an automobile. I had to make the decision of choosing the first automobile of my life. I needed it to be a daily driver because it was obviously going to be my only car at the moment. Both of my parents are loyal Mercedes-Benz owners and at the time, currently owned three of them. But being a student in high school, I knew that I needed an affordable, decent, and sensible car and therefore a Mercedes-Benz was out of the question for me, because to me, it wasn't affordable and sensible enough for a high school student. I ended up spending quite a few months researching all the different brands and models available in the automobile market currently at that time. There was a point where I came to the conclusion that I was only looking for a European car because Japanese and American cars just didn't appeal to me and I wasn't a big fan of them. Being European myself, helped make this decision a little bit easier.
Then one day I saw a few TV ads about the VW Passat B5 and I was instantly intrigued with it. A few more months passed by and I had chose to go to the Toronto International Auto Show to check out various European car's that I considered possibilities of purchasing. I also went to the VW section and checked out the Passat's. I immediately fell in love with the car. I also loved the blue and red dash lights. That's when I knew what car I truly wanted to purchase. The search for a Passat had officially begun. And then one day, I ended up finding a really great deal on a demonstrator model on the internet. I went to the dealer the next day to look at the car and to test drive it. That's when I knew, that I just had to buy the Passat. I ended up buying it that very same day and took delivery of it two days later.
When I got the Passat, at first I didn't intend on modifying it at all. I didn't even know what one would look like modified. It was all stock for the first few years I owned it and I enjoyed it. Then one day, a few years later, I happened to browse the internet and somehow stumbled upon PassatWorld, as well as other VW online communities. At first, I just lurked the forums for help and insight on some of the issues my Passat was having at the time. I learned how to fix some of the problems myself and also learned some basics about auto mechanics. Soon after, I decided to join PassatWorld. At the same time I also joined a few other online communities. Once I was an official member, I began to look at other members Passat's, and that's when for the first time I saw a few modified Passat's. When I saw them for the first time modified, I saw what could be done to them with a few modifications and just how good they made the car look. This is what ultimately pushed me over the edge and convinced me that I just had to modify mine as well but with my own style of course.
Over the course of the many years that I've owned my Passat, it has gone through many different changes and modifications. This was because I really didn't know which direction I wanted to take with it initially. It ended up going into a few different directions over the years. I finally ended up making the final decision of the overall theme and direction of it about three years ago. The theme I chose to go with was an all blacked-out one and the direction I chose was to go mostly aftermarket with a little bit of OEM plus. I really like how the car turned out to be. The outcome that I had originally envisioned three years ago, is very close to what the car actually turned out to be.
I've been modifying the Passat for quite a few years now mostly in my spare time. I've really enjoyed working on my Passat and the learning experience of how to work on cars was one that I'll never forget in my lifetime. I did do most of the work myself with the exception of the chip, cat and exhaust install, audio install, and painting body parts. I never would have been able to do any of work on my Passat if it weren't for PassatWorld and all of its knowledgeable, helpful, and kind members. Without PassatWorld and all of its members, my Passat would unfortunately still be bone stock and I'd have to take it into an independent mechanic or a dealership for just about everything that went wrong with it.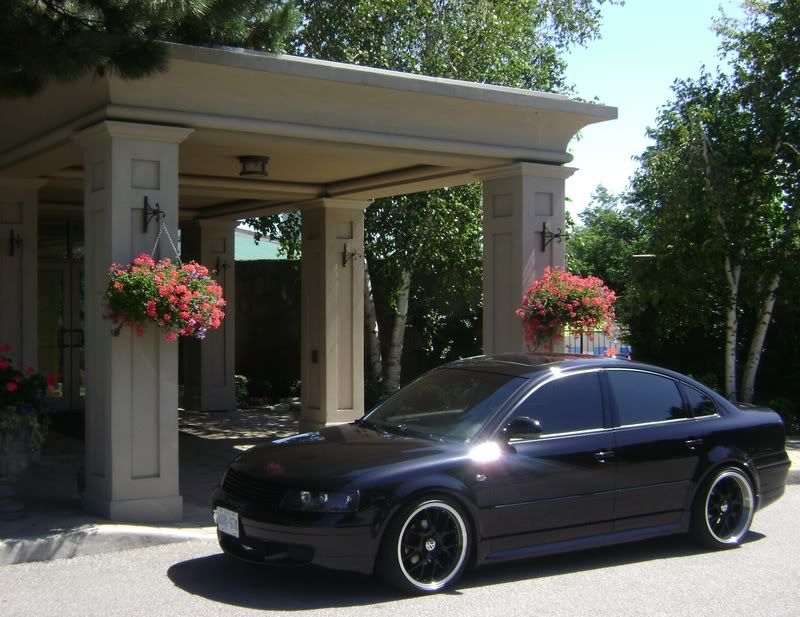 I'm extremely ecstatic of how my Passat turned out after all of its modifications were completed. I do have a few more plans for it in the future but it truly has come a long way over these last few years. Once more, I'm deeply honored to be chosen as Passat of The Month for July 2009 and would like to thank everyone for the knowledge, courtesy, and help over the years.
MODS
Wheels, Tires & Suspension
Vogtland Springs
Bilstein Sport Shocks
19x8.5/19x9.5 ADR M-Sport Rims
235/35/R19 & 245/35/R19 Kuhmo Tires
VW Center Caps
Exterior & Interior
FK Badgeless Grill
Kamei Eyebrows
B5.5 Center Console With Armrest
B5.5 Handbrake
B5.5 Chrome Center Armrest
B5.5 Drivers Side Lower Dash Panel
B5.5 Side Mirrors With Turn Signals
B5.5 Clear Split Wide Angel Mirrors
Painted Side Mirror Bases
New Beetle Sunglass Holder
New South Performance Column Pod
New South Performance Boost Gauge
.:R32 Steering Wheel & Airbag
Skoda Chrome Door Pins
VG Shark Fin Antenna
VW Homelink Sun Visor
B5 Badge
Charactere Front Bumper Spoiler
P&P Motorsports Rear Valence
OEM Votex Side Skirts
Painted Side Lowers
Audio
Pioneer AVIC-D3 NAVI Head Unit
i-Pod Cable for Pioneer Head Units
Alpine SPR-17S Door Speakers
1 10" Sony Subwoofer With Sony Amp
1 Blaupunkt Amp For The Door Speakers
Lighting
W8 Over-Head Console With W8 Potentiometer
FK Black Angel Eye Headlights
White Angel Eye Halogen Bulbs
Chrome Front Turn Signal Bulbs
5000k VVME HID Kit
JOM Black LED Fender Markers
Tinted Stock Taillights
Euroswitch
Dual Rear Fog Lights
5th Brake Light Mod
2 12in White Cold Cathodes In Trunk
InPro Black Side Mirror Turn Siganl Lights
Engine & Exhaust
APR 91 Oct. Chip
APR R1 Diverter Valve
HKS 1.8T Intake Kit With AEM Filter
TT High-Flow Cat
TT 2.5" Downpipe
TT 2.5" Cat-Back SS Exhaust
Borla Muffler
Borla Single Chrome Exhaust Tip