·
RETIRED Super Stealth Moderator
Discussion Starter
•
#1
•
congrats, Jordan!
The Passat is my first car and thankfully was a present from my parents. I started lurking around ClubB5 after being introduced to the site by a local who had just received a B5.5. I was amazed by what could be done to a car, which I had never really seen, heavily modified before. I started searching around the forums and saw all the "OG B5s" from back in the day, most of the EEP cars were the first ones to really influence me to get a Passat.
While completely stock and plain, I saw it as a blank canvas. I started off with small mods that worked within my 15 year old budget. A few months after owning the car, I attended my first car show. It was SouthernVolksFest 2004. I was only 15 at the time so I didn't even have my license yet. I had to get my dad to ride in the passenger seat, just to attend the show. I was placed in the stock class as the car only had a handful of minor modifications done. There were about 8 or 9 other Passats in my class and I won. This was probably what sparked my interest in going as far with the car as I have. The fact that with such minimal modifications done, I could beat the other cars present which had MORE money invested made me realize I could do something great with this car.
From there it really took off, I have received a lot of influence from the import show scene as well as the Euro and VIP scenes both here and over-seas. Over the past 4.5 years I have been slowly building the car to my own tastes. It is hard to say weather or not it really fits into any style other than my own. I really wanted to prove to everyone out there that a Passat can be done up big and hang with all the MKIV guys and the B6 A4 owners out there (I think I have accomplished that goal). I still love the look I get from people when I tell them the car is a VW Passat.
I have met a lot of people on these forums over the years, both online and in person and the reason I am so active on this site is because it really is a great group of people. The dub scene is like family to me, and without everyone's help my car would not be where it is today.
As for the future, the car is not finished (like everyone says it probably never will be), however it is getting close to my original vision. When I first started modifying heavily I had a goal and a vision in mind of what I wanted the car to look like when it was finished, and after 4.5 years, I can say it is almost there.
I want to thank PassatWorld for giving me this honor of being Passat of the Month. When I first joined this site, I would have never imagined that I could have built a car worthy of this honor. The B5OTM was always something I aspired to, and I can't thank everyone who voted for me enough for making this possible.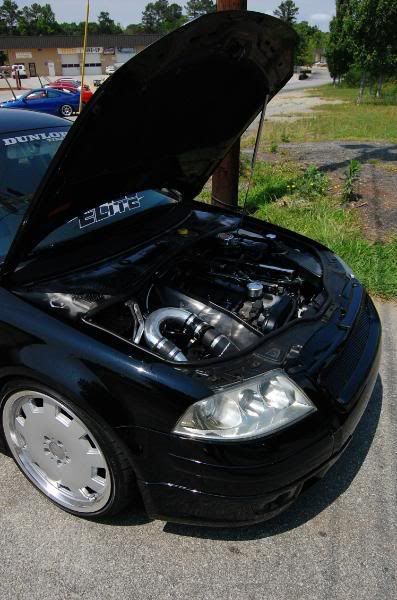 THE CAR:
2001.5 VW Passat AWM 1.8T
ENGINE:
- APR Direct Port Programming ECU Upgrade "Chip"
- Forge 007PA DV (yellow spring)
- Custom Aluminum Heat Shield
- Custom Mandrel Bent Polished Cold Air Intake
- Evolution Racewerks Test Pipe
- Techtonics Tuning 2.5'' Downpipe
- Magnaflow Turbo XL Series Muffler
- Dual Oval Magnaflow Resonated Exhaust Tips
- 2.5'' Custom Exhaust by Pauls Custom Exhaust
- APR Motorsports Turbo Inlet Pipe
- Evolution Tuning Phenolic Intake Manifold Spacer
- Nitrous Express Intercooler Mister w/ 10lb Tank
- SuperStar Customs Painted, Airbrushed, Polished and Chromed Engine Bay
- Custom Polished Aluminum Engine Caps
EXTERIOR:
- Zender Front Spoiler
- Custom Kamei Lower Grills
- Votex Rear Valence
- Extreme Dimensions RS Side Skirts
- WetWorks Garage 3 Piece M3 Style Spoiler
- Rieger Rear Windshield Diffuser
- Smoothed and Body Matched European Spec Door and Bumper Moldings
- Smoothed and Body Matched Lower Side Moldings
- 35% Llumar Tint
- Kamei Grill
- Jonboy Medium/Dark Tinted Tails
- Jonboy Medium/Dark Tinted Sidemarkers
- Black Painted Calipers
- Removed and Shaved VW Badge on Trunk
- DubStop Electroplated Chrome Mirror Covers
WHEELS/TIRES/SUSPENSION/BRAKES:
- Front: 19x8.5/Rear: 19x9.5 Mandrus Emil
- Front: 225-35-19 Rear: 245-35-19 Dunlop Direzza DZ101
- H&R Sport Springs
- Koni Sport Adjustable Shocks
- Meyle Heavy Duty Tie Rod Ends
- Shine Racing Rear Sway Bar
- Brembo Slotted Rotors (Rear)
- Axxis/PBR Deluxe Plus Brake Pads (Rear)
INTERIOR/ELECTRONICS/LIGHTING:
- Katzkin 2-Tone Leather (Black with Dove Grey Centers)
- Raid Sport Airbag Steering Wheel
- SPP Tip Adapter
- MOMO Combat CTSIL Shift Knob
- Stripped Net-Optic Aluminum Dash
- Custom Aluminum Pedals
- Custom Aluminum Dead Pedal
- Aluminum Look Tip Plate
- OEM New Bettle Sunglass Holder
- New South Performance Steering Column Gauge Pod
- 42 Draft Designs Aluminum Triple Gauge DIN Panel
- Glow Shift 7 Color Tinted Series Gauges:
- Boost
- Oil Pressure
- Oil Temperature
- Voltage
- LED Overhead Accent Lighting
- Mikado In Dash Transmitter (6th Switch Location)
- OEM Chinese Spec Passat Sharkfin Antenna
- OEM VW European Headlight Switch
- OEM Hella Euro Spec Bi-Xenon Headlights
- LaminX Clear 40mm Headlight Covers
- Osram Silverstars H7 (high beam)
- Osram All Season H3 (fogs)
- Blue LED City Lights
ICE:
- Eclipse AV8533--7'' In-Dash Touchscreen
- Accelevision 15.4'' Monitor in Trunk Lid
- Focal 165CA 6.5'' Coaxials in Trunk Lid
- MTX TXC 6.1 Components in Front Doors
- Custom Fiberglassed Tweeter Pods
- Arc Audio 4050-XXK (bi-amped-Front Stage Amp)
- (3) Arc Audio ARCv2 10D4 10'' Subs
- Arc Audio 1500-XXK (Sub Amp)
- 1.5 Rolls RAAMmat BXT Sound Deadening & 4 Yards Ensolite Foam
- Kinetik HC1400 Battery
- IXOS Distribution Blocks
- KnuKonceptz and IXOS Wiring
First I want to thank all my family and friends that have helped me out over the years and let me borrow their cars when mine is in the shop. Team Elite, Dunlop Tires, Steve Flynn of Flynn's Detail Products, Kevin Mutters and the crew at R2B2 Motors, Geordie, Blake and all the guys at Butler Tire of Alpharetta, Glow Shift Gauges, Fred Su of Evolution Racewerks, Bucky at SuperStar Customs, Paul of Paul's Custom Exhaust, Tony Nguyen, everyone on PassatWorld for all their help and inspiration over the years, ImportAtlanta, South Side Imports, and lastly Eduard Payer at BagYard Airride for the soon to be installed Air Suspension.