Discussion Starter
·
#1
·
My '03 1.8T 5M, w/Giac 1.3 bar ECU since ~40k, now has 180k. No barney blood. No excessive engine vibration at idle, but its not like new either. Shifts are a bit clunky and hard to make smoothly (which I was convinced was DMF failure since that's original also), especially in low gears. I figure this many years/miles on the original mounts, they have to be bad even if they're not leaking?
About 7-8 years ago started going thru flex pipes about every 2-3 years. Last time I asked the shop to install a more "heavy duty" flex pipe which has been fine for maybe the last year and half. Except two weeks ago I thought it failed but found my cat pipe (Magnaflow "OEM" grade direct fit I had installed 5 years ago) had actually sheered clean thru at the weld by the can on the turbo side: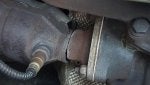 As I was removing it, the rear section also just broke off at the same weld point at the can. Now I'm wondering if this new flex pipe is too stiff and transferring vibration energy to the cat causing failure? I took the car back to the shop just now and they said everything looks fine and there was no need to change out the flex pipe. Or could it just be bad motor mounts?
So now I'm thinking I should have all the motor and tranny mounts replaced, but aside from a little shifting clunkiness and small vibes at idle, I don't really have any of the obvious tell-tale signs of mm failure. I just installed a new cat so I want to keep the same thing from happening again.
I think the $500-600 to have my local guy change them using decent parts like Corteco is probably wise at this point. Or am I nuts to just do this without something screaming at me the mounts are bad?