MBoyd4motion - Richardson, TX - UPDATE 4/10/05
stock exhaust
Supersprint Exhaust
SS Headers
Finishing up - Jimmy is taking the pics and Vincent the installer makes a cameo
brake work - thanks to the skills of PZ once again!
Upper strut bar - Thanks to JROO-VW for the bar and PZ for the install.
2003 Indigo Blue V6 4mo, took delivery September 2002 with tint
Mod list - might be in order . . . eh
Began simply with the s2000 antenna like many others . . .
Mintex rear pads
H7 Phillips Vision Plus (Lows), H3 Osram Xenon (Fogs), Phillips Blue Vision W5W (city)
ITG airfilter
Kamei grill and upper/lower eyelids
debadging + addition of New Beetle hubcap Euro symbol - part # 1CO-601-149-D-GTT
HR/Koni suspension
THANKS PZ!
RS Limited 18 inch Wheels via eBay. Very cheap but very heavy
Nitto 555s (love 'em) 235/40/18 - I do get rubbing on inner front. probably go to 225 next time
Audi Mode on the Tip
Thanks Pete1, for that and assorted Vag Com assistance
Chrome armrest cover - is this even a real mod?
Euroswitch
1BE front and rear sways
Chas Bar
All three once again courtesy of PZ!
chrome door handle covers
Complete Supersprint system - headers, downpipe/mid muffler, dual mufflers
Thanks to JROO-VW for finding a great deal and Nenad and Julian Fang for all the install advice! And thanks to Autobahn in Plano for the great service!
installed by PZ on 10/23/04
ECS Stage 1 slotted BBK with PBR ultimates
Slotted cadmium coated ECS rears with PBR Metal Masters
Stainless steel brake lines w/ ATE Superblue
A6 Upper Strut Bar (painted blue)
4-9-05 GTG
Changed my oil with
Pete1
's oil extractor!
Jackrungh
and
chucchinchilla
are so happy I removed the mudflaps. So am I, looks much better now.
Here's all the work we did at
Kenwavery
's awesome hanger.
Oh and here I am when they let me take some of the vintage WW2 planes out for a spin.
Okay not really . . . I need a minimum of 5 gin and tonics before I even step onto a plane.
Update 6-6-05
New wheels (ASAs from Tire Rack wrapped in Yokohama ES 100s 225/40/18) and the tinted sidemarkers.
Update 6-10-05
Dawn/Meguires Car wash/clay/Meguires again/Mother's 3 step cleaner and wax system/Mother's Synth Wax/ 8:30 am-4:30 pm (I currently have no feeling in my right thumb)
Update 8-26-05
Shorty antenna, 10mm spacers in rear. black wheel bolts, neuspeed spark plug wires.
July 2006
BMC INTAKE! Halo Headlights! And Dieselgeek skidplate (not shown).
August/September 2006
KW V2 Coiled and Votexed!
And these are the fronts before adjustment.
And here is the M3 style spoiler and roof spoiler.
9-25-06
Detailwerkz came out and gave me the Zaino treatment.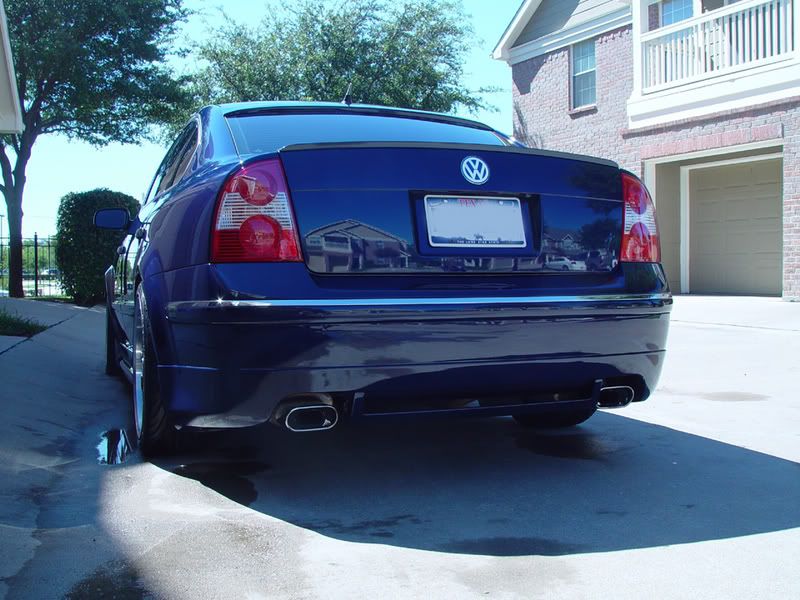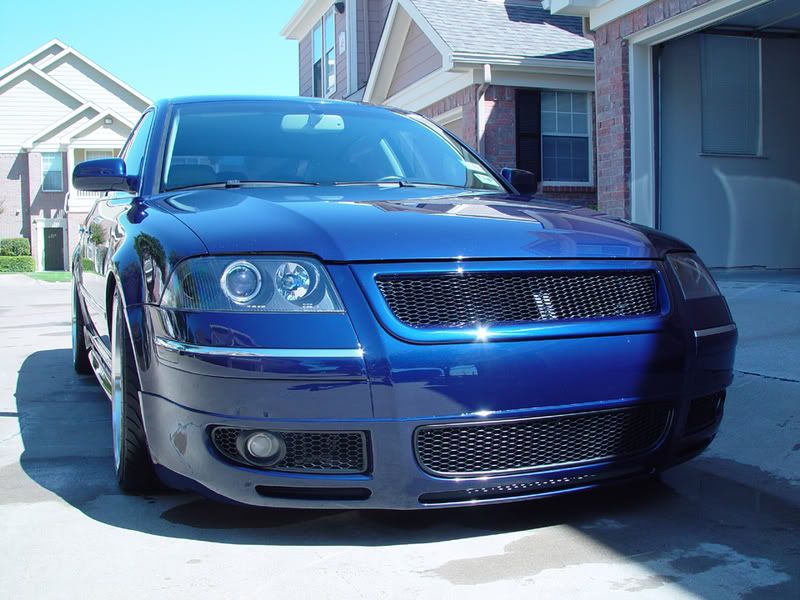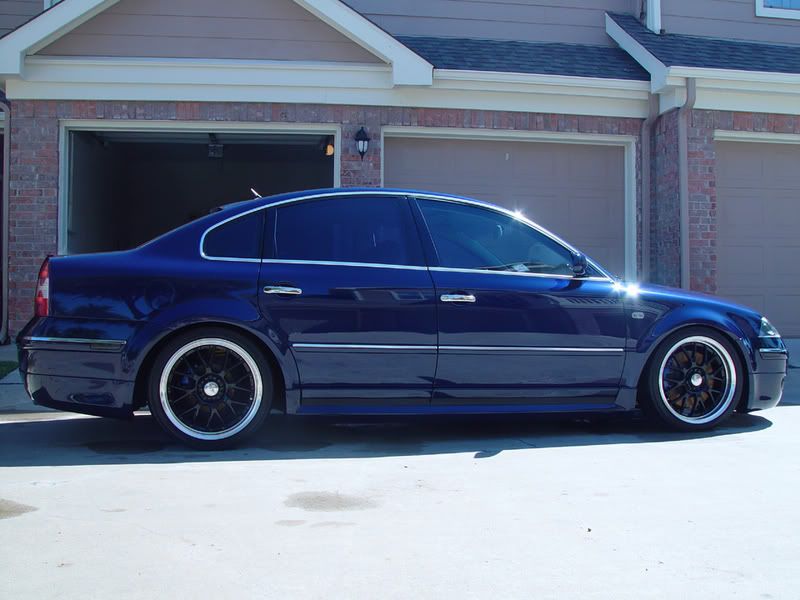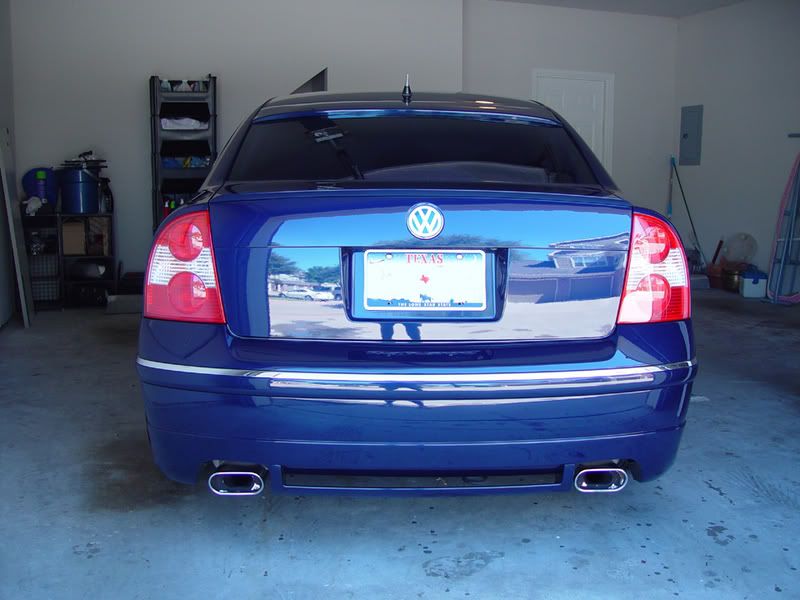 5-16-07
Took a few weeks but here is the A4 Sline Titanium Avant in Deep Sea Blue Pearl. Has black interior/headliner which is really awesome. Will be getting a tint soon. I have a side marker delete, 6000K HIDs, interior xenon look, RS4 22mm rear sway and Carbonio intake to install. I have ordered an exhaust. Plan to get a GIAC flash after 5000 mile service. I am hating the all seasons and I have had 3 offers already on the wheels. So I don't know what I am going to do about that. I may go check out a set of 19 inch BBS CH tomorrow. Considering Bilstein PSS9s. I have found them cheaper than KW V2s on Ebay.
A lot of people seem to fade away when their Passats are gone, but I guess I will stick around for awhile. The Passat isn't exactly gone yet anyway. There is still no resolution with the insurance company.
PZ installed the coilovers on Monday. Ride is fantastic. He also put in the 22mm RS4 rear sway. Stock was 18mm. I already have 2000 miles on this in less than a month. Two trips to Austin will do that. Also been driving to Ft Worth this week to help my buddy get his
Shakespeare Festival
ready to go.
Back to Austin tomorrow to put the Passat in a storage unit until the case is settled. It cant stay at the body shop anymore. Gene at Rebreu is getting in hot water keeping it 2 months and not doing any work on it. Totally cool guy though. Still recommend them for Austin or Central Texas residents!
On to the pictures!!!
06-07-07