Newer Pics added 9/13/06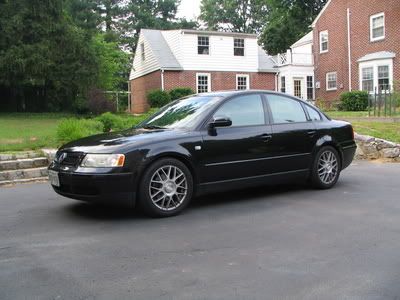 Much newer pics. Enjoy.
102,xxx miles and rollin'!!!
1999 Passat 1.8T
5 speed manual
Black Magic Exterior/Black Velcro Interior.
*K&N drop in filter
*removed slush screen
*TT stainless DP-back exhaust with mirror polished TT tip
*BBS RC 17" wheels with Dunlop 9000
*OEM 16" Montreals for winter
*Alpine MP3 cd deck with sirius tuner
*Debadged Trunk
*K04 turbo
*5 bar FPR
*slotted brembo OEM front/mintex red all around
*Koni shocks
*Neuspeed sport springs
*Forge DV w/ yellow spring
*JOM grill
*Hella HID look-a-likes
*Crystal clear corners and side markers
*35% tint
*MOMO shift knob
*leather shift boot-group buy (thanks gerwazy
)
*wheelskinz steering wheel cover
*monster mats
*wheelwell vent for intercooler
*A6 strut tie bar
*Hella Superloud High-Pitch electric horns
*COAM
.....stilll IN THE WORKS
*gasket match exhaust manifold
*gasket match intake manifold and head
*install Newsouth Performance Powergasket Plus
TO DO LIST
-tinted tails - probably pass on this...been on the list for 4 years now...
-component speakers all around --not happening, back speakers don't work anymore anyhow.
-paint engine covers --removed-hell with painting them, i want to see my engine
-COAM-done
-control arms
--still holding as of 7/2007
--it's never going to end, so i'll just stop!!
thats all for now.