Discussion Starter
•
#1
•
I have a 2005 Passat 4 motion wagon, 1.8T.
Was throwing the P0171 code, figured vacuum leak somewhere in the miles of hoses there is a leak somewhere, duh. Intake and MAF were fine (found some nice array of leaves, sticks and twigs in the filter box). Still couldn't find any issues, reset the code still came back.
Finally found the issue, now I just need to figure out the part and I can't find my Bentley book, so here I am.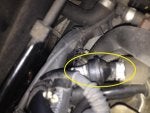 The part circled in yellow is the issue, looks like a hard plastic thing that goes into hoses on either end, sorry for the technical terms, been up since 4 and want to sleep lol.
I think it's a check valve, at least that is about all I can find that looks similar online.
Did I guess right or is there another answer?