·
If I See a Problem I Tell Someone
Discussion Starter
·
#1
·
Like many of you, my headlight adjustment ball and socket disengaged. I read the posts here about this issue and thought I would try to fix the problem. Although my headlights were aftermarket, I did notice that the adjustment screws are marked as to up/down and right/left.
Also, while turning the adjuster, I realized that the plastic ball did NOT rotate.
I thought to myself " I'm gonna glue that sucker!" I used Duco Cement.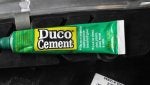 Here is the finished product.
I will let the glue setup overnight and reassemble tomorrow, but I think it will work.