Review of A-Sure AS-W7 GPS/DVD Head Unit for VW Passat B6
I purchased from A-Sure in they're ebay store. I paid $499 Shipped. (This is the same model as the TID-7501 from what I can tell)
List of features:
1. Double Din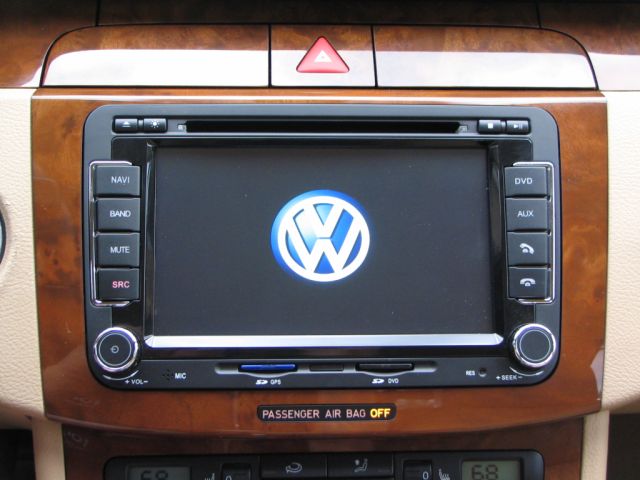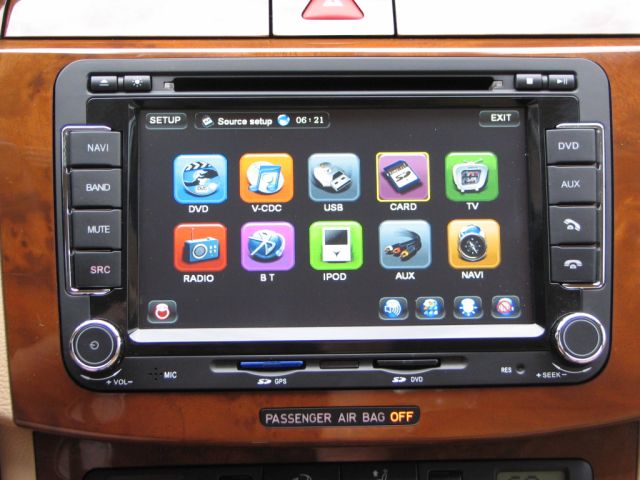 2. 7" HD LCD touch screen monitor (800 x 480 resolution)
Great Picture, Nice and bright with no dead pixels. Can be hard to see if in direct sunlight, It is still visible in the day even with my sunglasses on, although not as bright as when in the dark or shaded area. It almost has to be direct sunlight on the display to make it so you can't see the display. Probably the same with all monitors in cars.
3. Hands free Bluetooth:
Make calls and listen to music loaded on your Bluetooth device, I haven't tried the music though blue tooth because my phone doesn't support it. Also my contacts don't come though either. I don't know if that is my cheap prepaid phone or if it just doesn't work. Phone calls are made with ease and can be dialed from the touch screen. Sound quality is not bad. Comments when I asked about how it sounds were pretty positive. They just said it sounded like I was on speaker phone (essentially I was).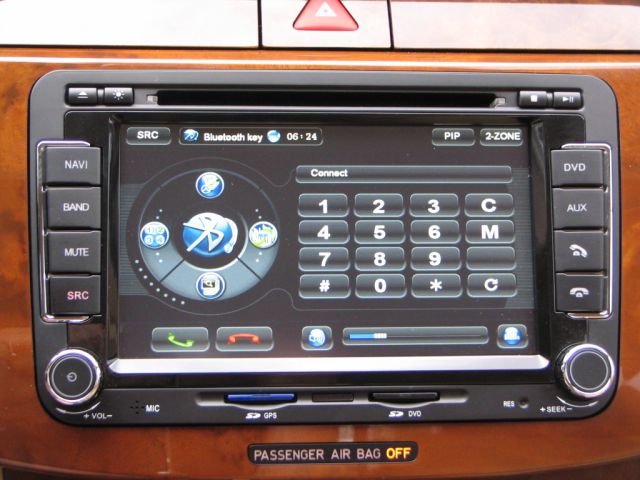 4. Rear View Camera input:
I installed the Reverse camera (a real PITA). I tapped the power from the reverse light and routed the wire down through the trunk lid. (I soldered, shrink wrapped and wrapped everything in electrical tape when completed). The reverse camera I purchased was made to replace one of the existing plate lights. It has a small light along with the camera. I pulled the light out (right one) and wired in the new plug for the light on the camera. I routed the camera wire up trough a grommet in the trunk at the back and then connected my power wire and ground wire. (there is a grounding post on the back of the fender well in front of the battery on the 3.6 Passat. J Then I routed the RCA wire up along the passenger side and put it under the door trim, over the glove box (removed it). No visible wires at all in the cab or the trunk. The camera works perfectly.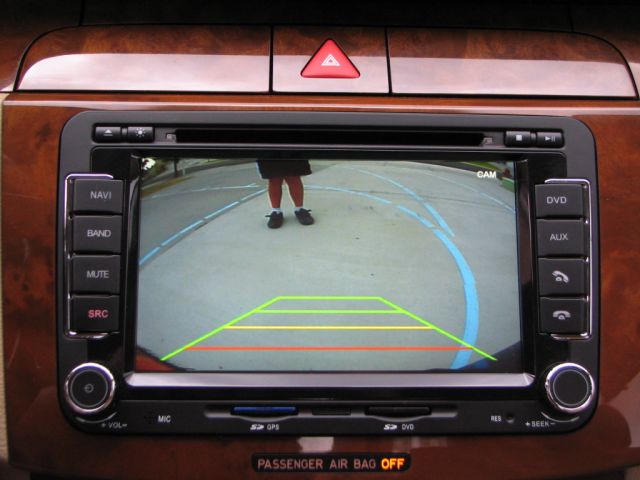 5. Auxiliary input
:
Not tested yet. I have a Creative labs Zen, that I'll test this with eventually.
6. Ipod control
Not tested, as I don't have an Ipod. I tested this out, it seems you can only play Music from the ipod. the playlist, floders, etc. are all selectable from the head unit.
7. Analog TV Tuner
Not tested, no analog TV signals.
8. DVB-T ready (optional)
This feature wasn't installed on my unit. ATSC is required for the US and is and additional receiver. I'm not planning on using any Television features.
9. Can-Bus Module:
My MFD (multi function display) doesn't show anything while in the radio selection. Most importantly to me
the steering wheel controls do work
. Volume UP/Down, Track UP/Down, Mute, and answer all work like they did before with my stock VW Unit.
10. Dual SD card slots
One SD card slots supports SDHC (4 Class or higher) , can read up to 16GB SD cards. The other one holds your GPS software, I'm not sure on the capacity of this one, but would imagine it's the same. I've have a Kingston 16gb card and it works perfectly, I have used some older 2gb card that would display correctly but didn't have the transfer speed and was choppy. If you use the SDHC (Class 4 or above) you won't have any issues.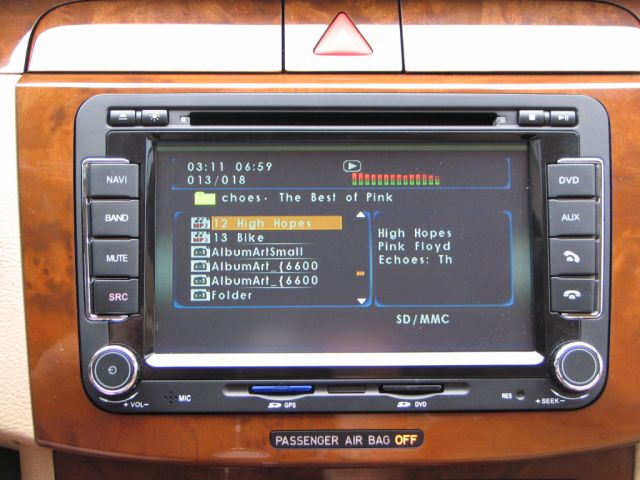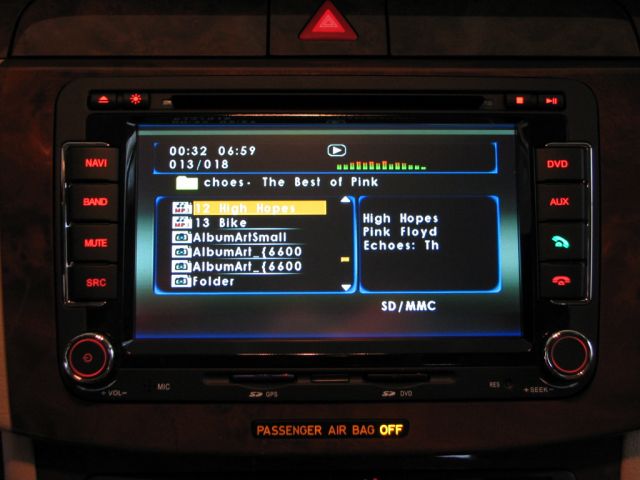 11. Languages:
English / Dutch / Spanish / French / Italian
12. 2 Zones:
Front seat driver can see GPS maps, while rear seat passengers can watches DVD from Auxiliary Monitors. I plan on installing some headrest monitors at a later date, so this will be handy.
13. WinCE 6.0 and 128MB RAM:
More stable, faster, more powerful system than units using Wince5.0 and 64MB ram. I haven't noticed any glitches in running my unit. It displays the GPS maps very well and smooth. The audio is nice and smooth as well.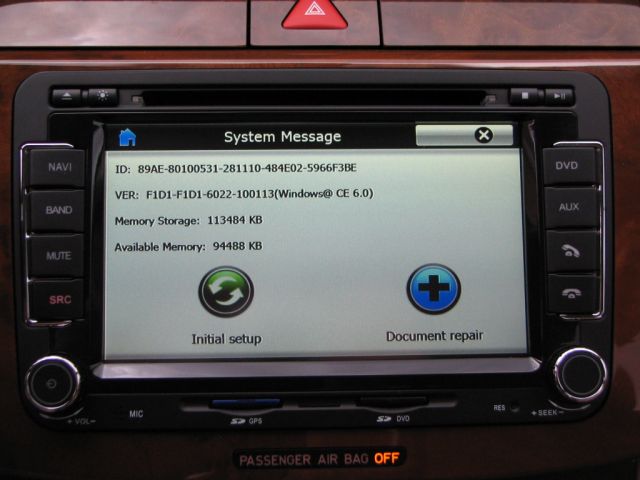 14. Picture In Picture (PIP):
You can watch two different interfaces at the same time. This comes in very handy when you have your radio or music playing from SD or USB and want a small Navi Screen. You can also be watching a DVD or other media and still have you Navi up. The window can also be sized based on 3 preset sizes that you can select.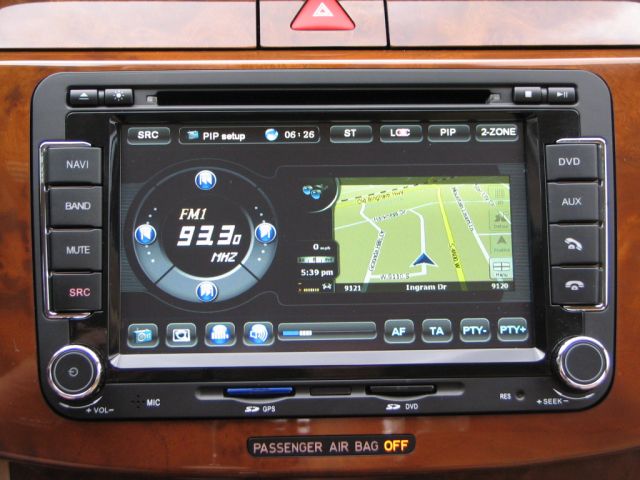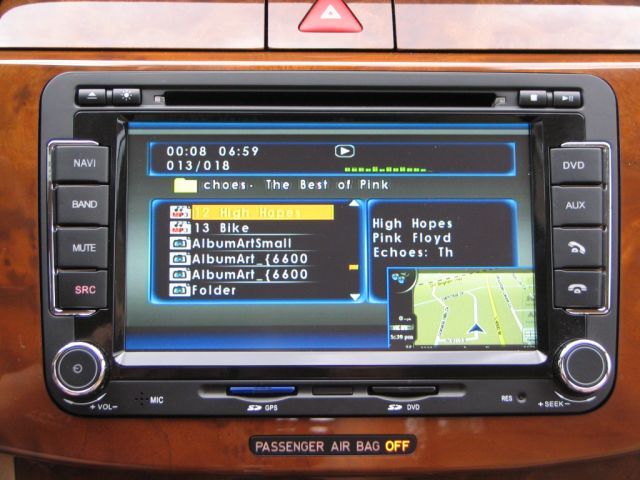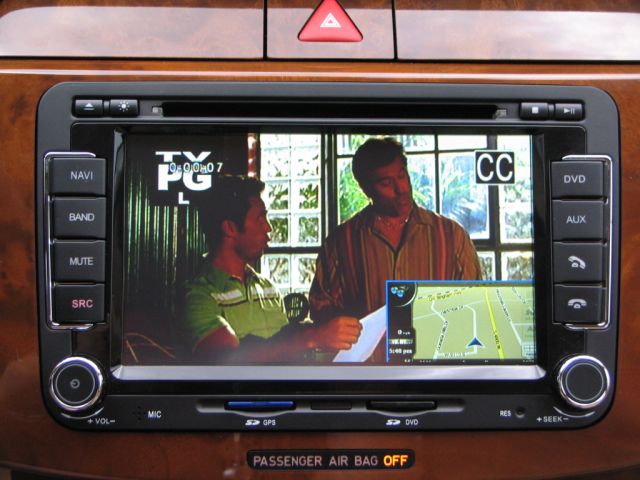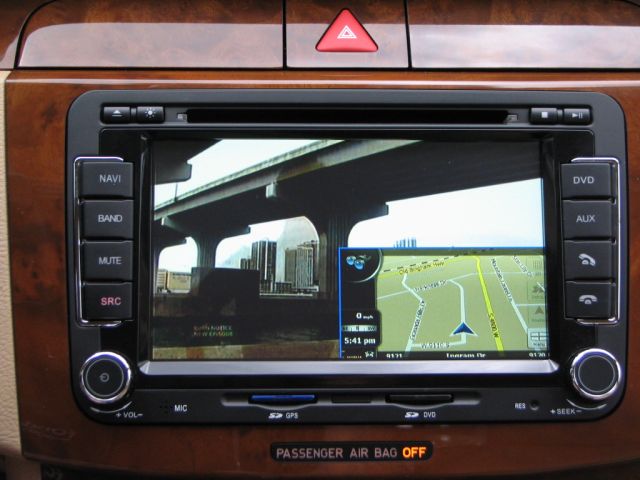 15. Virtual CD changer:
Store 6 discs in the 2GB internal Memory. 6-CD's can be stored. I'm not sure that I will ever use this feature. Might be cool if you borrow a CD or something. I put a few songs in it and it works fine. It does give you the option o random play this function and interface. Not sure if its specific to the 1 cd place or if it will play though multiple CD that are stored. If I get the time to mess with it some I'll let you know.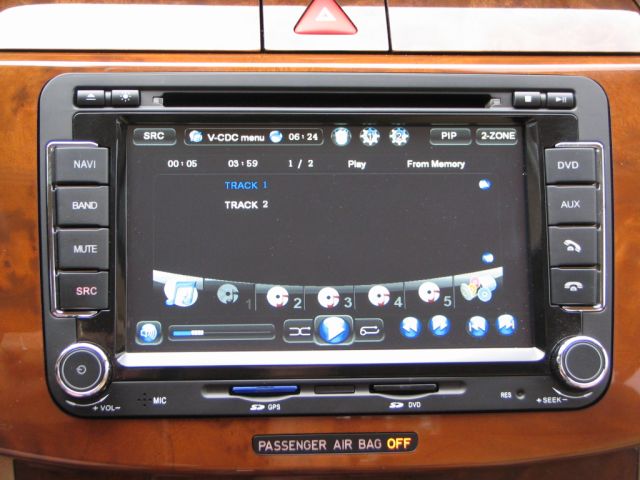 16. GPS:
The Unit came preloaded with Igo 8 (not sure what version) on a 2GB SD card. I really like the Igo 8 and its function. I haven't had any problem with the GPS. In my Passat I installed the GPS antenna above the drop down Unit in the glove box. I removed the glove box and secured it to the top with Velcro and some wire ties. I have really good reception with it mounted in this location. A cool bonus is when it's on the night colors. The background is black and the streets show up in blue so it matches the interior night lights perfectly.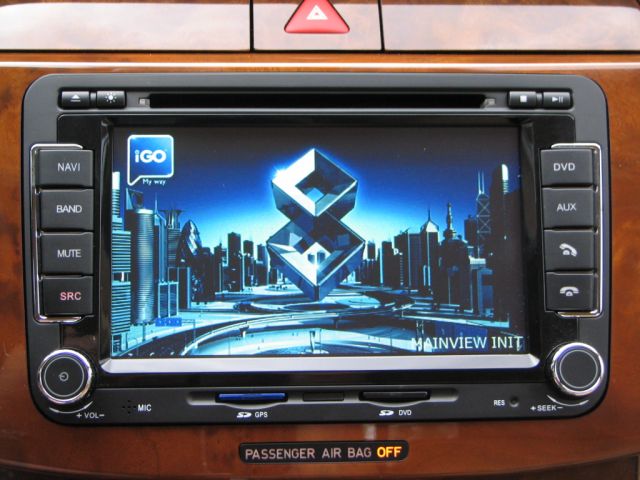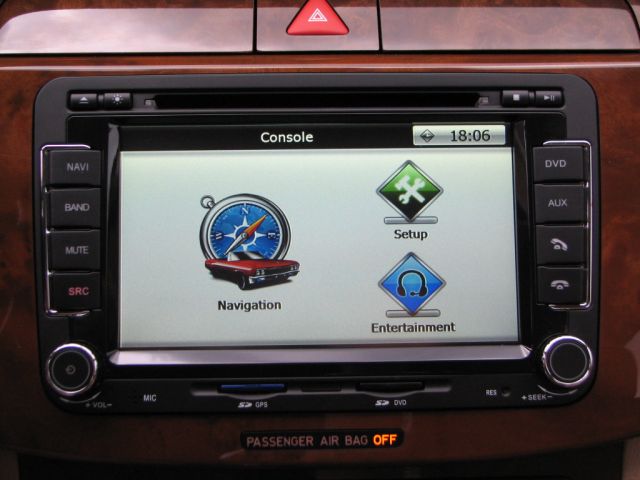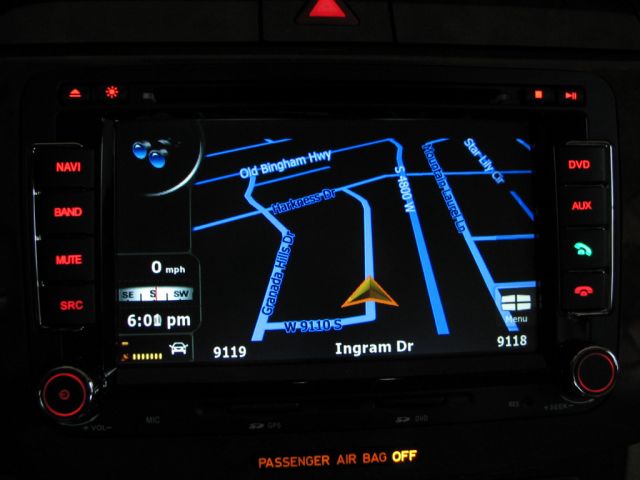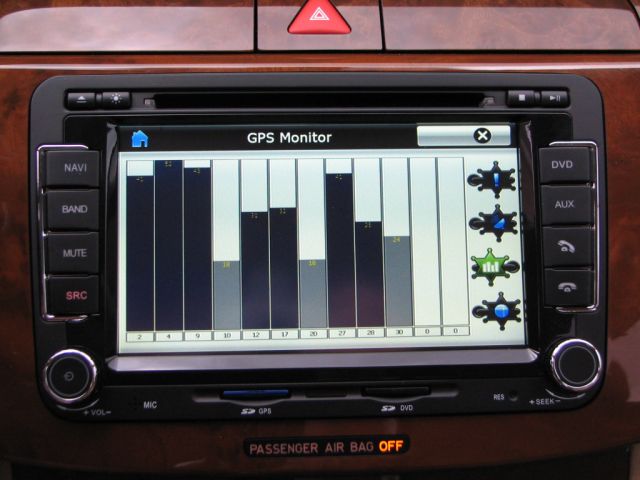 17. DVD:
Plays DVD's just like any DVD player. The drive will also read CD, CD-R, CD-RW, DVD-R and can read MP3, WMA, etc.
18. Radio
The radio works like any other radio. It has 24 presets for FM and 8 for AM. One really cool feature is you can hit the center button where is displays the frequency. Then instead of scanning through to find a station which is kind of annoying you can simple dial in the frequency and hit enter. Then to save the stations into the presets you just hold the button on the touch screen and it sets it in. It also displays the Station, Artist and Song Titles on the top.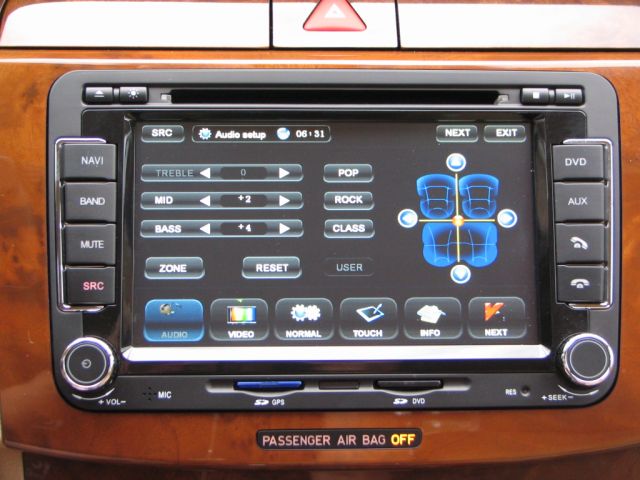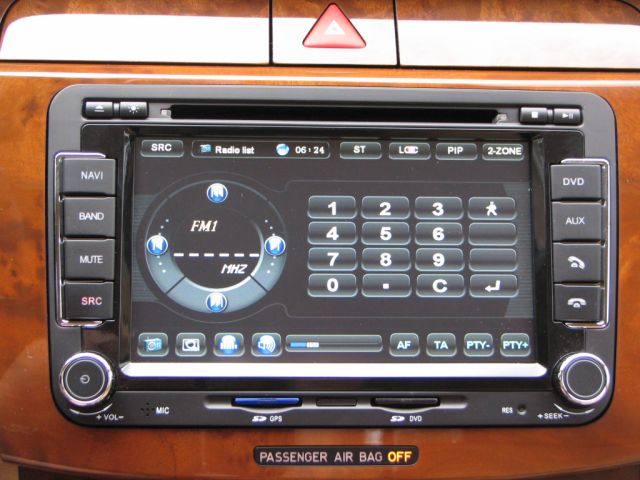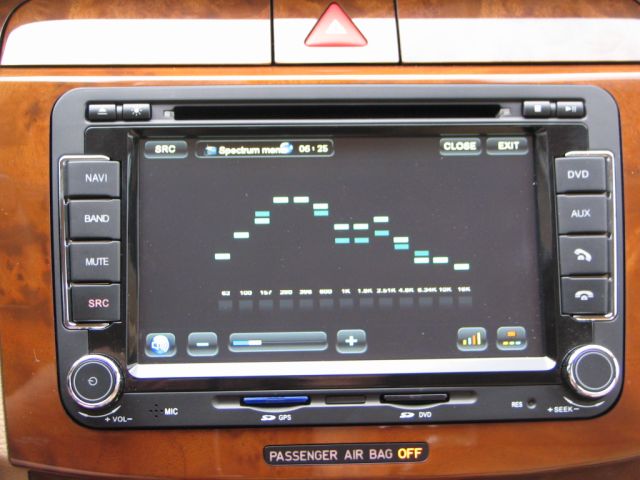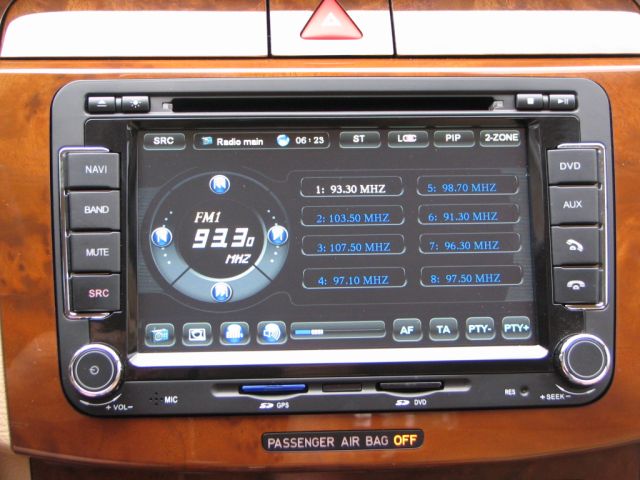 Some of the setup screens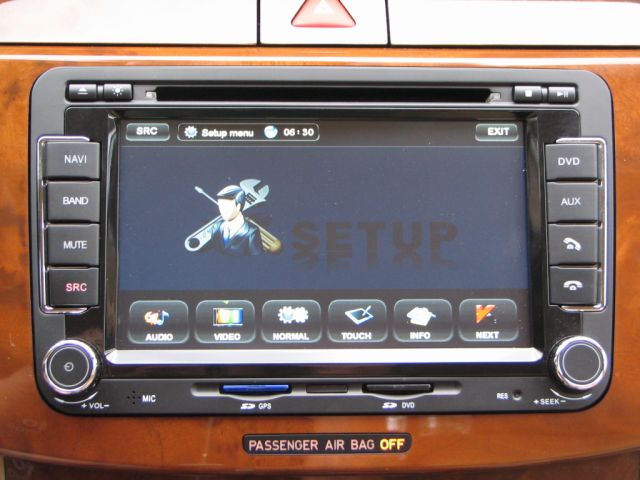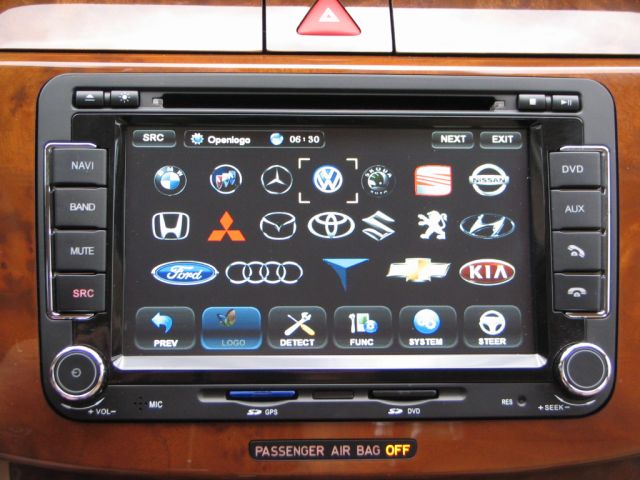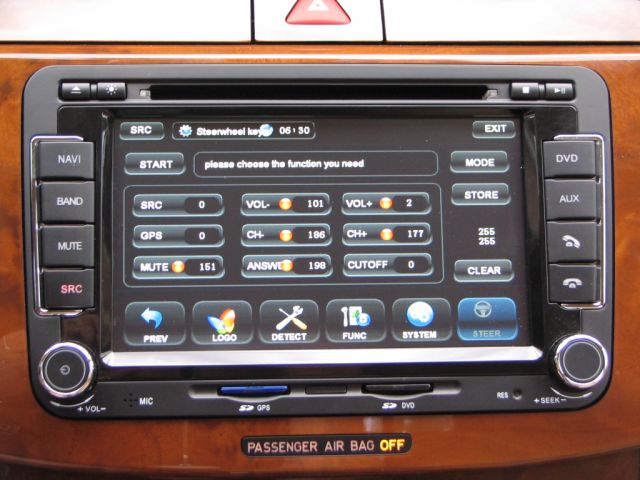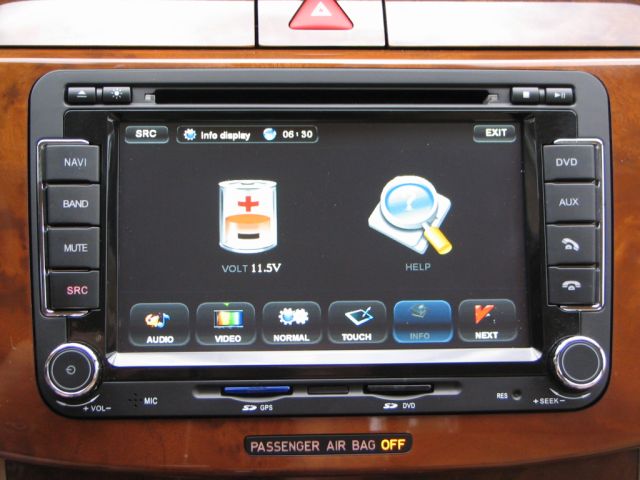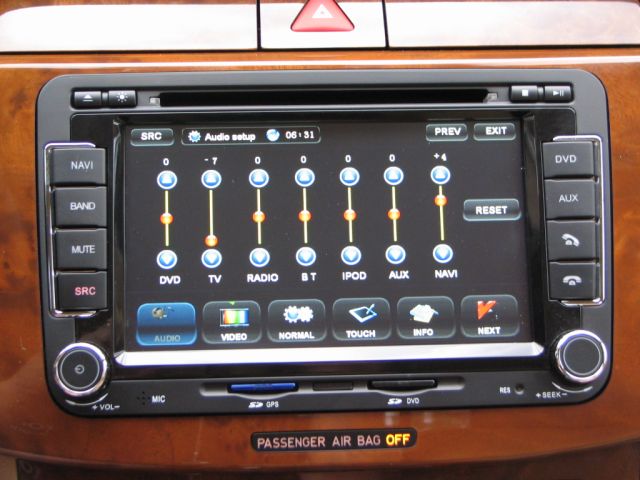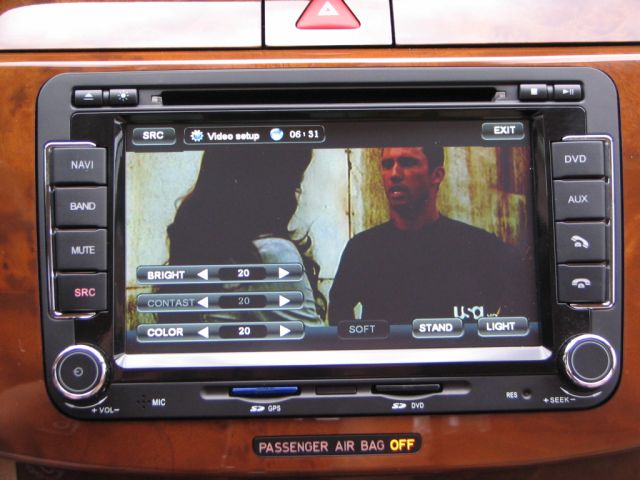 Installation Review and a few additional notes:
This unit was pretty simple to install, the hard part is routing the wires to the glove box for the iPod and USB cables. I also routed the GPS module to the tray. I installed it above the pull down changer slot with some Velcro and wire ties to wind up the additional wire length. Pretty simple. After I installed the camera I found it a lot easier to just take out the glove box. There are a few screws across the bottom and 4 along the top, you need to pop off the little filler piece to the far right on the top. Before removing the entire unit. The wires are long enough to just set it at you feet.
The wiring is plug and play, no cutting at all. The head unit fits perfectly into the trim bezel for the radio. As advertised.
A few more comments on the SD card operation. I use this the most often to listen to music. It works as is should. Similar to the explorer in window you can move up and down, select folder and play what is in the folder. I have played Divx movies (.avi files) and they played without issue. Also I have been able to use this function to view .jpg files as well. One thing I wish was available was a random play form the SD card. I've suggested it to the company so who knows maybe in a future unit.
About USB Plug. Same interface as the SD interface with the same functions. Seems to run slightly slower when loading, but plays everything fine. I've tested with an 8GB USB drive and it worked fine.
There is a Dimm button that you can select that has three settings. Bright , Dimm, screen off. The buttons text on the unit are Red with a green answer button which match my VW interior lighting perfectly, they can be changed to the opposite for Sakota models.
More to come if I think of anything else to share.
Camera Notes:
If you install the rear view camera. you will need to get a Engine Noise Suppressor. this will resolve the issues that you would have with the camera having wavy lines or in some cases no picture at all, this is common when you first start the car and the alternator topping off the battery. the Suppressor is a simple install and they are fairly inexpensive on ebay (around $6). I have linked the one I have to the attached picture. It works great. I have also added some install notes to the picture.
Here is a new picture with the new camera installed. It's this one...
Sedan Camera
As you can see, it has a great angle of view. I won't have any problem seeing if someone/something is behind me now.
for those that have a Wagon, the camera above won't work. you'll want one like this...
Wagon Camera
or similar. verify with your seller.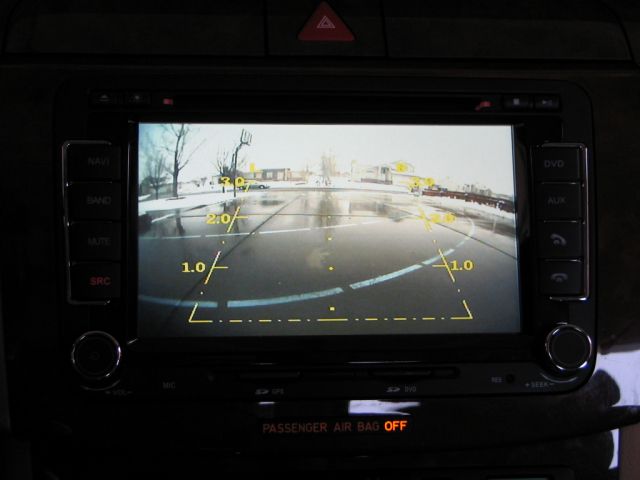 Matching License Plate light to Camera Light:
I've changed out the other license plate light out with a Festton LED white light, this light matches the LED light that is in the Rear view camera, the color and brightness matches great and gives them both the same look. I used this bulb.
36MM Festoon Error Free LED Light bulb
here are the installed pictures of the white LED license place light to match my rear view camera with the LED light.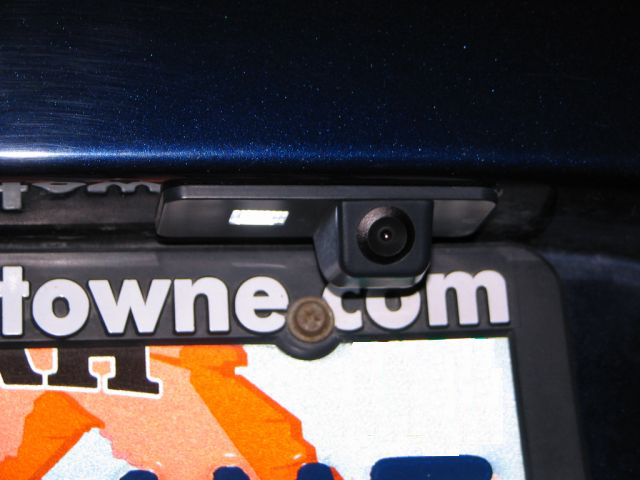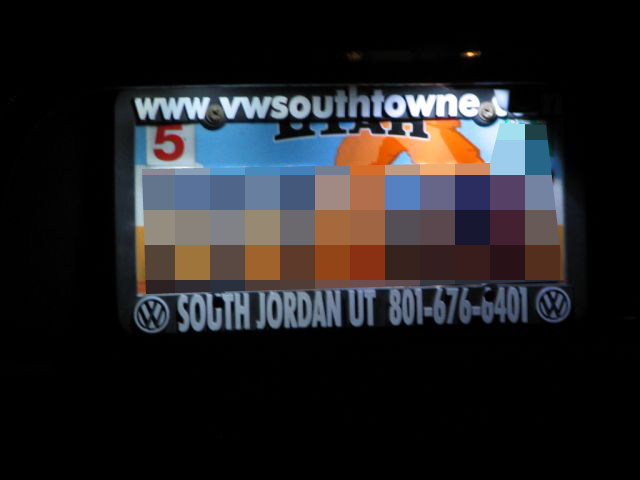 My Seller and My experience with my purchase:
I asked the seller several questions prior to purchase. All questions were answered within 24 hours (mostly because of the 14 hour time difference, they are in HK). After purchase of the unit I still was having some issued with the CAN-BUS module and my steering wheel controls weren't working. They were very helpful and answered all my questions, made suggestions and when it was determined that the module wasn't working, they suggested changing it and made arrangements for me to get a new one. When the new one arrived it fixed the steering wheel controls that I really wanted to function. Their service was excellent !! so I'm going to plug them. If you're interested please let them know you read my review. You can contact them (Charlie or Erika) at
[email protected]
(let them know briankstan sent you).
Overall I am extremely pleased with the Head Unit and its Function, Fit, and Finish. It matches the interior perfectly. If you're in the market for a new head unit and haven't considered getting one of these units , it's something you should consider. At the time I wrote this is was in my car for about a month. (Edit... this has been installed for almost a year now).
Issue with SD card Music Sorting [Solved]:
**update**
I was having with the sorting of the folders and songs on the SD card. What would happen is when new music or folders are added they wouldn't appear on the Stereo in the right order (alphabetically).
Tthis program resorts the card based on the name of the Fat16, or Fat 32 file system and puts them in the correct order when displayed on the unit.
Only thing I wish it had was a random sort for my mixed folder so it would play them in a random order, rather than by track #.
you need to select each folder on the drive and have it sort based on the settings you put in. Pretty simple, don't forget to save it after you do the sorting.
Give it a shot.
DriveSort
If you have any question let me know.