Discussion Starter
•
#1
•
Have read a few write ups on the engine speed sensor replacement. A lot say you have to remove oil filter, jack car up and get at it from underneath or through wheel well. I did this on my 1999 VW Passat 1.8t AEB without doing that so here is my first attempt at a write up.
Before removing the sensor you can use this
http://www.agthompsonfamily.com/vw/BentleyCD-AFP-CheckingEngineSpeedSensor.pdf
to test the sensor to see if it is truly faulty.
Again this is 1999 Passat 1.8t AEB
You'll need a screw driver to remove coolant expansion tank.
5mm allen or 5mm hex bit socket
First you will need to move your coolant expansion tank out of the way.
Locate the the Engine Speed Sensor electrical connector that is located on the firewall below the expansion tank. It is the grey plug connector.
Then disconnect the plug connection that goes to the ECU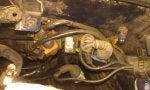 Remove the plug from the clip attached to the firewall. You will have to follow the wire down. On my car it was attached via 2 zip ties. Remove those two ties and follow the wire down to right where your oil filter is located.
There is one bolt attaching the sensor to the engine. You can use the 5mm allen or 5mm hex socket to remove that. It is tricky to get at but with a little determination you can access it for removal.
After you get the bolt out wiggle the sensor a little bit to remove it and there you go, your Engine Speed Sensor is out.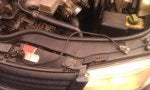 Install your new sensor in reverse order and you are on your way. Don't forget to use new zip ties on the wires to keep them away from the hot motor!
Hope this helps someone.