'00 Passat 4Mo wagon, 2.8l ATQ
About 6 years ago, the VW dealer replaced the battery with an Interstate product, I believe. Then, three years ago, that battery died, and was replaced by an EverStart MAXX H6, which cost about half as much, not at the dealer. I believe they are both made by Johnson Controls. The EverStart also lasted about 3 years, but fortunately, I got a free warranty replacement, which I just installed.
Neither the dealer nor the last installer hooked up a vent tube to one of the open battery vents. The new battery came with an elbow for such a purpose. I assume there was a vent tube attached at one time, but I am not the original owner and never saw one. On YouTube videos, most [professional?] installers I watched did not bother with the vent.
On the prior battery, the terminals and cable clamps have remained clean and free of corrosion.
I attached a photo of an open port in the wall which I'm guessing could be for the battery vent.
Any opinions on whether to re-install a vent tube to the battery? If so, what inner and outer diameter tube should I be looking for? And is the open port circled in the photo the one for venting the battery?
Thanks in advance for your feedback.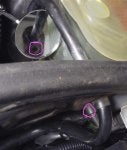 ________
Update:
As noted by KSEADUB, clearly, the port I circled leads nowhere.