I wanted to put together some information for the 2006/2007 Passat owners that have the 3.6 liter motor.
It's very common knowledge that the model year 2006 and 2007 3.6 engines have a
Fatal Flaw
. The oil pump bolt as installed from the factory was either specified wrong, installed wrong, or has some other defect. This bolt
Will Fail
in your cars, eventually. Failures have been reported in numerous engines posted both here and on Vortex. I have compiled a few pictures that I have included in this post. There have been reports of the bolt shearing off and there have been reports of the bolt simply backing out by themselves (note the pictures below). this has been known to happen on engines with as little as 1000 miles and so far the highest I've seen reported has been 76,000 miles. As these car are aging and more and more people are hitting the mileages that will put them outside of the VW warranty and the CPO warranty if the car was purchased used. this is a very big potential problem for those that love the car and would like to keep it. It also brings forth a big financial decision as a failure out of warranty could be in excess of $15,000 to replace the engine (parts and labor). This is a burden that I feel nobody should have to carry except VW themselves. They were the cause of this issue and should be made to fix it.
I have taken the preventative approach and have paid to have mine changed, it's not a small or inexpensive task as you can see from the pictures below what's involved. for those that love the cars and want to keep them, I'd heavily consider an extended warranty or paying for the preventative fix. Keep in mind that either would be far less than the alternative being complete failure of the engine.
I wanted to add these so people can get a reference as to where this bolt is located inside engine and why it's such a big deal to do.
this picture shows the 3.6 engine installed in the car...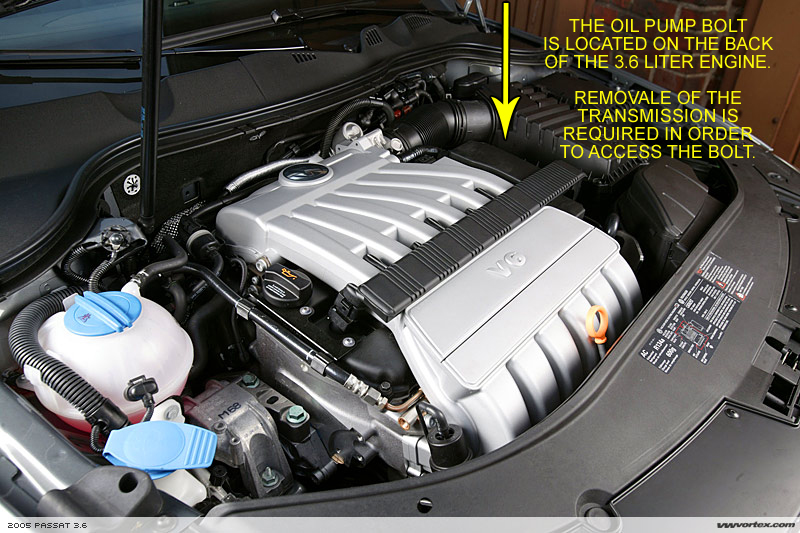 this picture shows the back of the 3.6 engine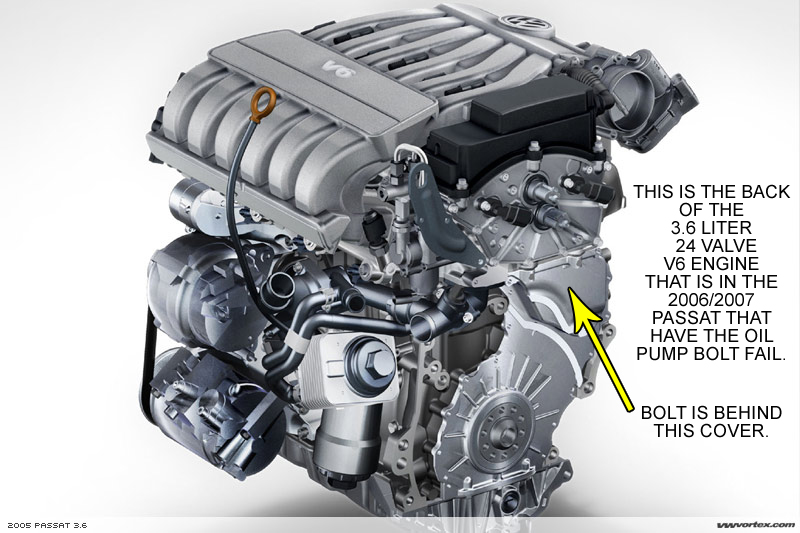 this picture shows an exploded view and you can see where the oil pump bolt is. As you can see it it right on the back of the engine, to change this out, the transmission (and haladex unit on a 4-motion) need to be removed in order to remove the cover that the bolt is behind. Also note that while in there you will more than likely want to change the rear main seal because to do it at a later date will also involve dropping the tranny.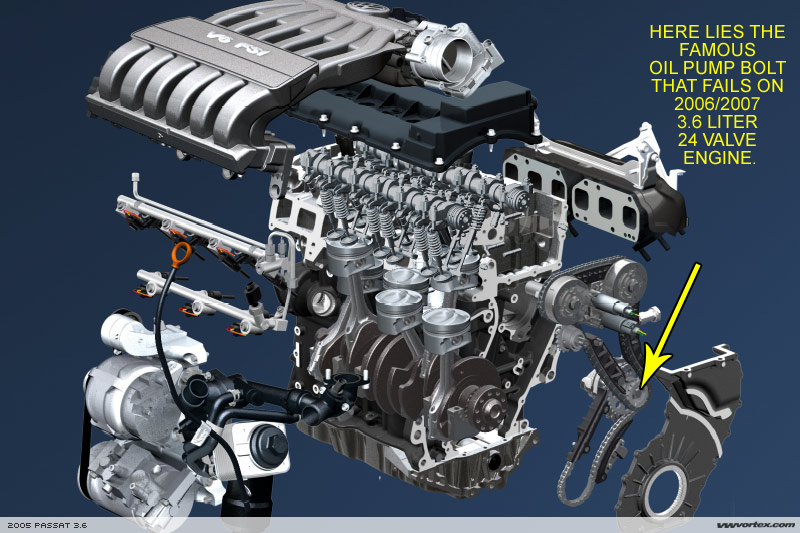 The following pictures were posted and were taken at a VW dealership that were working on this engine for an "Oil Failure" warning, as you can see the bolt simply backed out.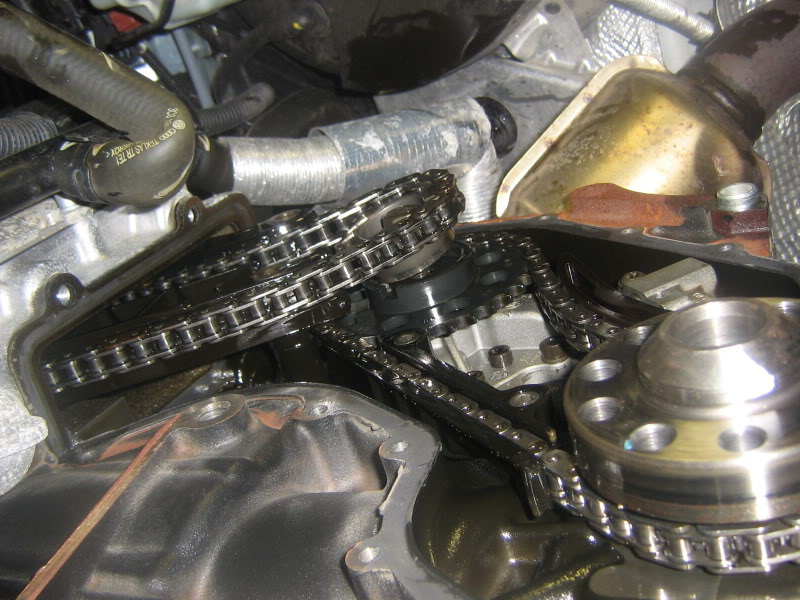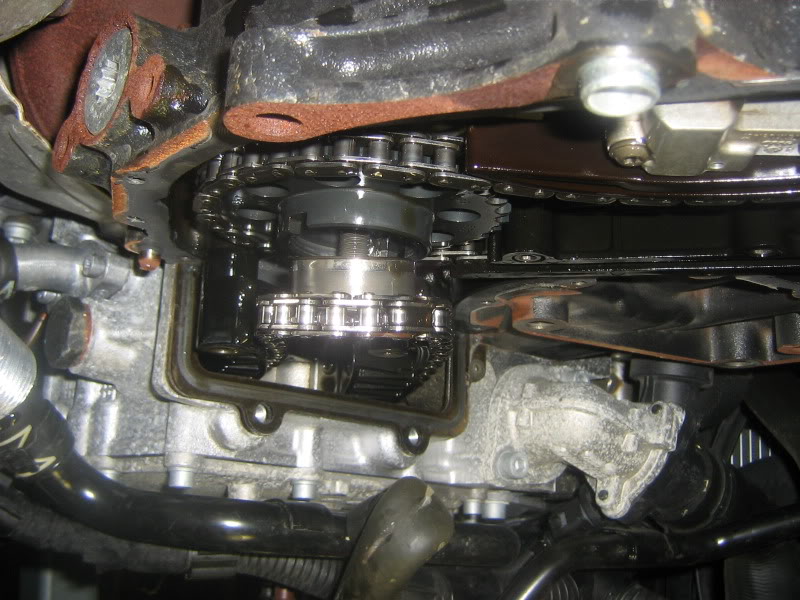 These pictures are from twiceunlucky's (Vortex user) car. this engine has been removed from the car. so you can clearly see what happened in this case. the bolt simply backed out and allowed both the gear and chain to rub against the cover. you can see the groove that was worn in the cover from the chain. you can also see that the only thing hold this all together was the fact that the cover was holding the bolt from backing out any farther and the gear rubbing on the cover as well.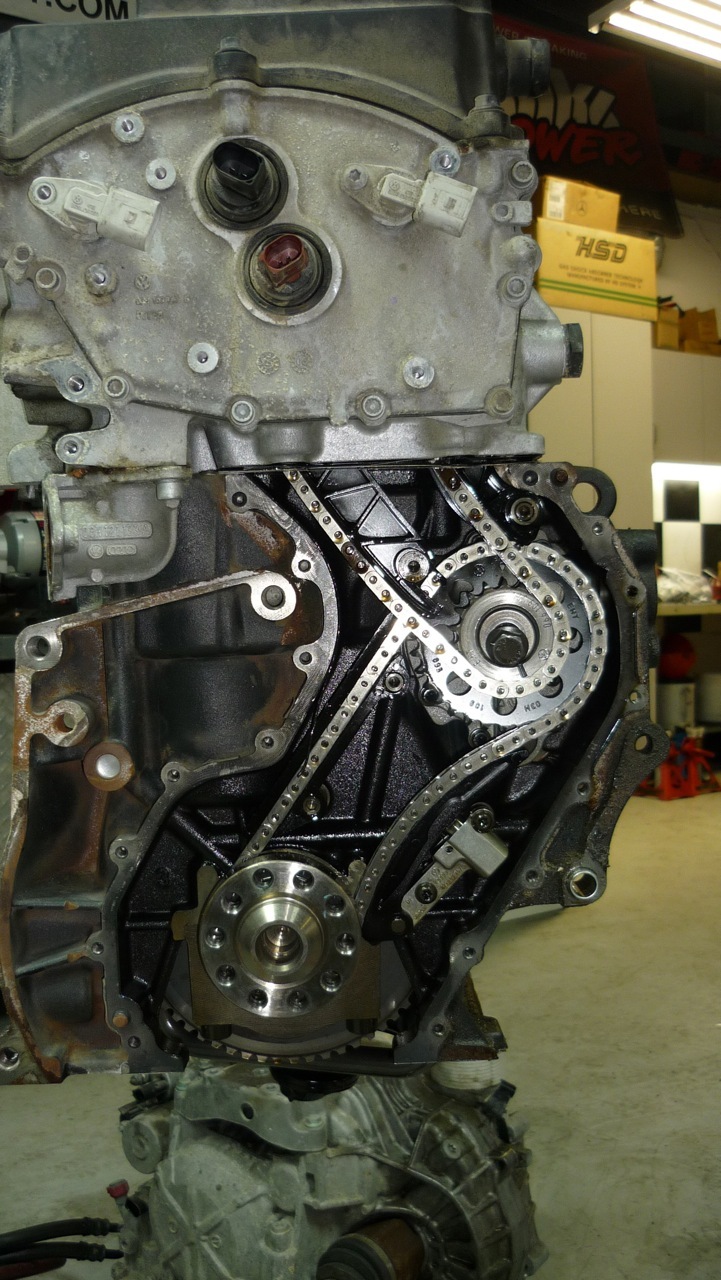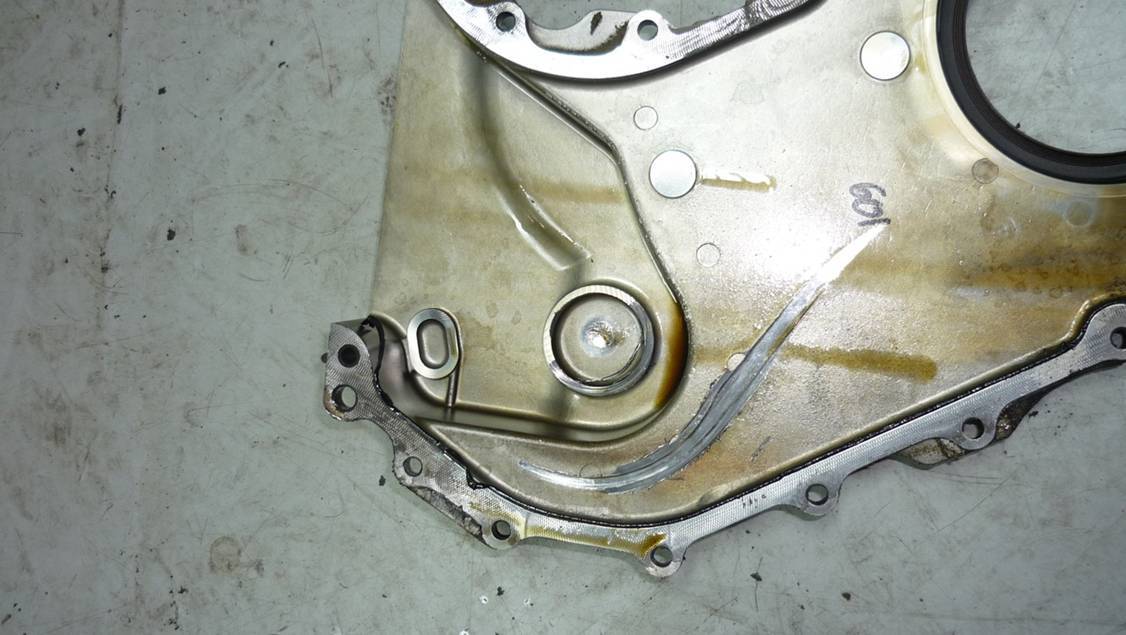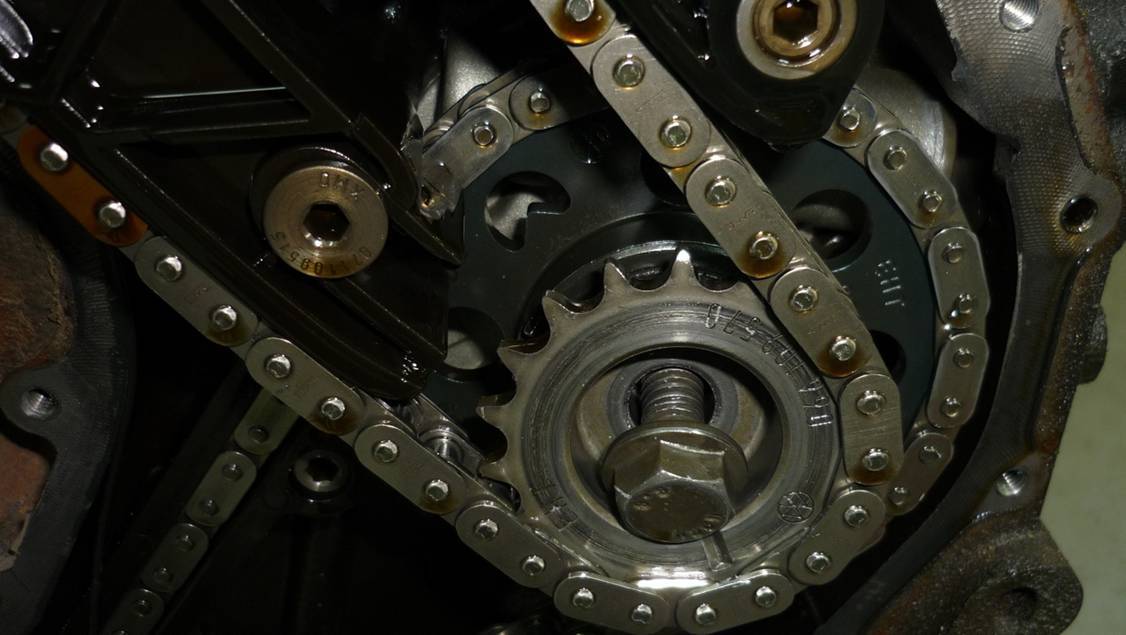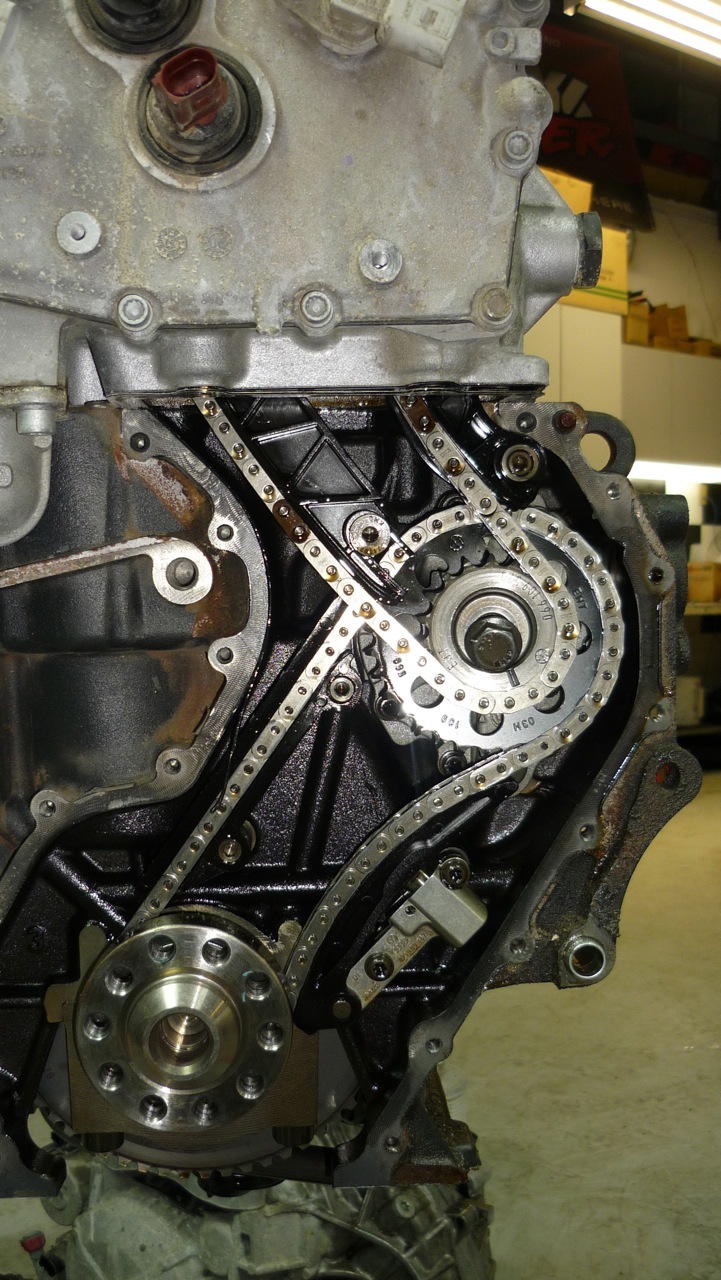 ---------------------------------------
Part #'s
these are the parts/items used while changing out my bolt. Not I did have the rear main seal replaced while everything was already apart.
Bolt #: N-104-044-04
Seal #: 021-103-051-C
Sealant #: D-176-501-A1
---------------------------------------
Reference Threads:
***OFFICIAL*** 3.6L 24V Engine Failure Thread
ATTN 3.6L Owners: Has your engine failed?
Replaced a 3.6L oil pump bolt
I can't believe it happened to me.
Passat 3.6 Leaves wife and daughter stranded
Passat 3.6 leadves wife and daughter stranded: Part II
Ouch
07 3.6 4M - Engine Replaced at 12K - Defective Oil Pump
Looks like my 3.6 blew, plus I'm stranded 800 miles from home!! (8rings)
Oil Pressure Failure & Engine Death Rattle
2006 3.6L 4motion wagon engine failure...help!
2006 3.6L Engine Failure
---------------------------------------
What to do if this has happened to you:
First thing you need to do is report the issue to the NHTSA (National Highway Traffic Safety Administration) by clicking on the following link.
https://www-odi.nhtsa.dot.gov/ivoq/
Also contact the following person with your concerns of this not being a recall issue and how you feel about Volkswagen of America not covering this issue when it's clearly a manufacturing defect.
Jill Bratina
Vice President, Brand Communications
Volkswagen of America
2200 Ferdinand Porsche Dr.
Herndon, VA 20171
Phone: +1 703 364 7250
[email protected]
---------------------------------------
Finally make your voice know in every place possible that's available to you (forums, newspaper, TV, etc.) that you are displeased with VW service when it comes to customers that purchase their products.
they want us to support them, they need to support us when dealing with legitimate VW issues.