It's coming up again in less than two weeks, October 7-10 in Robbinsville, NC with day trips to Helen, GA and other surrounding mountain destinations. Because we rented two houses this year, we still have 2-3 bunks available. Lodging is ~$100pp for all three nights. PM me for more info if you are interested. Five weeks from now, you could be grinning ear-to-ear, sharing your adventures, telling fish stories about dragon runs, and generally plotting your escape for the same time in 2017. There's still time. The worst part of this trip is by far the wait for the next one when it's over for this year.
Here's the running participant list as of 26 September 2016:
1. Keith Bloom (B7 Audi S4 Cabriolet)
2. Dan Michael (B5.5 Passat Variant 1.8T)
3. Steve Mrazek (B5 Passat 1.8BFT)
4. Matt Valentine (B5 Passat 1.8T)
5. Brady Hatcher (B8 Audi S5)
6. James Hartung (B8 Audi S4 3.0T)
7. Katherine Helmetag (BMW Motorcycle)
8. Jim Griffin (997 Porsche Carrera Cabriolet)
9. Daniel Clohessy (B7 Audi RS4 4.2L)
10. Matthew Jodoin (B7 Passat CC 2.0T)
11. Harry Karger (B5.5 Passat Variant 1.8FrankenTurbo)
12. Hugh Brien (Hellcat....'nuff said)
13. Greg Clemens (Mazda3)
14.
15.
16.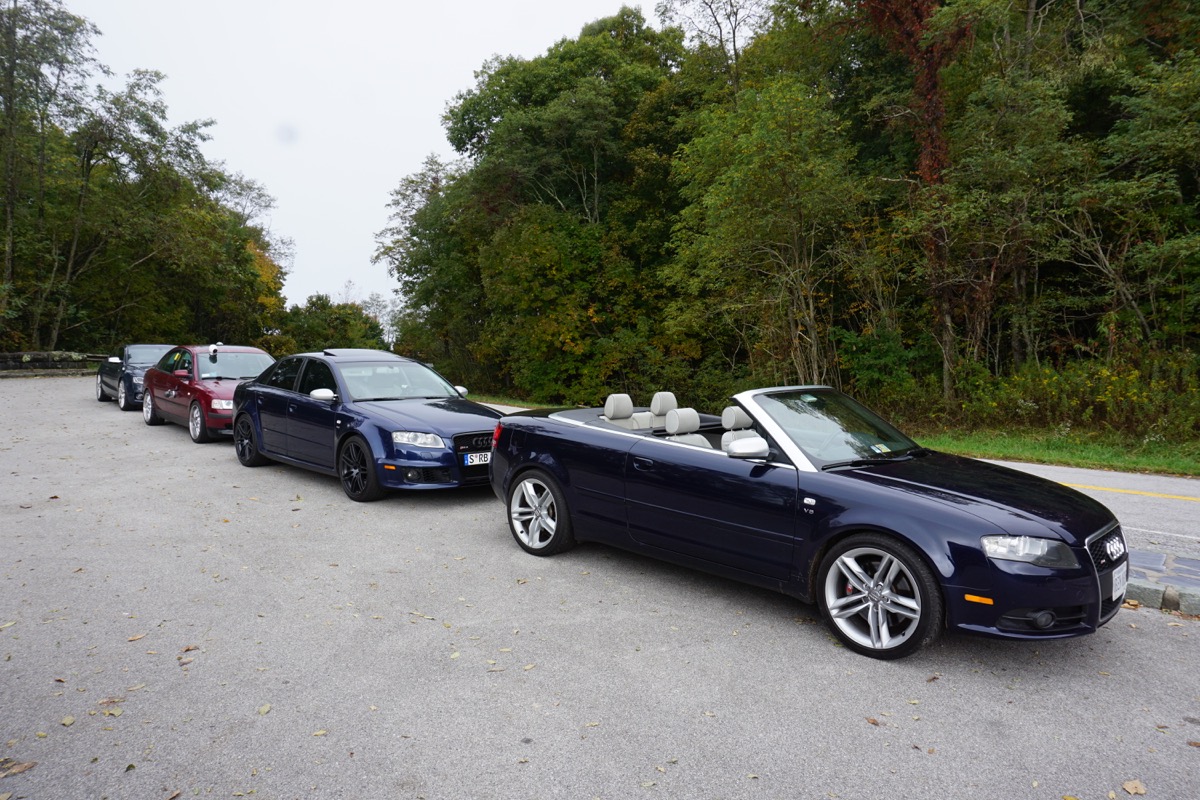 Here's the details:
5 weeks and counting down.
The troop of VW/Audi-related FB group and website moderators Steve Mrazek ("Steve in Chicago"), Keith Bloom ("KeithWBloom"), and James Hartung ("R36Dreams") are doing it again.
Here are links to our clubhouse compounds for the weekend:
The Treetops | Tail of the Dragon Vacation Rentals on the Cherohala Skyway near Deals Gap 828-479-8400
and
The Ridge | Tail of the Dragon Vacation Rentals on the Cherohala Skyway near Deals Gap 828-479-8400
We meet up in Robbinsville, NC at a rental property that features a detached 20'x40' heated garage game room and wing it from there. There will be beer, bourbon, ribeyes, and even some local moonshine after hours (no driving allowed.) Days are spent on some of the most scenic and challenging back roads in North America, including the 5,000+ foot elevation Cherohala Skyway and the 318 turns in 11 miles of the Tail of the Dragon. We will also be making a day trip excursion to Octoberfest in Helen, GA (former site of the Southern Worthersee event) down a the length of "Moonshiner 28" the legendary road that is the cradle of NASCAR.
We have The Treetops and Ridge houses for Friday, Saturday and Sunday nights this year. It is clean and comfortable. Don't expect turn-down service. Rack space at the Treetops limited to first 8 confirmed guests. We have also reserved the adjacent Ridge compound with its 30x50 detatched garage and 7 bunks.
If you're a VW/Audi driver or even just a rabid fan, you're welcome to join us. If you can play well with others come romp with us on some of the nation's best driving roads in some of the year's best conditions. Cool evenings, bright clear days. 4,000 - 6,000 foot plus elevations.