Discussion Starter
•
#1
•
I have multiple parts that need replacing on my 2008 2L Turbo 4 Cyl FSI Automatic Passat with 185592 miles. I just had toe surgery so I will buying the parts and having a reliable/well reviewed mechanic in the Atlanta suburbs perform the labor for a reasonable hourly fee ($75-$85). Another reason this will not be a DIY repair is I don't have the tools or a lift.
My two questions are:
* Does this vehicle have a timing belt or a chain? One mechanic that I called yesterday seemed to think it had a chain but several online sources seem to indicate otherwise including this one
VW Passat Timing Belt Replacement Technical Info 2.0T
. If it does have a timing belt then I may pass on this mechanic. If it is a timing belt then it is well past time for it to be changed. From what I've read it is usually changed at 90K to 110K.
* Their is a coolant leak of about a cup every 30 minutes when running. It is dripping from the passenger side motor mount. See attached pics. When I described the leak to my dad over the phone he seemed to think it was from the water pump's weep hole. What is the opinion of the experts on this forum in regards to where the leak is? My initial research indicates that after so long the seals on the pump deteriorate. If the answer to the question above is that the vehicle has a timing belt then I will get the pump replaced regardless.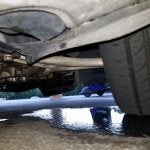 Other parts to be replaced and services completed are as followed: air conditioner compressor (quoted $340 for labor by the above mentioned mechanic), front grill, oil change (I buy the Liqui Moly), air filter, and brake pad inspection.
Thanks for your time in responding.