Discussion Starter
·
#1
·
Hi All- My Passat is out of time on bank 2 (DTC #17755, 16684, 16688, 16689, 16690).
17755 P1347 Bank2,Crankshaft-/Camshaft os.Sens.Sign. Out of Sequence
16684 P0300 Random/Multiple Cylinder Misfire Detected
16688 P0304 Cyl.4 Misfire Detected
16689 P0305 Cyl.5 Misfire Detected
16690 P0306 Cyl.6 Misfire Detected
Cylinders 4, 5, and 6 are missing at idle, and the car idles unevenly. When I pulled the bank 2 (driver's side) valve cover, I see that the plastic pad on the cam chain adjuster is missing (and I don't even see the remains!), and the adjuster has been worn down considerably by the chain. The intake cam also looks to be off the mark at TDC (see pic), which I assume is causing the misfires. I did not hear any noise from the chain, so I was surprised to see it so worn.
I think I will replace the chain and adjuster (considering a junk yard adjuster with new chain pads, since the new adjusters are so expensive).
Question: What is the easiest way to replace the chain and adjuster? Do I need to pull both camshafts (and therefore the timing belt, sprocket, back covers, etc.) in order to replace the chain, or can I use a camchain tensioner tool (must order one asap) to raise the intake cam, remove the adjuster and and pull off the chain without removing the timing belt?
I appreciate any insight. I've seen a few write-ups on the tensioner seals, but nothing on replacing the chain and tensioner directly.
Here is the worn down chain adjuster... yikes!
Here is the timing mark on the intake camshaft (with everything at TDC), not quite lined up.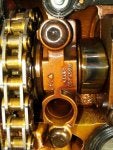 The exhaust cam was lined up correctly, and I replaced the timing belt two days ago with a lock bar on the sprockets, so everything is lined up with the exhaust cams / crankshaft / timing belt. Unfortunately, I put everything back together, and do not want to have to tear it all down again to install a new tensioner and chain, if I can avoid it.
I appreciate any advice!