Discussion Starter
•
#1
•
Link to the craigslist ad
1998 VW Passat Wagon / Avant 1.8t Auto 119k... Coilovers, 18s, etc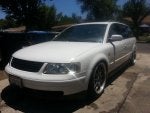 FOR SALE: 1998 VW Passat Wagon/Avant 1.8t automatic. 119k miles. $3600 on rims, $3000 on stocks wheels with good tires. Runs great. Only reason for sale is my mom said she would lease me a new car if I got rid of a couple cars. Bought stock and has the following done...
Installed about 5k miles ago...ST coilovers, 18" DTM Kreuz wheels(used), clear headlights/corners, badgeless grill, Headunit, Magnflow replacement catalytic converter(smog just done 2 weeks ago)
within the past 500 miles... Giac Chip, Column mount boost gauge, N80 Valve, spark plugs, MAF, replaced turbo with 80k mile k03 sport turbo, all new turbo gaskets.
In box ready to install... EVO MS Diverter valve, test pipe, Timing Belt kit(not sure when last one was done so bought as precaution). also includes stock parts that were removed(stock wheels, shocks, springs, stock ecu)
What it needs... only thing is that it has a vibration while in drive and foot on brake, no vibration while driving. It doesnt bother me too much so just never fixed it. From research it either needs a new trans mount or different front axles(has aftermarket autozone brand solid axles).
I am going to give you the price I will take so we dont have to go back and forth. $3600 will take it as is (not $3500, not $3599), I am willing to take off parts to reduce price if wanted, example $3000 on stock wheels.
Car is located in Tarzana, Ca 91335