Discussion Starter
·
#1
·
A story of twisties, hairpin descents, countless valley towns with frozen custard stands, living in the torque curve, stirring the gearbox and a not-spotless passenger floor mat.
I just came back from a whirlwind 3 day round trip to Laporte, Indiana from Alexandria, Virginia driving solo in my b5.5. It is going to take at least a week for the grin on my face to relax. I cleaned her up and waxed her the night before, and had vacuumed most of her interior when my wife pulled the plug on the shop vac because she didn't want me to wake the neighbors. Sigh. Almost spotless.
Took off from home in Alexandria at 530am and stopped at DD for a cup of coffee and an egg white flat bread sammich. Got on the beltway (OK that is an interstate, but didn't really need to do the back roads to get out of DC, I have seen them all before) and realized I forgot to tank up. With fuel reminder on I pressed on to exit the inner loop at 66W (again another interstate, but disclaimed as before). Tanked up in Marshall, Virginia and continued west on 66 to Virginia Highway 17 North. This section of 17 is the address of several Northern Virginia wineries, a few pick-your-own produce farms and Skt Meadow State Park, a popular camping destination for city folk. As it is 630ish in the morning, I pass on the happy hour opportunities and press on. At 17 and U.S. Route 50, I turn west, picking up the trail head of my original quest goal for the roadtrip, to follow Route 50 and explore as much of the original architecture and pre-interstate small town archeology as I can muster in my day-long jaunt to the extreme SE Chicago suburbs.
Route 50 is one of the original backbones of the federal highway system, contemporary with the fabled Route 66. Whereas Route 66 begins in Chicago, Illinois and ends 2,451 miles later in Los Angeles, California, Route 50's endpoints are much farther apart, starting in Ocean City, Maryland on the East Coast and concluding in San Francisco, California, a distance of 3,008 miles.
The section of 50 through the Virginia suburbs of DC to the town of Winchester is also called the John Mosby Highway, named for the "Grey Ghost", a confederate commander in the Civil War known for his lightning raids where after his men would escape Union forces by assimilating into the local populations. His popularity and success gave rise to the area's nickname during and after war as "Mosby's Confederacy". Driving this rolling highway through the low foothills of the Appalachian Mountains before rush hour added hundreds of cars to the roadscape was eerily quiet, with the crests of the some of the ridges still embraced with a light fog.
At the intersection of 50 and U.S. Interstate 81 sits Winchester, Virginia, the relatively new (by Route 50 standards) county seat of Frederick County founded in 1802. The route cuts right through the center of the downtown historic district and exits out the into the western suburbs as the Northwestern Pike, where the expansive Wincheser Medical Center and the Museum of the Shenadoah Valley straddle the road on the right and left, respectively. The Northwestern Pike follows the path of its namesake and enters West Virginia about 15 miles later.
The first West Virginia section of 50 passes through little townships like Capon Bridge, Hanging Rock and Pleasant Dale, following streams and creeks on the low valley floor, occasionally rising to crest another early mountain wrinkle, the doorsteps to the true Appalachian heights. Not really a commuter trail affected by the morning's rush hour at the time, the non-existent traffic, the varying radius curves and short straights let me get my left foot more involved. A warm-up for the morning's main course. Everything mechanical was purring harmoniously, the steering was nimble and light, and I kept the tachometer dancing squarely in the power curve. At the terminus of this early pavement snack, the two-stoplight town of Romney, West Virginia gave the V6 and the brakes a chance to recuperate from their morning stretches.
Fun capsule number one: Romney to Grafton, West Virginia
True Appalachian ups and down here. Not lofty peaks mind you. Though the Appalachians are considered to have once been the highest mountain range in the world, 460 million years of weathering, erosion and continental drift have smoothed them down to reaches of 2,500 - 3,000 ft skyward in most places. The elevations of this section were typical of the range, with 9 percent descent grades on the backsides extending 3 and 4 miles at a time. Twisties on the way up and down, with a scattering of 15mph hairpins and mostly 20-35mph bends winding their way up and down the rising and falling green scapes. Townships scattered on ridge tops, mid-ridge and on the valley floor along this roadway that West Virginia has named the George Washington Highway had names like Burlington, Skyline, Mt. Storm and Aurora. The low-lying communities almost invariably had old mill buildings and/or mineral processing infrastructures, some still in use, but most boarded up or re-purposed for other industries. And in almost all cases, Route 50 comprised each town's Main Street, where reduced speed zones protected residents from passers-through and passers-through from sometimes alley-wide roadways past encroaching buildings. Small town crumbling infrastructure was evident in abundance, pockets of blight nestled in an amazing emerald frame of nature's desire to embrace and return everything to an organic state. None of it raced by, I took my time and followed (in spirit) the reduced speed zones. So many times I wished I had wading boots and a fly rod as I briefly followed the winding path of a shoaling creek or Potomac watershed tributary.
But the real fun of this section was the elevation changes and the aforementioned extended grades. Fully energized by my coffee refill already consumed, I worked the clutch and heel-toe combinations with rhythm in concert with the bends left and right, getting a lot of use of the second to third "zig" and the reciprocal "zag" through the gearbox. On the descents I found myself braking hard to enter 30mph curves and pulling just as strongly through them into the exiting straights or transitions using the 3-4 north-south. My brakes did not protest, and I attribute the cooler morning air for keeping them mostly fade-free.
On the third or fourth ascent, I found myself behind my only maddening traffic of the run. On a two-lane, twisty rise to perhaps the loftiest ridge of the bunch, I got caught behind a two dump truck convoy in low-gear just laboring to get over the top. I caught them about three quarters of the way up, so it could have been worse, but my heart sank a bit when the truck warning sign indicated a 4-mile run-out at 9 percent grade was upon us. I was bummed, and primed.
For a mile of the drop down, I followed the rear truck close enough to spring on a passing window, however short, keeping the driver's reflection in his rear view mirror clearly visible on the left-hand turns. He knew I was going to pass him and I could see him checking his 6 on every turn. But he was keeping tight with the other truck, not leaving a very wide landing spot to leap-frog into if I got a break in the solid double yellow center lines. Didn't seem to matter much because with the turns and the occasional residential driveway abutting the route, it became apparent that a break was not going to come my way until after I had slow-poked to the flatland of the next valley behind these lumbering roadblocks. Welcome to Buzzkillalopolis, population one. But in an instant, after sweeping through a wind to the right, three elements of the perfect passing storm arose: 1) the forest thinned enough below to see the roadway through the next turn and the transition/run-out after; 2) the following truck slowed significantly and greatly increased the pocket between himself and the lead truck; 3) in taking a closer look at the next turns below out my window I was already mostly straddling the center line. I guess a fourth element joined in too in that I made the split-second decision to ignore the still unbroken double yellow line I was currently astride.
The drop into the hairpin turn was significant. It was a such charge touch the brakes lightly, throw the wheel to left and pounce on the 180 degree change on the inside lane of the curve to the left. Drop or not, I exited the quick sprint with my right foot flexing and the gearbox revving on the top of the tachometer in second, quickly jetting into third as the curve straightened out. The following truck seemed to stand still. I had taken the inside of the curve so tightly that it felt like there was still another lane between us. So when I had put a couple of solid car lengths between us, I slotted in behind the lead truck in a clone of my position with the following truck a few moments before. The next few moments I caught my breath. I was not that I had white-knuckled anything, it was just that my adrenaline was most definitely surging and I was prudently trying to not do anything foolish to overtake the elephant in the road immediately ahead. I dropped through the next few turns, arranged in a connection of esses, firmly between my dump truck bookends. Then, perhaps sensing that I wanted to be on my way with more haste than riding between two commercial workhorses, the leading driver made a visible move to the outside edge of a gently rising bend to the left, also with clear line of sight, and I again crossed the double yellow, well-advised and visibly informed, stirred the gearbox into second and pushed the pedal down to the floor. To exit the climbing left, I quickly shifted up and, with the revs still high and the front end light because of my squat in the ascent, I think I got the only tire chirp I have ever experienced in third gear when flexed my left knee to reconnect the wheels to the horses pulling the train.
Oh how the reward I got after this was magical! The balance of the descent was storybook. Ess after ess, accentuated for the next two miles with deeply dropping hairpins here and there. The trees on the downhill side lined up so densely, they seemed like the galleries of fans that line the course at the Tour de France. The uphill side was a continuous mix of carved/blasted rock faces and/or equally timbered galleries sometimes interrupted by a falling stream bed. I found I had successfully reclaimed well more than half of the 4-mile long descent from the clutches of sheer boredom. I thought briefly for a moment of returning to the top and doing it again, but I instantly reconsidered and chose instead to pursue whatever might lie immediately ahead with equal gusto. As Grafton announced to me that I had crossed to within its incorporated limits, I was barely three hours into a planned 12-hour plus jaunt through blue-state heartland. I would not be disappointed.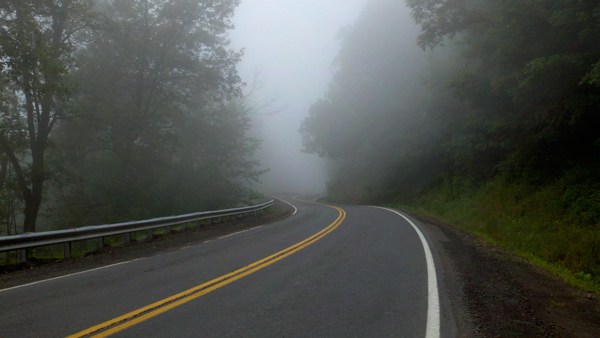 U.S. Route 50 east of Grafton, West Virginia taken 5 August 2011 at 8:35 a.m.
***For reference***
Going:
U.S. Route 50 west from Washington, DC suburbs through Winchester,
Virginia and Bridgeport, Clarksburg and Petersburg, West Virginia
U.S. Route 50/32 West from Parkersburg, WV to Athens, Ohio
U.S. Route 33 from Athens, OH through Columbus, Marysville OH, to Ohio 117 north towards Lima
OH 117 north to Thayer Road north to U.S. 30 west to Fort Wayne, Indiana
U.S. Route 30/Interstate 469 north to Interstate 69 north (moment of weakness trying to make up time to meet a party in La Porte for dinner but then realized I had gained an hour because Indiana, though on ET does not observe daylight savings time, so part of the year it is effectively on Central DST) to Route 6 west (regained clarity and purpose, it only took 25 miles or so) towards Kendallville, Indiana
Route 6 west to Indiana 9 south into Albion, Indiana
W Albion Road/W 400 N to Route 33 northwest back to Route 6 west to Indiana 104 northwest in Walkerton, IN
Route 104 to Indiana 4 into La Porte, IN
Returning:
Indiana 4 southeast to Walkerton
State Route 6 east to Bremen
Indiana 331 south to 8th Road east
8th Road east to Indiana 19 east to County W 900 N east to County N 300 E south
County N 300 E south to E 850 N around south shore of Dewart Lake
N 500 E south to E 800 N east to Indiana 13 north to E 1000 N east around south shore of Lake Waswasee
E 1000 N east to W 200 N to Route 33 North
Hopped off 33 to cruise through greater Kimmell on N Clark Street/N 650 W and then rejoined 33 North to W 400 N east
W 400 N/Albion Road into Albion, Indiana turning right for one block on N Orange to left onto Indiana 8 east
Indiana 8 east to Indiana 8/3 southeast to Indiana 8 east again
Indiana 8 east to Indiana/Ohio state line where it becomes Ohio 18 east
Ohio 18 east through Hicksville, OH (loved the name, had to see it to believe it, lived up to its name in every way) to OH 18 east again
Several WOT top gear runs on a beautiful bright Sunday morning on OH 18 east to Defiance, Ohio
Follow signs for OH 18 through Defiance, OH to OH 18 east again
Follow OH 18 through Holgate, Hamler and Deshler "The Corn City" Ohio
Continue on OH 18 (sounds boring by now but it isn't, though mostly straight OH 18 alternates between due east and mostly south to keep parallel with a freight rail line which I will detail in my segment about this leg later) through North Baltimore then cross over Interstate 75 (sneer at all the I-75 lemmings but silently thank them for being in a hurry and leaving these lonely stretches of flat smooth straight pavement all to you this morning)
Slow down through Bloomdale on OH 18 for a parade and a chuckle at the sign on the Bloomdale Fire Department "BFD" then speed on through Fostoria and Bascom to pick up Route 224 east just outside Tiffin, Ohio
Follow 224 east to Ohio 19 south through Bloomville, OH continuing on 19 south to U.S. Route 30 east until you can't possibly bear another stretch of "no passing for the next 45 miles because we are resurfacing the left lane" apologies for the Ohio DOT
Repeat sneering and silent gratitude as you cross over Interstate 71 to continue on U.S. 30 east for a few more miles
At Hayesville exit, bail on U.S. 30 because you really don't have time to stop at the Hall of Fame in Canton anyway and because you eventually have to start south-southeast again
Follow Ohio 179 south through Mohicanville, to Nashville, Ohio and pick up Ohio 39 east
So many side roads, it is going to take a while to reassemble my 729 mile meandering drive. I have a lot more pics of return though!
to be continued...