I thought I'd provide some feedback on my suspension upgrade. Since this was an untested setup, I'll provide greater details and impressions further below which I hope will be helpful to those still undecided.
But if you don't care for details just look at the following summary, skip the rest and scroll down to the pics...
SUMMARY
Parts used
Eibach Pro-Kit 8566.140
Koni front 82-2488, rear 82-2465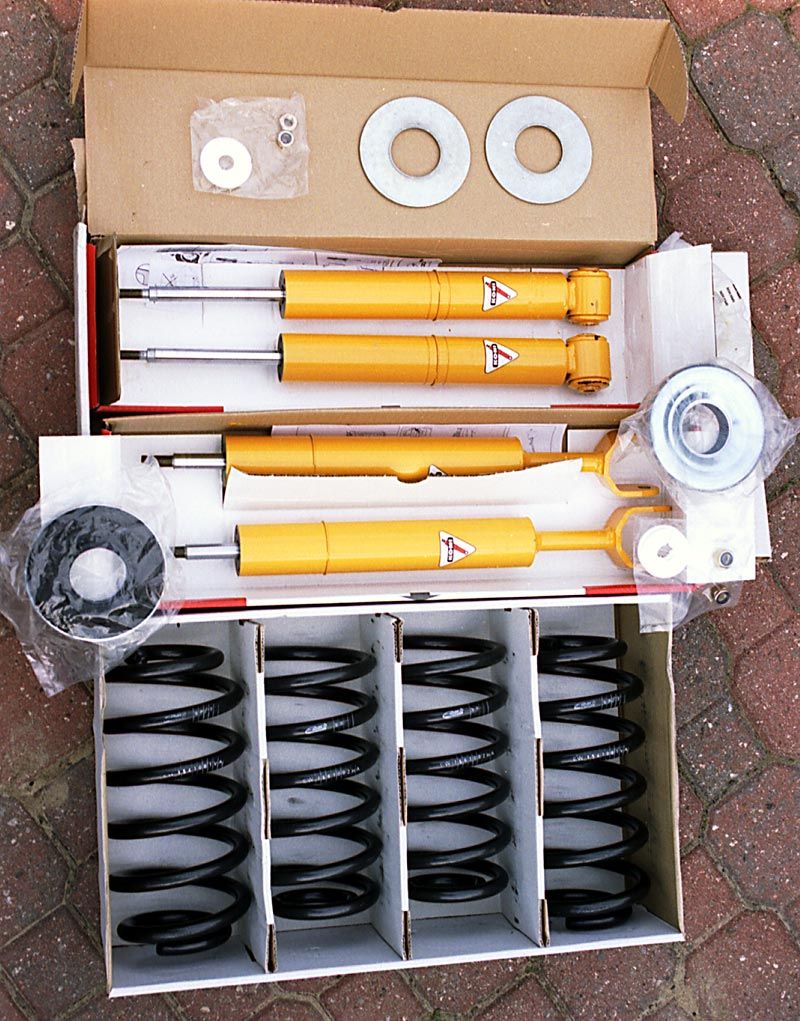 Rear anti-roll bar 17mm 1BE version (replaced a couple of weeks prior):
bar 3B7-511-409
rubber bushings (2) 3B7-511-327
The Konis were set at:
front: 1 turn from full soft
rear: ½ turn from full soft
Final drop
front 1 3/8" rear 1 1/8"
wheel gap reduced to 1 3/4"
Driving impressions
ride remains surprisingly compliant, yet stiff enough to reduce body roll, squat and dive by a good margin.
Does not feel like a lowered/stiffer car, feels more like the way it should have been in the first place... "German touring quality" comes to mind.
Looks
very subjective, but I think it's good for 15" and probably 16" wheels. Those wanting 17" and higher and/or intent on driving aggressively most of the time will probably find this too mild of a drop and should look at coilovers.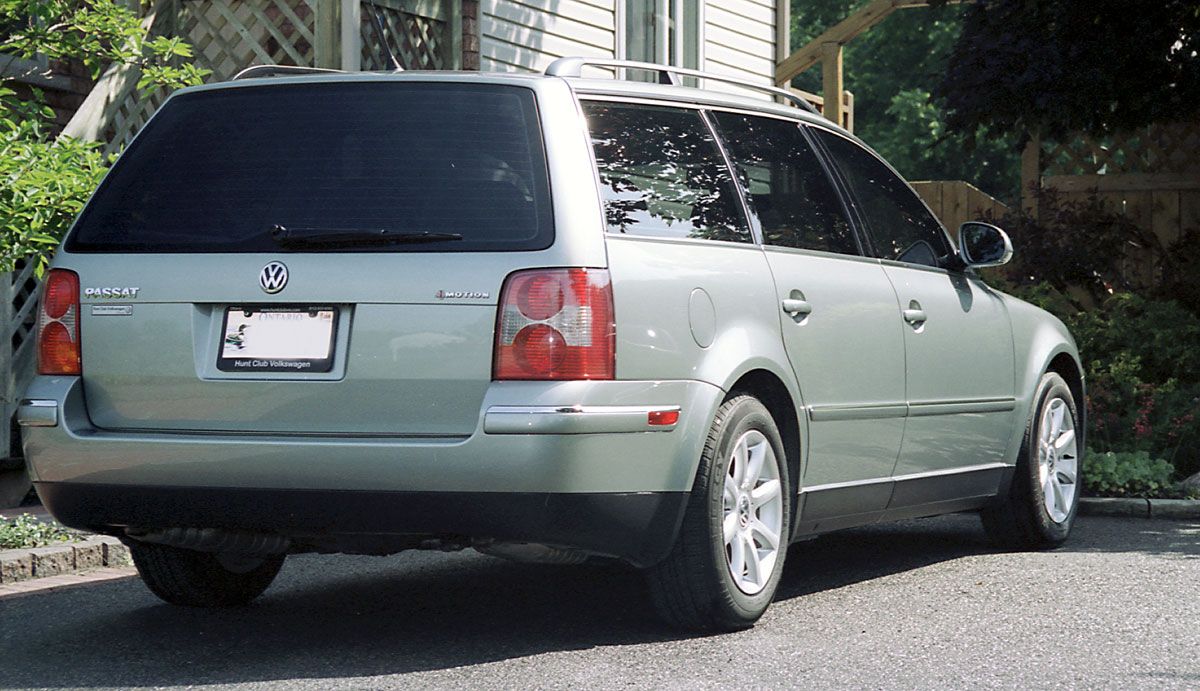 DETAILS
Those who have a 1.8T 4Motion know that there are very limited choices to upgrade our suspension. At this time, other than coilovers there are still no official applications available in North America from the usual spring manufacturers. I wonder if any will materialize, especially for the wagon, given the limited run of this model before the new Passat platform arrives. And only Koni has shocks (still not listed on their website, but has been confirmed through email and phone call).
I upgraded my suspension to an Eibach Pro-kit and Koni adjustables a week ago, after 15,000km on the stock suspension. I knew I wanted to upgrade the suspension the first day I drove the car, but what delayed the upgrade was figuring out what springs I could use. Coilovers were not a consideration in my situation as I felt they would be too stiff, too low and too expensive.
Since the only company I could find that had springs for the 4cyl. 4Motion wagon was Eibach Europe, I concentrated on that, even if the particular European kit was not available in North America (NA). In Europe the 8565.140 kit for the 1.8T 4Mo wagon has the same rear springs as the NA 8566.140 kit for the V6 4Mo wagon; the kits have different front springs though, the V6 ones being a bit stiffer. But as it turns out, the front springs for the NA V6 are also used in Europe for the 1.8T FWD automatic, which has about the same front curb weight as my 1.8T 4Mo manual. So I figured the NA V6 4Mo kit should be ok.
The 8566.140 is specified to drop a V6 4Mo by 1.4" at front and 1.2" at rear. Since my 1.8T 4Mo manual is about 130kg less than the V6 but split evenly 65kg each front and rear, I figured the car would just sit a bit higher than the specified drop, but retain the front biased rake. One comment from CB5er PZ to ensure that the front would be lower was to use the stock front perch from the oem shocks, instead of the Koni supplied perch. As it turns out that wasn't necessary as you'll see later, but both my installer and I felt it wasn't worth the risk, as the oem perch is meant to rest on a lip molded into the oem shock (see picture) while the Koni perch expects to rest on a flat C-clip. It may work all right, but we didn't feel appropriate to risk it.
Another way to affect the rake would be to use a different position for the rear shock C-clip, which can be moved +/- 1cm from the position as shipped from the factory. So the height of the front perch stays the same but the rear can be moved up or down 1cm. I left it in the middle, as received from Koni.
The final results are:

Location............................Before......After........Drop
top of front wheel well......27 3/8".....26".........1 3/8"
top of rear wheel well.......27 1/8".....26".........1 1/8"
front gap............................3 1/8"......1 3/4".....1 3/8"
rear gap.............................2 7/8"......1 3/4".....1 1/8"
Stock, there was a slight 1/4" difference between front and back, now it is dead even all around.
The rake, as measured under the front and rear door frame at the location for the jack, is 7 1/2" rear and 6 3/4" front, so a 3/4" front biased rake.
Before I give my driving impressions, I should put them in perspective. This is my second Passat, my first was a 2000 FWD 1.8T wagon that I kept for 190,000km and on which I changed the suspension to H&R Sport springs and Koni adjustables at about 160,000km. So I've had plenty of experience with the oem setup, the behaviour and handling of the wagon, and the effect of the H&R springs and Koni shocks.
What I was after this time was a much tighter suspension than what the oem provided, but yet not quite as stiff as what the H&R gave me the last time. I read just about every posts on CB5 and Vortex about suspension and one comment that kept coming back is that Eibach is the closest of the aftermarket springs to the oem feel but without the body roll. I was a bit skeptical as it sounded too good to be true, but I have to say now that it is absolutely the case. The H&R, which has only a 1/4" more drop on the wagon compared to Eibach, feels much stiffer when driven on the same roads. I think this may have to do with the spring design, although both manufacturers state that their springs are progressive, Eibach feels and looks more linear. Since the oem springs are linear, there is less of a transition when moving to Eibach. H&R looked and definitely felt progressive.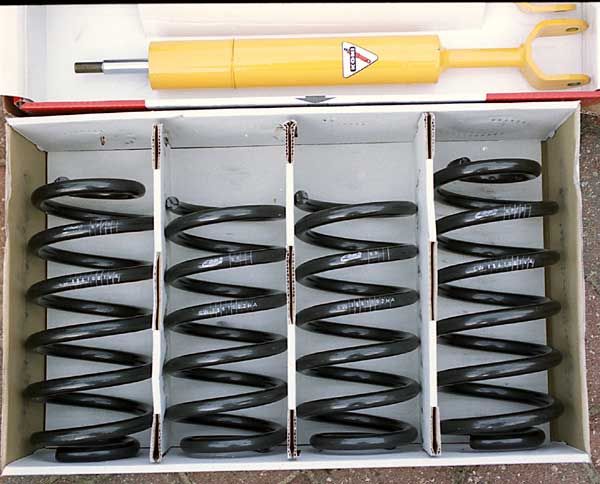 I find the Eibach to be very civilized, allowing for a comfortable ride when traveling with the family but still up to the task for spirited driving. The H&R was stiffer which meant I could push the limits a little further, but at the expense of overall ride quality. Of course, this appreciation depends on what kind of ride you ultimately want, and the quality of the roads you normally drive on.
I used the setting for the shocks as recommended by the Koni rep, which is also similar to many CB5ers reported settings. If I had to do it over again, I would probably go for 1¼ turn up front, and at least ¾ or even 1 full turn at rear. Sometimes when going over bumps, I feel just a slight difference in rebound between front and rear (rear seems to rebound just a bit higher), so a stiffer rear setting should make it perfectly balanced.
I intend to keep my oem 15" alloy wheels and with them I think the drop is quite reasonable. Should look a bit better when I move to 215/60 tires later on. Those who want to switch their 4Mo wagon to 17"+ wheels may find the Eibach drop insufficient and probably will have to consider coilovers to keep a balanced look. Same idea if you intend to drive hard and/or are lucky enough to have mostly smooth roads.
So for looks and more importantly drivability, I am satisfied with my setup. The resulting road feel fits the Passat quite well, like it was meant to be that way. I am also glad to have gone with the V6 springs instead of trying to re-create the European 8565.140 kit, which has weaker front springs. I wouldn't want my front springs to be any weaker than they are now. Eibach could easily sell the NA 8566.140 kit as a 4Mo wagon kit, irrespective of engine.
A final point on the 1BE rear anti-roll bar: I installed it a few weeks ago while still on the oem suspension. The bar is 17mm vs the oem 14mm. To be honest, I didn't see much difference. Of course it helped, but certainly not to the point of being dramatically noticeable or inducing even mild oversteer. I felt a marginal reduction in body roll, allowing to take a curve a bit faster, but not that much (yes I still have the oem Michelins, so that is a limiting factor on its own). With the new suspension, the new bar has become part of the resulting ride and I am not about to remove it to see what it would be with the oem one... It's clear to me though that VW should have installed this 17mm bar by default, and made a 21mm 1BE as an option...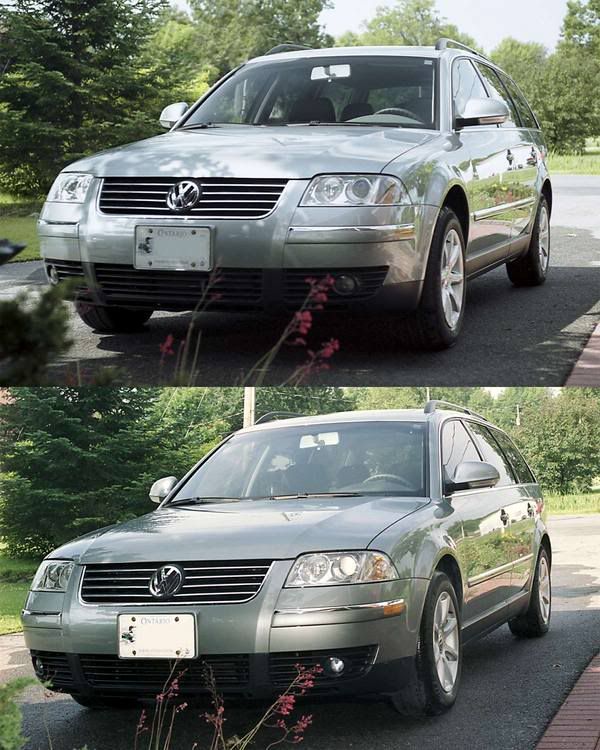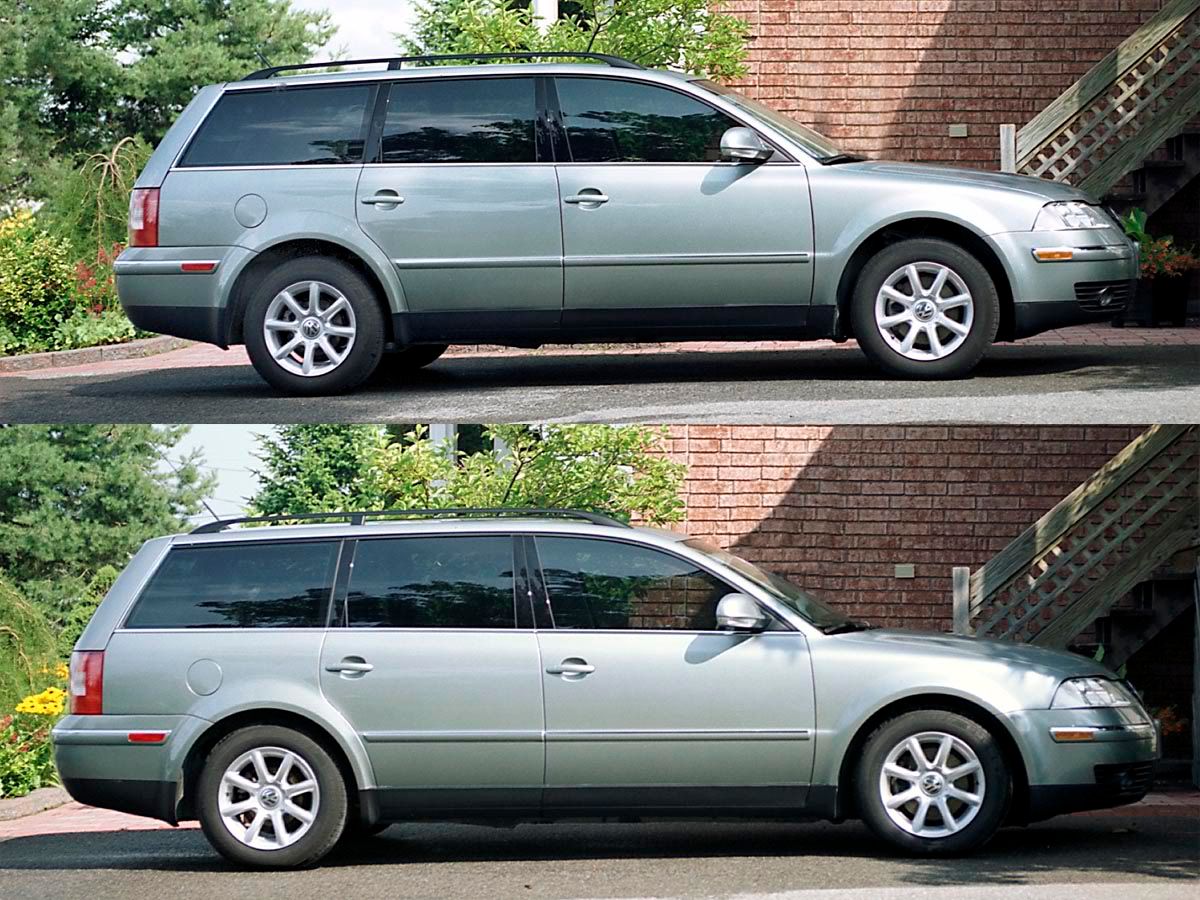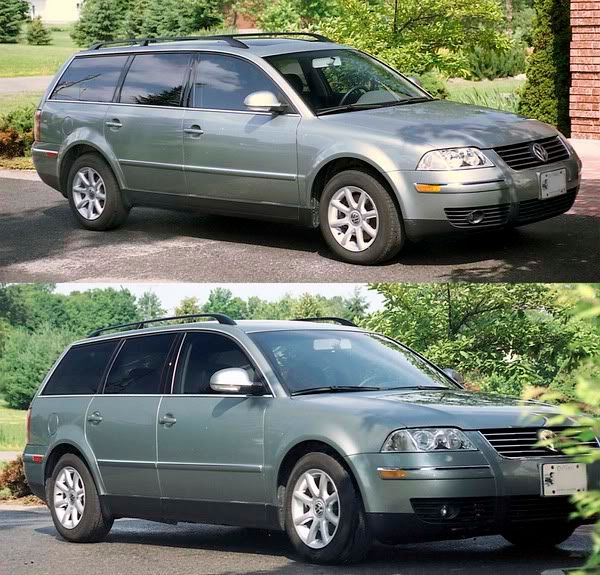 and for reference... fresh from the dealer, day one, before tint: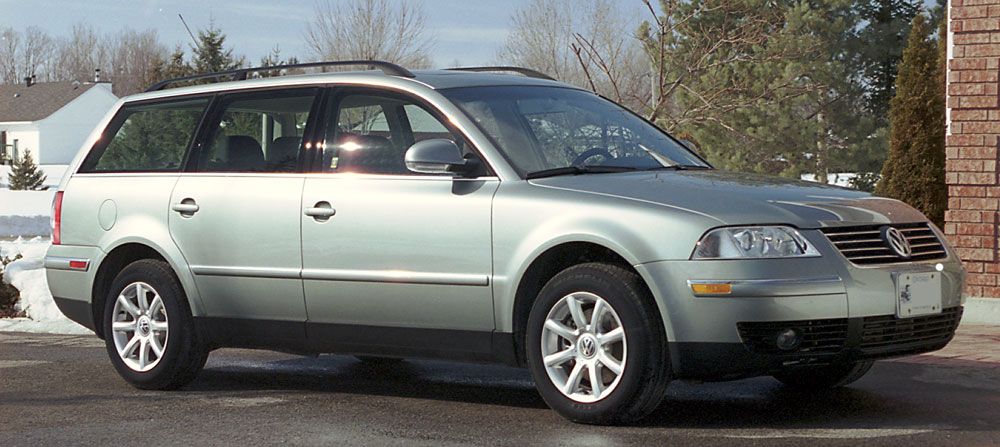 Related links for other comments and alternatives (beware some comments apply to sedans, not wagons):
http://www.clubb5.com/forums/viewtopic.php?t=84265
http://www.clubb5.com/forums/viewtopic.php?t=76594
http://www.clubb5.com/forums/viewtopic.php?t=80507
http://www.clubb5.com/forums/viewtopic.php?t=86273
http://www.clubb5.com/forums/viewtopic.php?t=87077
http://www.clubb5.com/forums/viewtopic.php?t=83896